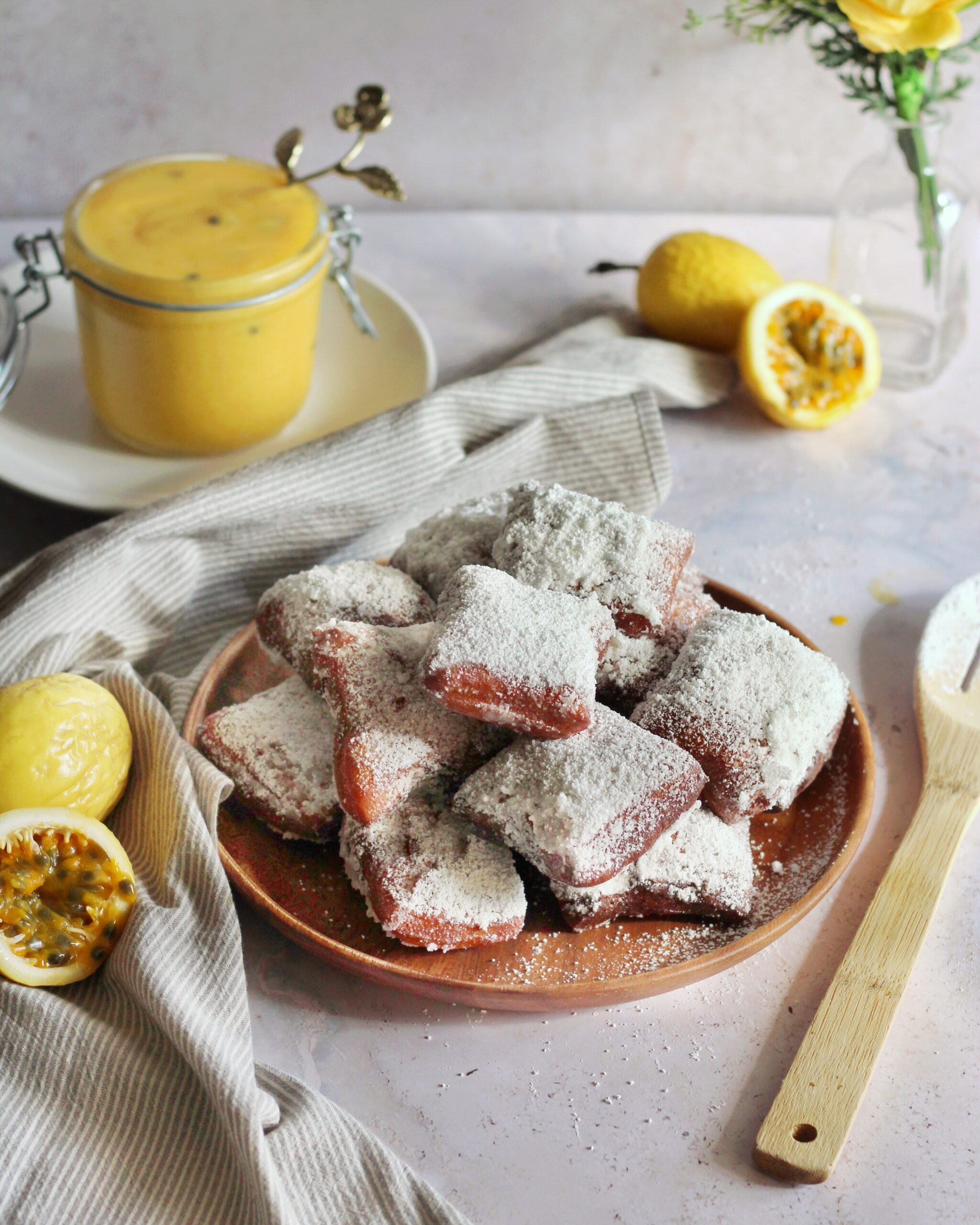 I am convinced that nothing beats a piping hot beignet fresh out of the fryer and quickly dusted with powdered sugar. I served these with a fresh lilikoi (passion fruit) curd which is the perfect light, bright, and slightly tart complement to the beignet. Feel free to use this beignet base on its own with powdered sugar or whatever topping/dipping sauce you would like! These come together fairly quickly and make the perfect addition to brunch.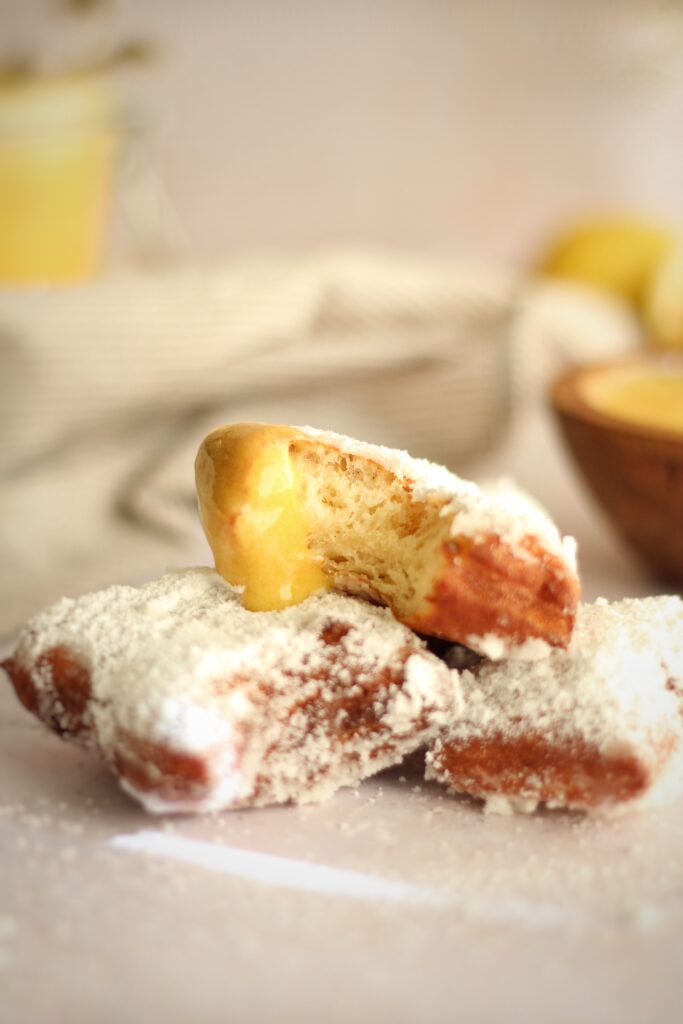 The Inspiration
My husband and I had a version of these at Depot Eatery, a restaurant in Auckland, New Zealand. We traveled around New Zealand for our honeymoon in pre-pandemic times (early February 2020, with no idea that travel would soon be so restricted). We fell in love with New Zealand- all the natural beauty, friendly people, and the food! I am a very food-oriented traveler and I always like asking around for recommendations and searching for the best places to eat in new places. To me, there is nothing worse than having a bad meal on vacation! My husband's friend, a Kiwi, recommended this restaurant and it ended up being across the street from our hotel. We had breakfast here on our last day in Auckland and wish we would have had more time to go back for dinner. Depot also has a cookbook that looked amazing- it is on my wishlist!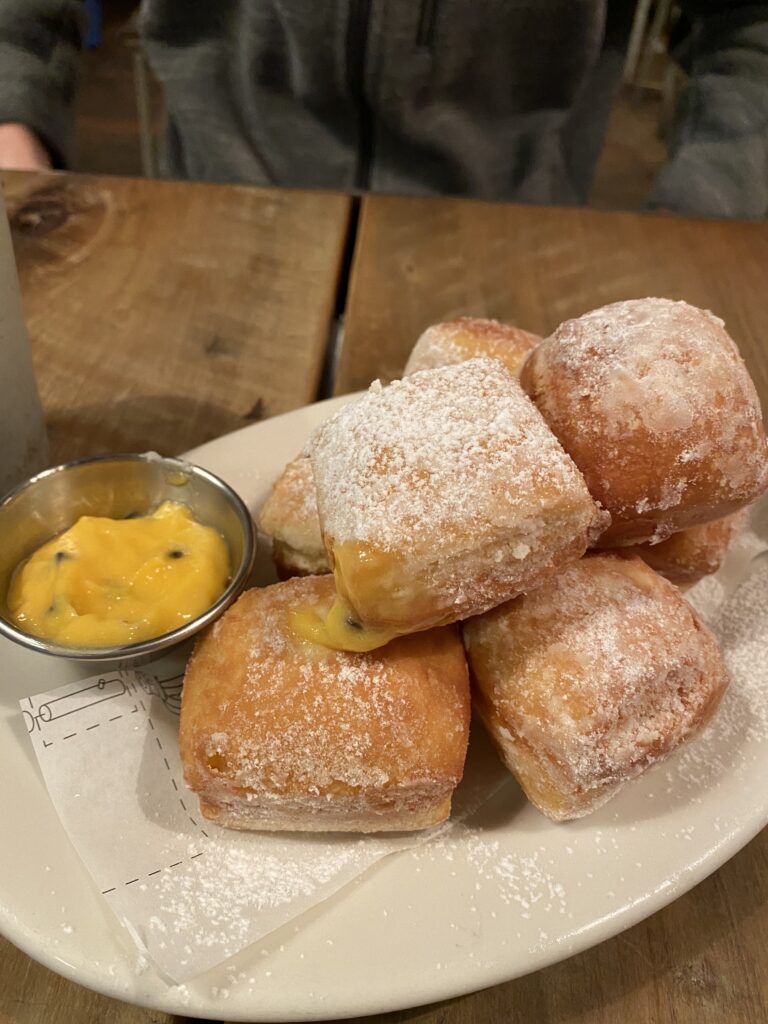 I was pleasantly surprised to learn that passion fruit is very common in New Zealand (not just a Hawaiian fruit)! "Māori" are Polynesian people indigenous to New Zealand. The Māori word for passion fruit is "kōhia" while it is "lilikoi" in Hawaiian. In addition to these beignets, I also had a lilikoi ice cream in Auckland that I should try to recreate another day 🙂 My other recipes inspired by our trip to New Zealand are these salted caramel cookies and these fried zucchini blossoms. I find so much inspiration from traveling and then trying to recreate the recipe at home.
A little history…
In French, beignet translates to "fritter." The original beignets used a pâte à choux pastry which does not have yeast in it (click here to learn more about choux pastry). Beignets date back to at least the 16th century. French colonists brought the recipe and technique to New Orleans in the 17th century. The original Cafe du Monde coffee stand was established in the New Orleans French Market in 1862. You can still visit the original stand today. Now beignets are basically synonymous with New Orleans. In 1986, beignets became the Louisiana State Doughnut! (source)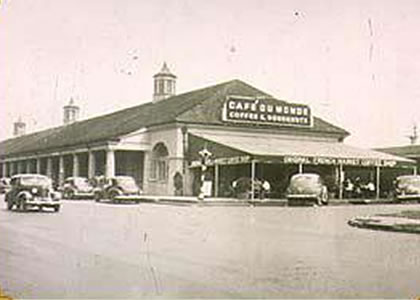 About the beignets
Most of the recipes I saw for beignets used yeast although that is not the most authentic. I decided to stay with a yeasted dough because it results in the most fluffy, pillowy texture. Some beignet recipes use whole milk and others use evaporated milk. I opted for evaporated milk for more flavor (evaporated milk has 60% of the water removed before canning). However, given that evaporated milk wasn't invented until 1891 so it is safe to assume that this is not authentic either. While we were at it, I added a little bit of vanilla bean paste for extra depth of flavor and I love seeing those little specks!
The Food Hacker has a great article about the history of beignets at Cafe du Monde. He even writes about frying the beignets in cottonseed oil which I have never heard of or seen! Check out his post here. I used canola oil but I have also heard peanut oil works well, too.
From start to finish, you need about 2 hours before you can fry them so it requires a little bit of planning. It is well worth the effort, I promise 🙂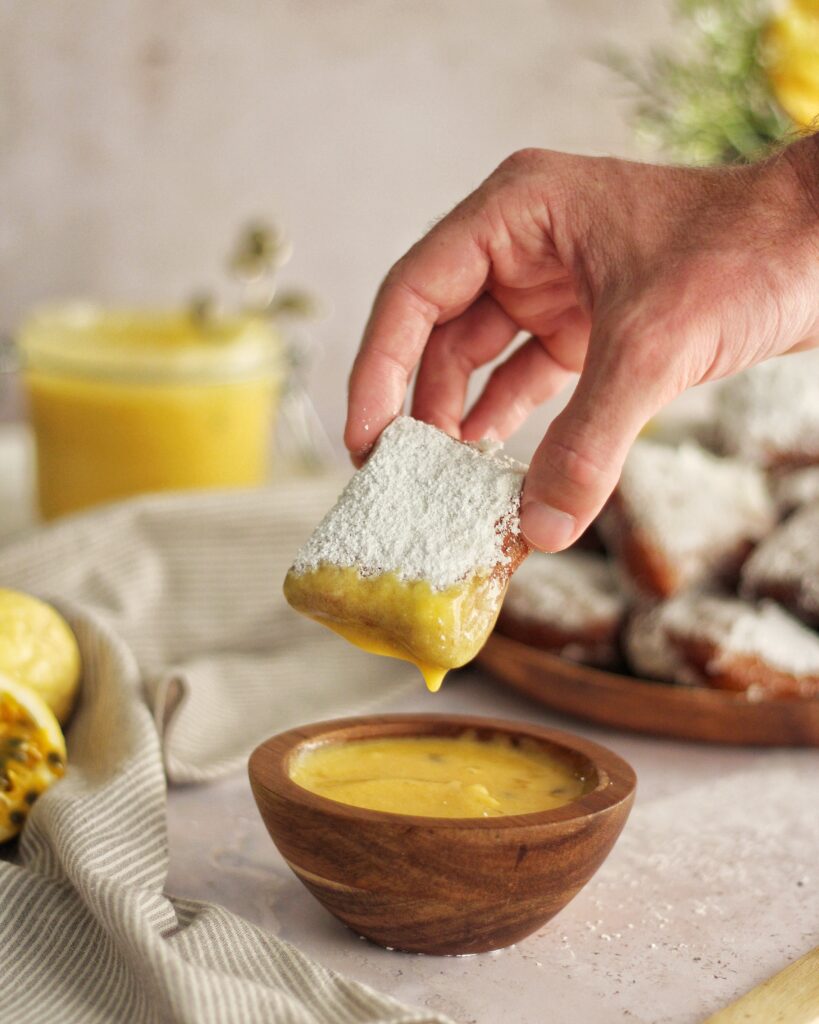 About the lilikoi curd
All I did was swap out lilikoi pulp for the lemon juice from my lemon curd recipe (last seen here and here)! I kept the lemon zest because I thought it would be a nice complement. I strained the passion fruit to remove the seeds before measuring and then I added 2 tablespoons of seeds back (didn't want to have too many crunchy seeds). I loved the contrast of the sweet dough with the slightly tangy curd. I hope you love it, too 🙂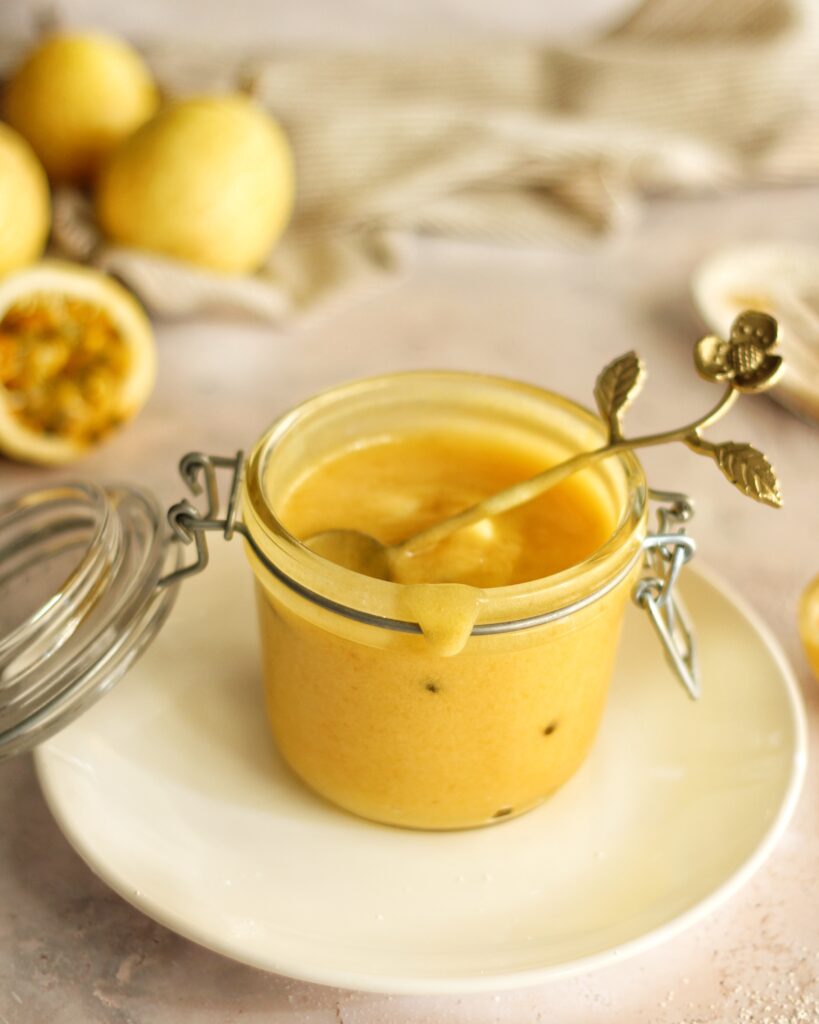 Please leave a review if you make these and tag @anchoredbaking and #anchoredbaking so I can see your creation!!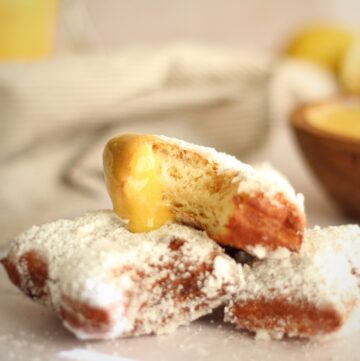 Vanilla Bean Beignets
Fluffy and pillowy beignets flavored with evaporated milk and vanilla bean paste. I made these to be served with the lilikoi curd but you could eat them by themselves, with chocolate sauce, or anything else you think would be good!
Ingredients
2

Tbsp

warm water

2 and 1/2

tsp

active dry yeast (1 package)

1/4

cup

granulated sugar (plus a pinch for the yeast)

1/2

cup

very soft unsalted butter

1

cup

evaporated milk, slightly warmed

1

egg, lightly beaten

3 and 1/2

cups

bread flour, plus more for rolling

1

tsp

salt

1/2

tsp

baking powder

1

tsp

vanilla bean paste

Canola oil for frying

~3

cups

powdered sugar, for dusting
Instructions
Whisk together the warm water, yeast, and a pinch of sugar in the bowl of a stand mixer. Let it rest for about 5 minutes, until it is foamy.

Add the butter, warm evaporated milk, 1/4 cup sugar, egg, and vanilla bean paste. Whisk to combine. Switch out the attachment to the dough hook.

Add 2 cups of flour, salt, and baking powder. Kneed on low speed and add more flour (up to about 1.5 cups more) until your dough comes together. It will still be slightly sticky (add more flour 1 Tablespoon at a time if it is too sticky). Scrape down the sides of the bowl and cover with plastic wrap. Let it rise in a warm environment for 1.5 hours.

Punch the dough and transfer to a lightly floured surface. Roll it out into a 16 X 12 inch rectangle. Use a pizza cutter to cut it into 2 inch squares. Lay a piece of plastic wrap over the sliced dough and let rest.

Meanwhile, heat oil in a large saucepan over medium heat. The oil needs to be about 2 inches deep. Use a candy thermometer to test the temperature of the oil. It is ready when it is 375 degrees F.

Set a drying rack over a rimmed baking pan and set to the side of the pan (you will place beignets on this after frying for dusting).

Gently lower about 4 of the beignet squares into the pot with hot oil. Let them cook for about 30 seconds-1 minute and then use a frying spoon (called a spider) to flip the beignet over. Cook for about 1 minute longer. They should be golden brown on each side. Use the spoon to remove the beignet from the fryer and transfer to the wire rack. Sift powdered sugar over the beignets and serve immediately.

Repeat with remaining squares, making sure that the oil returns to 375 before each batch. Enjoy!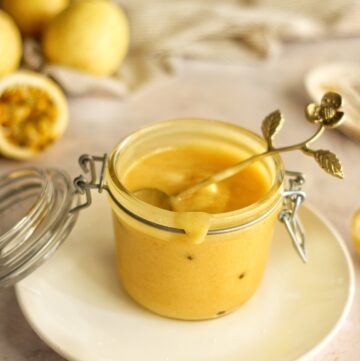 Lilikoi Curd
Fresh and tangy passion fruit curd.
Ingredients
3

large eggs

3/4

cup

granulated sugar

1

tbsp

lemon zest

1/2

cup

passion fruit pulp, strained (no seeds)

1

tbsp

passion fruit seeds (optional)

1/2

cup

unsalted butter, cubed
Instructions
Start simmering water in a saucepan. The saucepan needs to be big enough to fit a bowl on top but not so big that the bowl will touch the boiling water.

Meanwhile, whisk eggs, sugar, lilikoi pulp, and lemon zest in a heat-proof bowl and place over simmering water. (CAUTION: the bowl will get hot, handle with oven mitts.) Keep heat at medium and whisk constantly. This will ensure that everything cooks evenly and it won't get lumpy. Keep whisking until the mixture thickens and reaches about 170 degrees F. This will take about 10-15 minutes. You can test doneness by coating the back of a wooden spoon and running your finger through it. It if leaves a clear path, it is done. If not, keep cooking and whisking! (Note that it will continue to thicken as it chills.)

Carefully remove the bowl from the heat and the strain the mixture through a sieve over a medium sized bowl. Add cubed butter in 2-3 batches, whisking to completely melt and incorporate the butter in-between additions. Whisk in the tablespoon of lilikoi seeds (if desired). There is no such thing as overwhisking- it makes it light and airy! Allow curd to cool to room temperature.

Place a piece of plastic wrap over the bowl, pressing the wrap directly on the curd, and place in the refrigerator until ready to use. The plastic wrap will prevent a film from forming on the curd. (See notes for making ahead.)
Notes
You can make the curd up to 7 days in advance. Keep curd in an airtight container in the fridge. You can place a piece of plastic wrap touching the top of the curd to help prevent a skin from forming. Make sure you still use the Tupperware lid even if you have the plastic wrap on it!