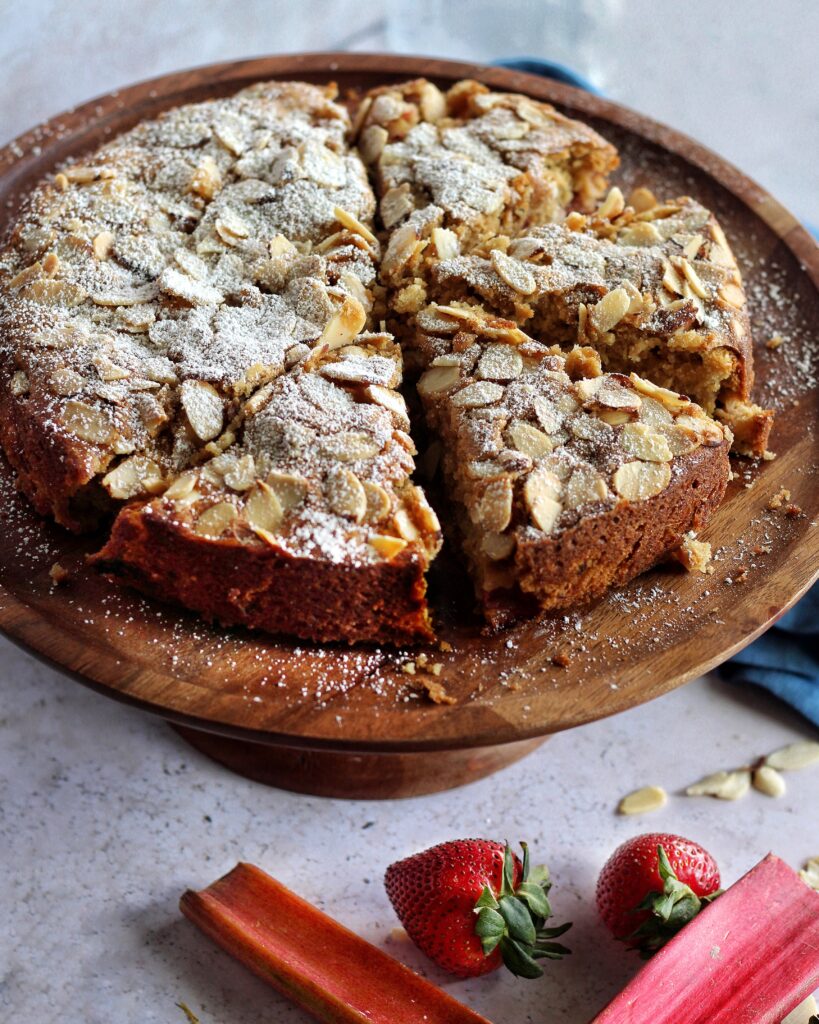 Is there anything more summery than a strawberry rhubarb dessert? A lot of people use strawberry rhubarb for pies but I wanted something that could be thrown together more quickly yet still satisfy that tart-sweet flavor that we all know and love! I also added lemon zest and vanilla bean paste to the batter and the flavors go very well together. I put sliced almonds on top for some texture and powdered sugar for presentation. I love this cake because it can be served for breakfast with coffee or for dessert with a scoop of ice cream (it is not too sweet on its own). Either way you have it, I hope you enjoy this recipe!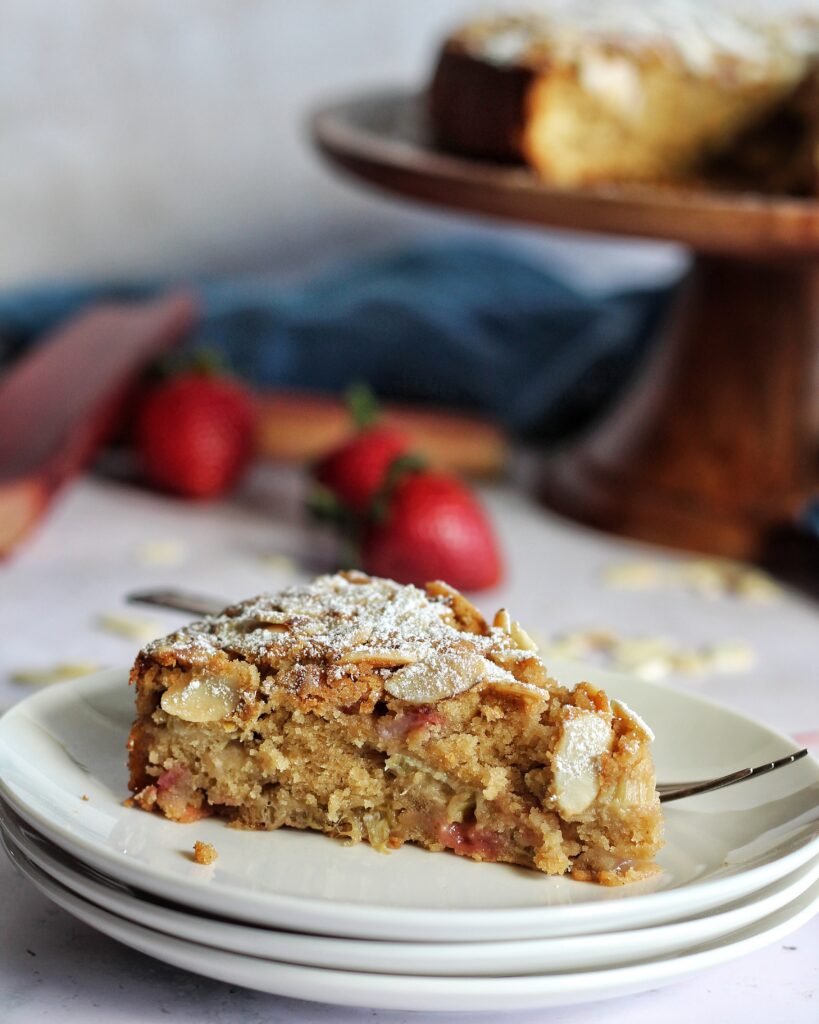 About Rhubarb
Rhubarb season always seems so short! I felt particularly lucky to find rhubarb at the Whole Foods on Maui. It is not exactly a "local" ingredient.
Have you every heard of "forced rhubarb"? Forcing is a process of depriving the rhubarb from sunlight so the plant is "forced" to use energy from its roots. The stalks become sweeter because glucose that would normally be used to grow the huge leaves, is instead stored in the stalks. Additionally the rhubarb grows faster as it is searching for light (source). It is bright pink in color.
England has a long history of producing rhubarb because of the ideal growing conditions. In particular, the Yorkshire Rhubarb Triangle is known for its early, forced rhubarb. It is a nine square mile area and they use candlelight to harvest the rhubarb (further minimizing the amount of exposure to light). I highly recommend reading this article for more history. How crazy that it grows so fast, you can hear it pop and crackle!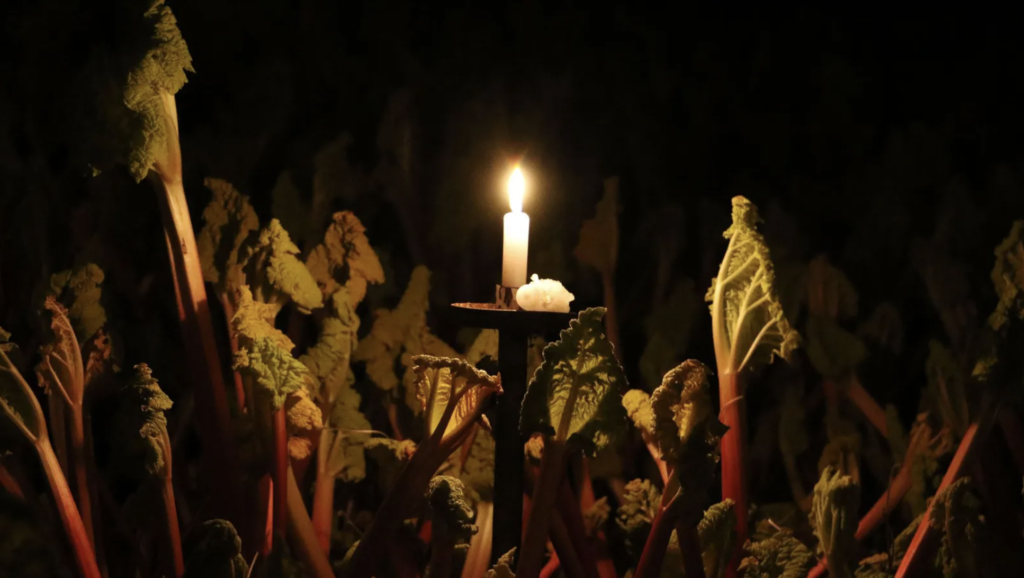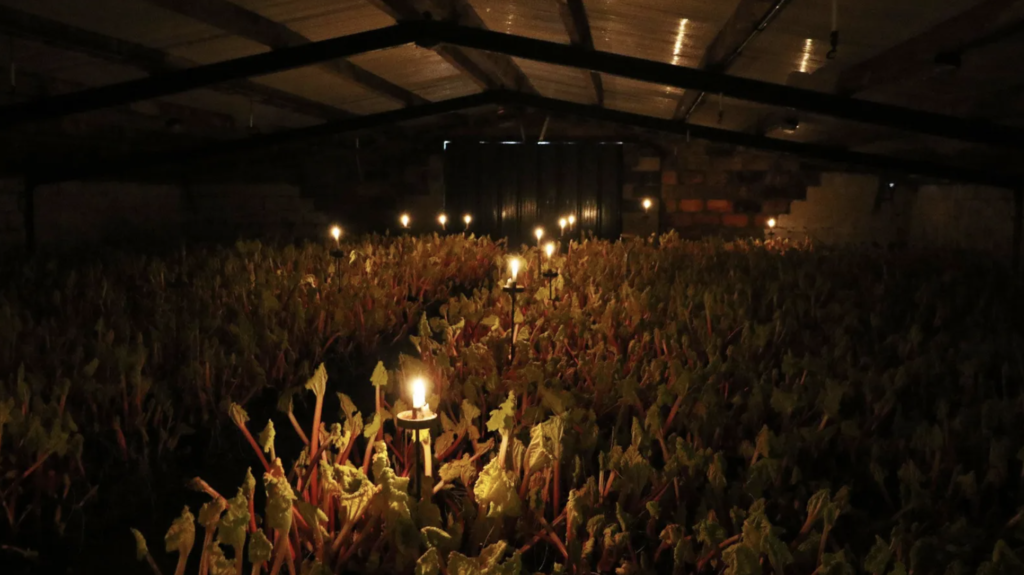 I have yet to find forced rhubarb but I would love to try it! I used normal American rhubarb for this recipe 🙂 Please leave a review if you make this cake and tag @anchoredbaking and #anchoredbaking so I can see your creation!!
Note that rhubarb leaves are poisonous to humans so don't eat that part of the plant!!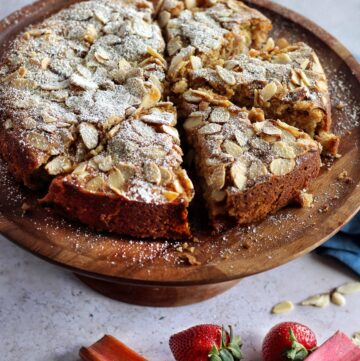 Strawberry Rhubarb Cake with Almonds
A moist cake bursting with sweet strawberries and tart rhubarb.
Ingredients
1/2

cup

butter, softened

1

cup

dark brown sugar, firmly packed

1

tbsp

lemon zest (about 1 lemon)

1

egg, large

1

tsp

vanilla bean paste

240

grams

all purpose flour (2 cups spooned and leveled) + 1 Tbsp

1/2

tsp

salt

2

tsp

baking powder

1/2

cup

buttermilk, see notes

200

grams

rhubarb, sliced, see notes (about 1 and 1/2 cups)

140

grams

strawberries, diced (scant 1 cup)

1/2

cup

sliced almonds

powdered sugar, for dusting
Instructions
Preheat oven to 350 degrees F. Spray a 9-inch springform pan with non-stick spray.

In the bowl of a stand mixer fitted with a paddle attachment, beat butter and brown sugar until light and fluffy (about 3-4 minutes). Scrape down the sides of the bowl. Add egg and beat well until combined. Beat in lemon zest and vanilla bean paste.

In a medium bowl, whisk together the flour, baking powder, and salt. With the mixer on low speed, slowly add the flour mixture alternating with buttermilk, beginning and ending with the flour mixture, until just combined. Careful not to over mix. (I stop when there are still some streaks of flour because the next step involves more mixing.)

Quickly toss together the rhubarb and strawberries with 1 tablespoon of flour (this prevents sinking). Add to the batter and fold gently!

Pour batter into prepared pan. It is a think batter. Use the back of a spoon to spread out the batter evenly. Top with sliced almonds.

Bake for 45 minutes or until a toothpick comes out clean. Allow the cake to cool. Dust the top with powdered sugar right before serving. Enjoy!
Notes
I recommend investing in a kitchen scale. I always measure flour by weight because it can make a big difference in the outcome of your baked goods. If you do not have a scale, Sally's Baking Addiction has a helpful guide for how to measure properly: https://sallysbakingaddiction.com/how-to-measure-baking-ingredients/ 
I rarely have buttermilk at home! I fill up the measuring cup almost to the top, and then add enough apple cider vinegar (or lemon juice) to bring it to the top (about 1-2 tablespoons). Let it sit while you are working through the other steps. 
I had the best results with thinly slicing the rhubarb. I tried dicing it at first and that resulted in everything sinking to the bottom and turning to mush.