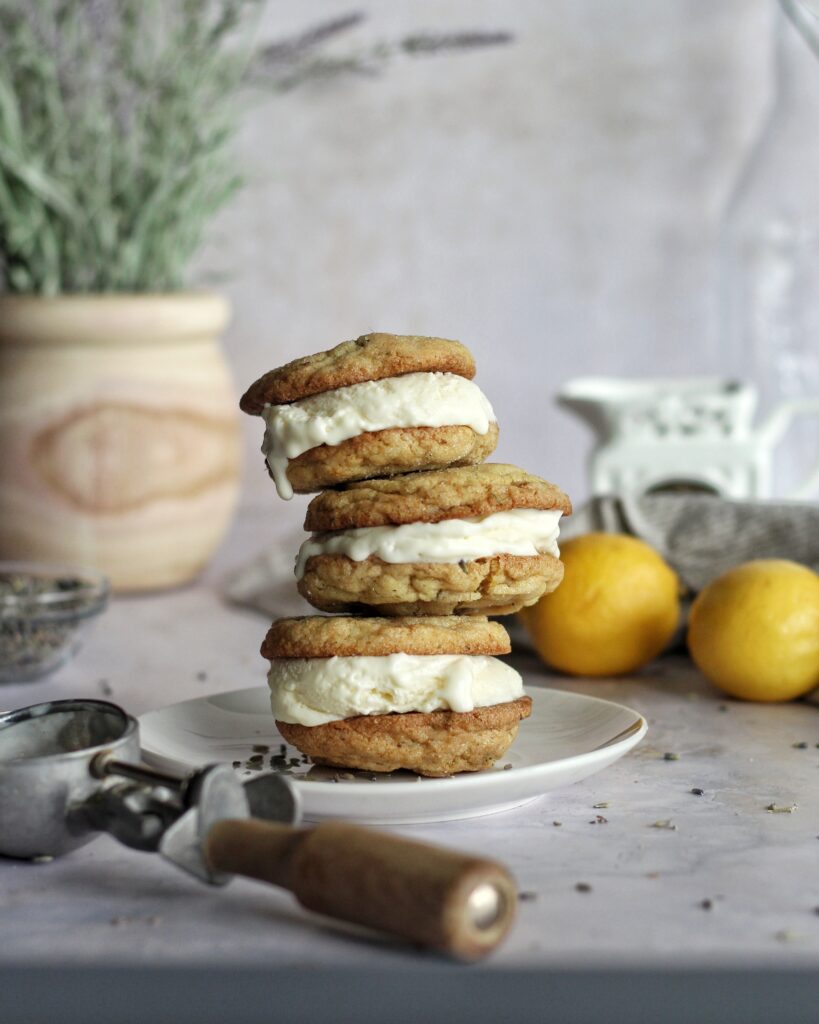 Today I am bringing you two recipes for the price of one! We are starting with a lemon curd ice cream which is creamy, lemony, and NOT AT ALL icy like a sorbet. I paired it with soft lavender sugar cookies because lavender and lemon are a match made in heaven. The lavender is very subtle- I am convinced that even skeptics will love this combination!
About the ice cream
I had leftover lemon curd from this lamington recipe so I decided to use it in ice cream. Since the curd already has egg in it, I did not want a custard-based ice cream base. Instead, I used the Salt & Straw ice cream base from their cookbook. I highly recommend their cookbook to anybody interested in making ice cream- it is loaded with information on methods, technique, science and creative flavor combinations. What I love most about it is once you get the basics down you can start experimenting with your own flavor combinations 🙂 Salt & Straw originated in Portland, Oregon but now has a number of locations. It is definitely worth going out of your way to try their ice cream. We used to love going to the one in San Francisco on Fillmore St.
Back to the base! The base has granulated sugar, dry milk powder (I used malted milk powder), xanthan gum, light corn syrup, whole milk, and heavy cream. This is the best base I have come across- it results in a perfectly textured ice cream with that quintessential ice cream smell if you know what I mean! It is dreamy. Just make sure to let it rest in the fridge overnight for optimal flavor.
I have already talked about my favorite lemon curd! You can read more about it here and here. I love the bright punch of lemon but it is not too sour or too eggy. Try it and you will want to put it on everything, too! It has a very light and refreshing flavor. I think this ice cream would be great by itself served with fresh fruit and a shortbread cookie. So many ways to enjoy it!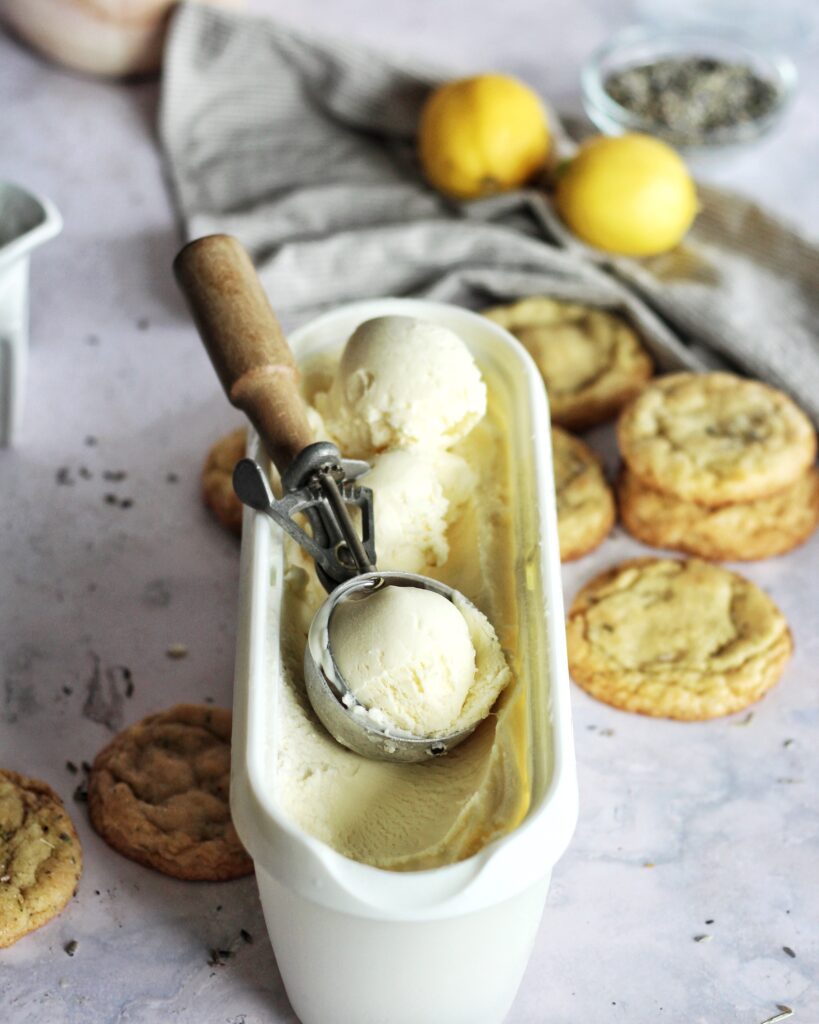 About the cookies
When I thought about pairing this ice cream with a cookie, I knew I wanted to make a sugar cookie with a subtle lavender hint. Lavender is a very underrated and underutilized ingredient in my opinion! It gets a bad rap for being too floral and "soapy" but that only happens if you use too much of it. A little lavender offers a little herby-ness to a recipe, almost reminiscent of rosemary. Another trick is to make sure you pulverize the lavender to a powder so you don't bite into the intense buds of it!
I am very inspired to use more lavender in savory cooking. The Washington Post has a great article about cooking with lavender, "The Herb You Need to Take a Second Look at." They mention adding lavender to pork fried rice- would you try it? Yotam Ottolenghi has a famous dish at his restaurant, Nopi, that calls for Burrata with Blood Orange and Lavender Oil- I am dying to try it! I found the recipe here.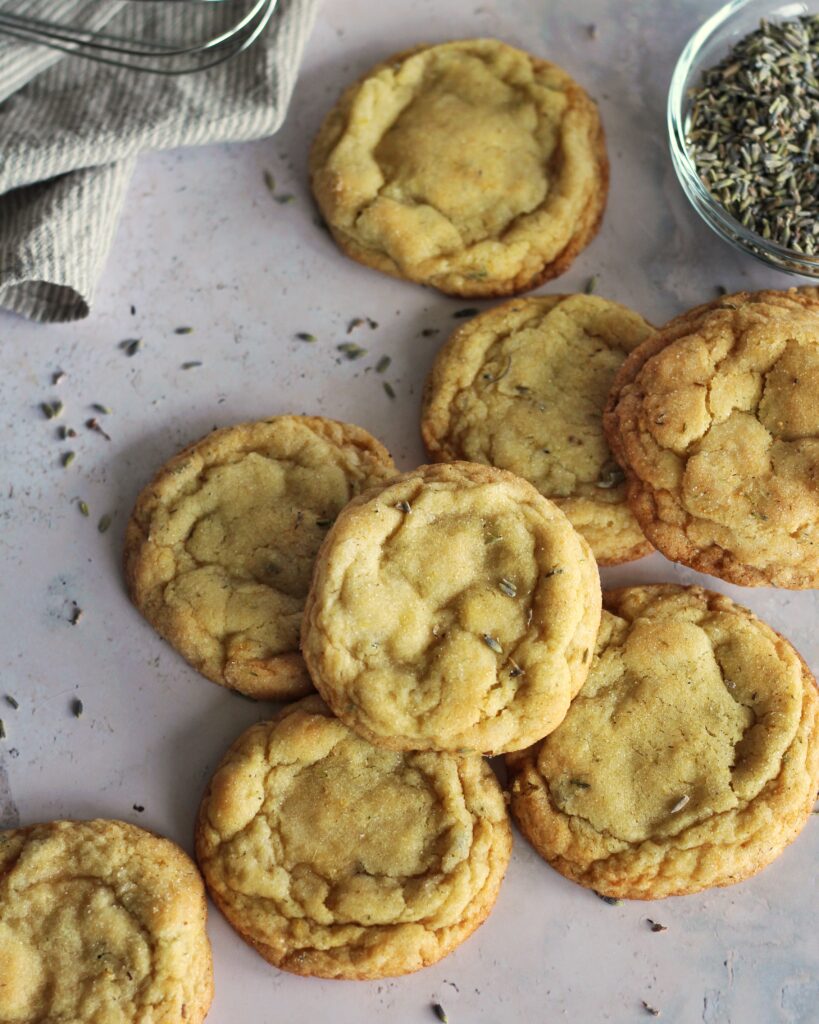 A note about cornstarch in cookies
I hate when cookies are too firm for ice cream sandwiches. That is NO FUN to bite into! These are super soft thanks to the addition of cornstarch. Cornstarch is a thickening agent so it makes sure the cookies don't spread too much. Additionally, adding cornstarch to flour softens the rigid proteins that are in the flour (source). This results in a light and chewy texture. Now you know why the next time you see cornstarch in a cookie recipe 🙂
Enjoy!
I hope you love these recipes. You could definitely make either recipe and serve it on its own. I just thought they went particularly well together 🙂 Please leave a review if you make these and tag @anchoredbaking and #anchoredbaking so I can see your creation!!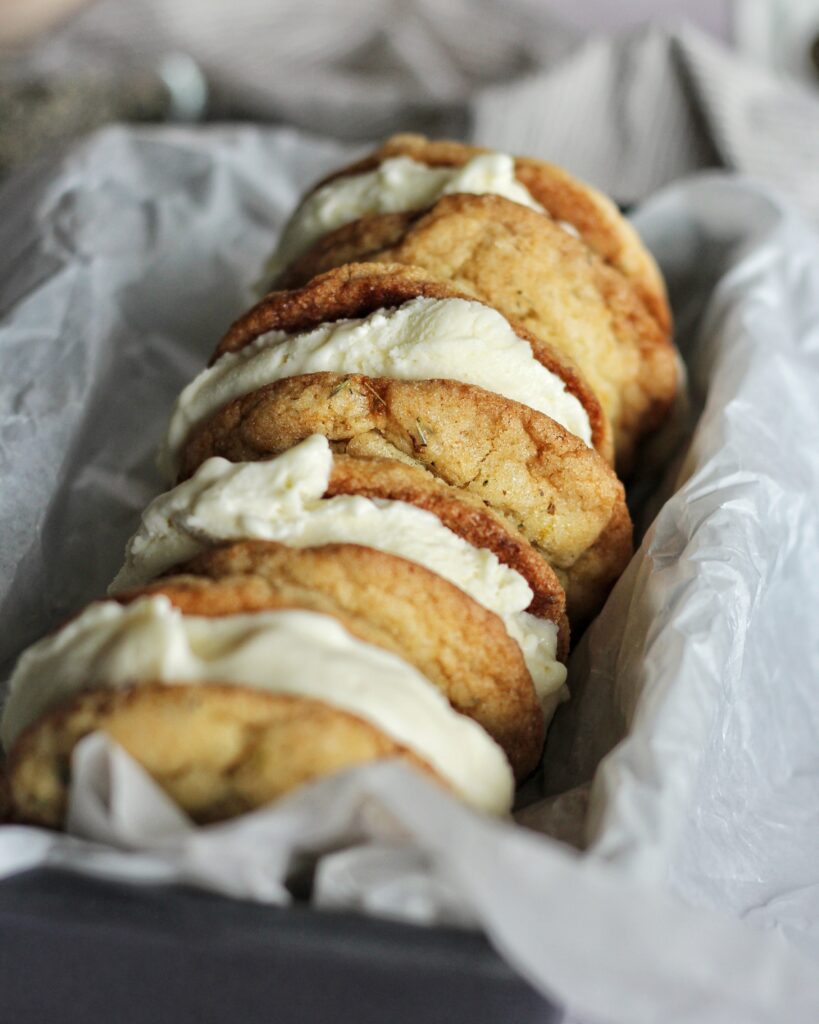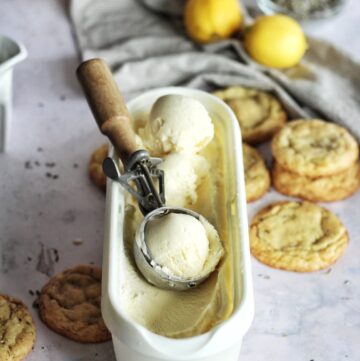 Lemon Curd Ice Cream
This lemon curd ice cream is creamy, lemony, and NOT AT ALL icy like a sorbet.
Ingredients
Ice cream base
1/2

cup

granulated sugar

2

Tbsps

dry milk powder (I used malted milk powder)

1/4

tsp

xanthan gum

2

Tbsps

light corn syrup

1 and 1/3

cup

whole milk

1 and 1/3

cup

heavy cream
Lemon Curd
1

cup

lemon curd (see recipe notes)
Instructions
Prepare the recipe base
Whisk together the sugar, milk powder, and xanthan gum in a small bowl and set aside.

Pour the corn syrup and whole milk in a sauce pan over medium heat. Whisk well to evenly distribute the corn syrup. You have to whisk quickly to prevent the corn syrup from burning at the bottom. Take the pan off the heat as soon as the sugar has fully dissolved (around 2-3 minutes).

Add the cream to the sauce pan and whisk until combined. Transfer the liquid base to a heat safe container (I use glass tupperware), cover, and refrigerate for 24 hours. See notes to prepare in advance.
Make the ice cream
Follow the instructions of your ice cream maker to churn the ice cream base. Add the lemon curd the last 10 minutes of churning.

The ice cream is like soft-serve consistency when it is done churning. Transfer to a freezer-safe container (see notes for my favorite one) and place a layer of plastic wrap directly on the ice cream before sealing with the lid (this prevents freezer burn) and allow to harden for a few hours or overnight. Enjoy!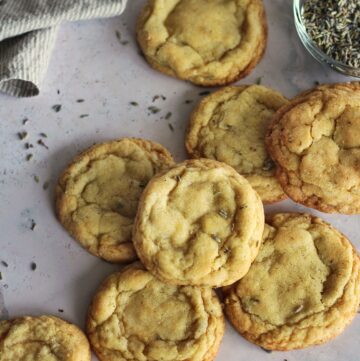 Soft and Chewy Lavender Sugar Cookies
These sugar cookies are soft and chewy and subtly scented with lavender and lemon zest. Enjoy on their own with tea or with the lemon curd ice cream recipe on my blog!
Ingredients
For the cookies
1/2

cup

unsalted butter, room temperature

3/4

cup

granulated sugar

2

Tbsps

light brown sugar, packed

1

egg, large

1

Tbsp

lemon zest

1

tsp

culinary lavender, pulverized to a powder

1

Tbsp

honey

2

cups

all purpose flour (240 grams)

2

tsps

cornstarch

salt, pinch

1

tsp

baking soda

2

Tbsp

lemon juice
Lavender sugar
1/4-1/2

tsp

culinary lavender, pulverized to a powder

1/4

cup

granulated sugar
Instructions
Cream butter, sugars, egg in the bowl of a stand mixer fitted with a paddle attachment. Beat on medium high speed until the mixture is light and fluffy (about 3-4 minutes).

Scrape down the sides of the bowl. Add lemon zest, honey, and lavender. Beat for another 2 minutes until combined.

Add the flour, cornstarch, and a pinch of salt directly to the bowl of your stand mixer (no need to whisk separately). Add baking soda to the top of the pile and add lemon juice directly to the baking soda pile. It will bubble and foam- this is good! It means your baking soda is activated. If it doesn't bubble, it is most likely old and expired. Beat for 1-2 minutes, until combined. Scrape sides of the bowl as necessary.

Cover bowl with plastic wrap and transfer to the refrigerator to chill for at least 2 hours.

Meanwhile, whisk together the sugar and lavender. You will roll your cookies in this before baking.

Towards the end of chilling time, preheat your oven to 350 degrees F and line a baking sheet with parchment paper.

When the dough is properly chilled, take a couple tablespoons of dough and roll into a ball. Dip the ball to into the bowl with the lavender sugar and roll it around until it is evenly coated. Transfer ball to your prepared baking sheet and press down slightly to flatten a bit. Repeat with remaining dough.

Bake for 10 minutes or until the edges are slightly brown.

If you are making these cookies for a cookie sandwich (or if you are a perfectionist), I highly recommend the "cookie scoot" to get perfectly round cookies. Take a round cookie cutter (larger than the size of the baked cookie) and place it over the hot cookies right out of the oven. Keeping the cookie cutter touching the baking sheet, quickly move it around in a circular motion. This will make the edges of the cookie touch the sides of the cookie cutter and after a few turns, it will be a perfect circular shape!

Allow the cookies to cool on the baking pan for a few minutes and then transfer to a wire rack to cool completely. Enjoy!