If you ever find yourself with a surplus of egg whites, this recipe is for you! Pavlovas are super easy to make and result in a stunning display piled high with whipped cream and fresh fruit. In this version, I put a simple vanilla bean whipped cream over the meringue base allowing for the lilikoi curd to shine through. If you have never had a pavlova before, you will be surprised by the marshmallowy center hiding under the crunchy exterior. It is a real treat!
In this post I will go over:
A brief history of the pavlova

The different methods of making meringue and why I prefer Swiss meringue
Information about lilikoi (also known as passion fruit) and the flower you see on top of this cake
A Brief History of Pavlova
This dessert is named after a famous Russian ballerina, Anna Pavlova. Depending on who you ask, people will either say that the pavlova was created in New Zealand or Australia around the year 1926. In New Zealand, they claim that it was created in Wellington and inspired by the billowy tutu. In Australia, they will say it originates from a hotel in Perth. The story goes that a dinner guest exclaimed that the dessert was "light as Pavlova" (source). Which story do you believe?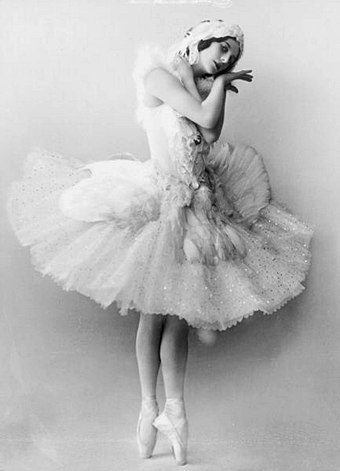 Well… turns out, it may be neither! Dr. Andrew Paul Wood, a New Zealand art historian, and Annabelle Utrecht, an Australian researcher, teamed up to research the origins of pavlova (you can see some of the primary sources here). They discovered nearly 150 recipes for meringue-based cakes that predate 1926, primarily found in the United States and the UK (source). It is thought that an early version of the pavlova cake comes from the Germanic tortes that were popular in the American Midwest in the 1860s (source). They also discovered other desserts that are named after Pavlova, like Strawberries Pavlova, that don't look like the pavlovas we see today.
Wood and Utrecht believe that the recipe for the meringue-based pavlova traveled to Australia and New Zealand via a recipe on the back of a cornstarch box (source). Cornstarch is the ingredient that gives pavlovas a marshmallowy texture. Even though meringue-based cakes and desserts named after Pavlova existed before, it is still believed that either Australia or New Zealand was the first to assign the Pavlova name to this particular meringue-based cake.
Different Types of Meringue
There are three different methods to make meringue:
French Meringue (most common): This is made by whipping raw egg whites and sugar to stiff peaks. The egg whites stay raw until baking.
Italian Meringue: This involves whipping egg whites and mixing in a hot sugar syrup. This syrup it hot enough to start cooking the egg whites.
Swiss Meringue: This process includes gently warming the egg whites and the sugar in the same bowl over simmering water until the sugar is completely dissolved and the temperature reaches 160 degrees F.
The Swiss method is the easiest way to get a more stable meringue that can withstand humidity and warmer weather. The French method can result in "weeping," or a seeping of moisture. This is a more temperamental method because you need to add the sugar at the precisely right time. I didn't test with the Italian method because why work with hot syrup when you can mix something over simmering water?

If you want to read more about the science behind these different techniques, I recommend this article by Cooks Illustrated.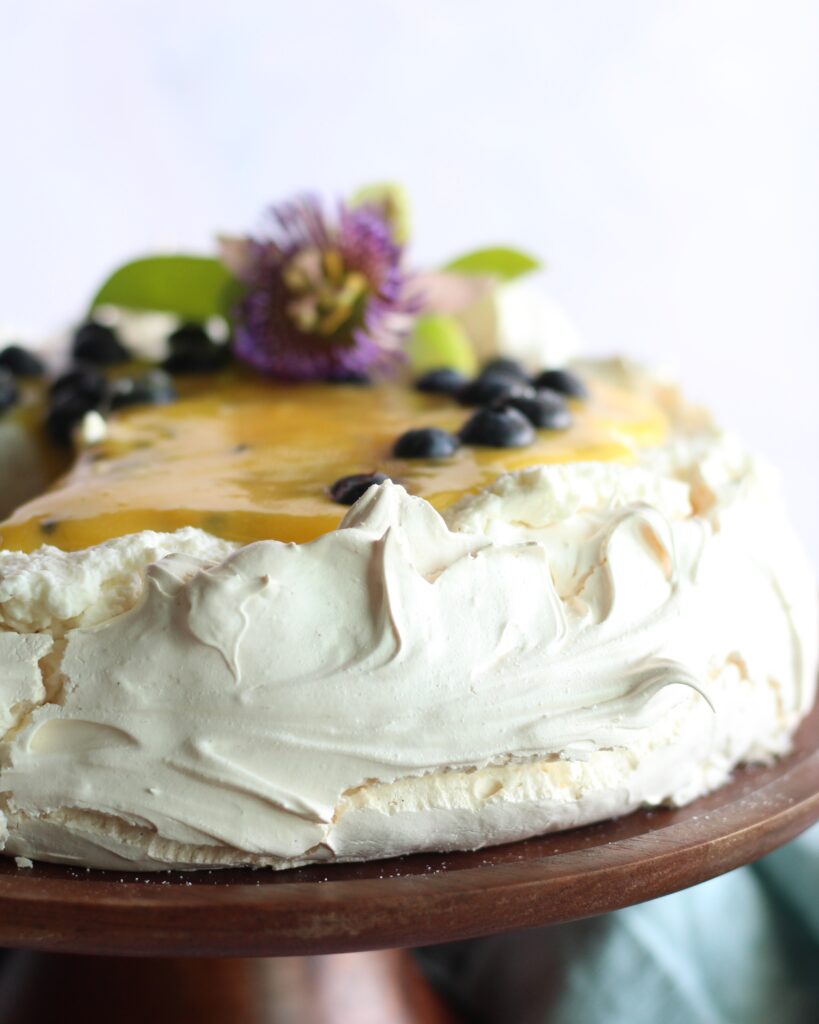 About Lilikoi
My love of lilikoi is well documented at this point! "Lilikoi" (pronounced Lil-A-Koy) is the Hawaiian word for passion fruit. It is a small, round fruit grown on a vine. They are filled with little sacs of juice and black seeds. They are very sweet, tart, and fragrant. It is common to see lilikoi in juice form, mixed into drinks, or used in desserts.
I went on somewhat of a mission to find a lilikoi flower to decorate this cake. They are such pretty and exotic looking flowers. I drove all around Maui looking for a vine. The flowers only last a few hours once open so you have to catch them at just the right time. I ended up getting this flower from a neighbor on Nextdoor- I was so touched that she went out of her way to gift this to me. Sometimes my faith in humanity is restored!! Thank you, neighbor!
Note: If you decorate with real flowers, wrap the stem in green florist tape to protect the cake.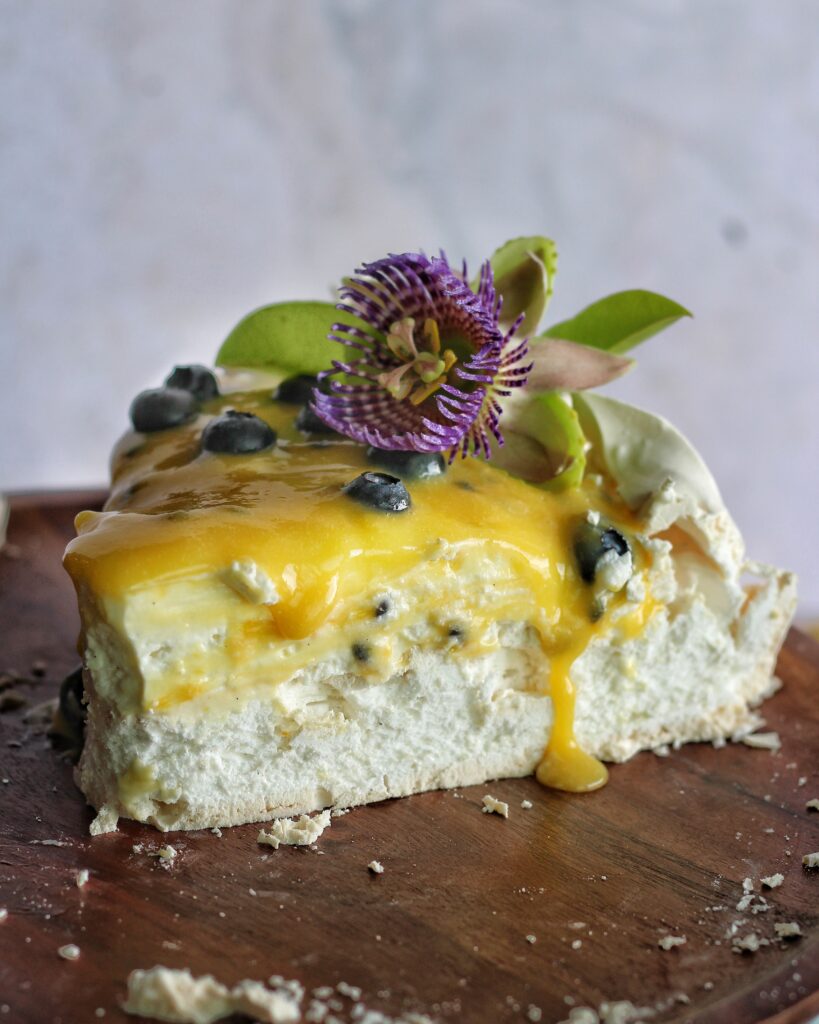 I love using lilikoi in a curd because you get a strong punch of lilikoi flavor without the bitterness. You can also use this curd for dunking beignets (highly recommend) or substituting this for the lemon filling in these lamingtons (would be delish with the coconut). I also have a recipe for a savory pizza using lilikoi. What kind of lilikoi recipe do you want to see next??
Enjoy!
I hope you love this pavlova. I topped it with blueberries and a passion flower but feel free to add any fruit you have on hand (strawberries, raspberries, etc). Please leave a review if you make one and tag @anchoredbaking and #anchoredbaking so I can see your creation!!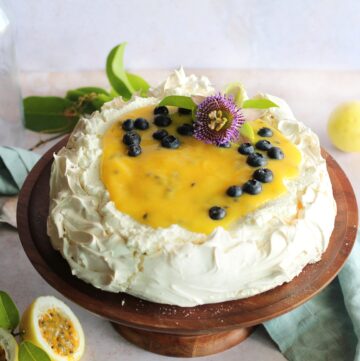 Swiss Meringue Pavlova with Lilikoi (Passion Fruit) Curd
This pavlova has a crunchy exterior and a marshmallowy interior. Top with vanilla bean whipped cream and a lilikoi curd for the ultimate tropical dessert!
Ingredients
Meringue
1 and 1/2

cups

granulated sugar

6

oz

egg whites from about 5 eggs (see notes)

1 and 1/2

tsp

distilled white vinegar

1 and 1/2

tsp

cornstarch

1

tsp

vanilla extract
Vanilla Bean Whipped Cream
2

cups

heavy cream

1

Tbsp

powdered sugar

1

tsp

vanilla bean paste
Lilikoi Curd
1/2

cup

lilikoi curd (see recipe notes)

1-2

cups

fresh fruit (I used blueberries)
Instructions
Prepare the meringue
Preheat oven to 240 degrees F. Make sure the rack is placed in the middle of the oven. Trace a 9-10 inch circle on a piece of parchment paper (I used a cake pan as my stencil). Put the marked side face down on a baking sheet and set aside.

Start simmering about 1 inch of water in a saucepan over medium heat.

Whisk together the egg whites and sugar in a heat-safe bowl (I used the bowl of my stand mixer). Place the bowl over the simmering water, making sure the bottom of the bowl doesn't touch the water. Whisk gently but consistently to cook evenly. Keep whisking until the sugar is dissolved and the temperature is 160 degrees F (about 6 minutes).

Meanwhile, mix vinegar, cornstarch, and vanilla in a small bowl. Set aside.

Transfer the bowl with your egg mixture to the base of your stand mixer (careful- the bowl may be hot to touch). Use the whisk attachment and whip on high speed for about 4 minutes. The meringue is done with you reach stiff peaks and it is smooth and glossy. The color will be bright white.

Stop the mixer and scrape down the sides. Add your vinegar, cornstarch, and vanilla. Whip again on high speed until evenly combined, about 10 seconds.

Put a little dap of the sticky meringue on each corner of the parchment paper, facing down on the baking tray. This helps the paper stay in place when you are shaping your meringue.

Transfer the rest of the meringue into a pile at the center of the circle you drew. Use a spatula to spread out the meringue into the larger circle shape (it doesn't have to be perfect). You want the edges to be a little higher than the center (you want a little crater to fill with whipped cream). I did a little swirling at the edges to give it an effortless, rustic look.
Bake the meringue
Bake the meringue for about 1 hour to 1 hour and 10 minutes. You can test to see if it is done by lightly tapping the edge. It should feel dry and crisp- if not, give it 10 more minutes. Make sure to do this quickly to make sure you don't let the pavlova get too much of the room temperature air (this could result in cracking).

Turn the oven off but leave the pavlova in there to dry for at least 4 hours (or overnight). You want the pavlova to cool down and dry out slowly- otherwise it could crack.
Make the whipped cream
Before serving, whip together the heavy whipping cream, powdered sugar, and vanilla bean paste in the chilled bowl of a stand mixer. Start at a slow speed and then increase to medium and then increase to high until the cream is smooth, thick, and doubled in volume. You are looking for soft peaks.
To assemble
Caution: Only assemble the pavlova very close to serving. The whipped cream will eventually make the pavlova lose its crispiness. It is best to serve within 1 hour of assembly.

Gently peel the pavlova off the parchment paper and transfer to you platter.

To assemble: Spoon the whipped cream on top of the pavlova followed by the curd. Decorate with fresh fruit (I used blueberries) and enjoy!