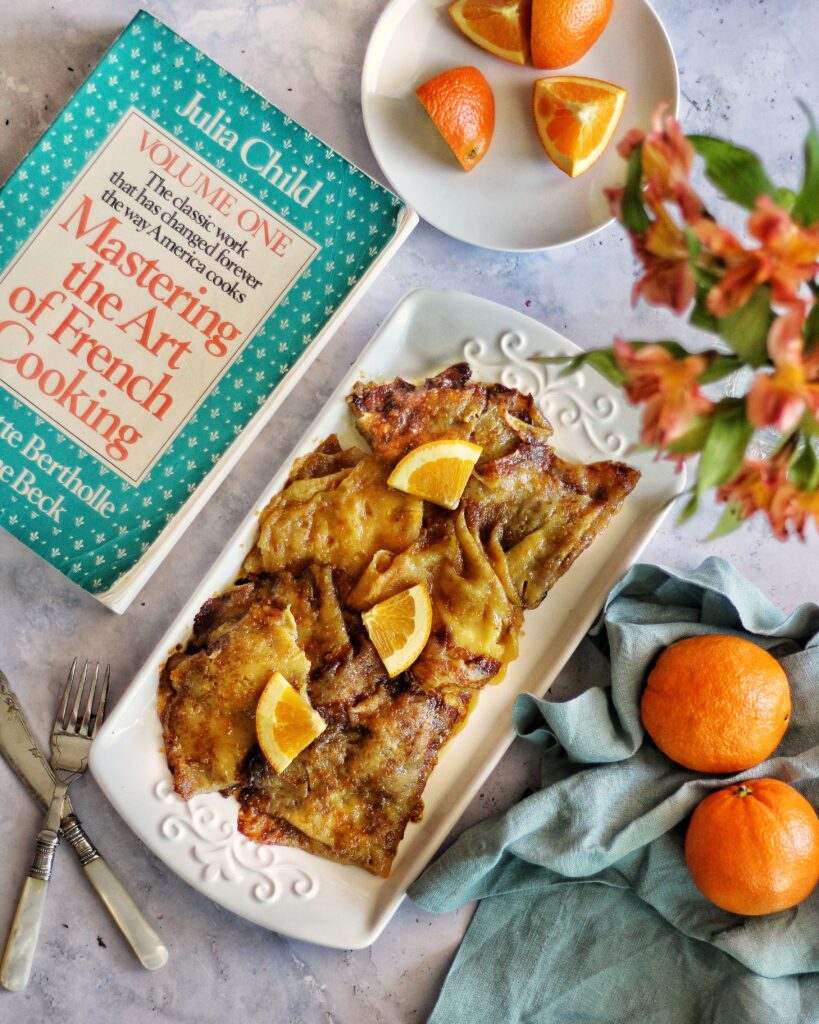 Today is Julia Child's birthday! She would have been 109 years old. In celebration, I made one of her favorite desserts- Crêpes Suzette! 
You start by making a stack of crêpes. Then you coat each crêpe in a caramelized orange butter sauce, fold them in quarters, sprinkle them with sugar and flablé with orange liqueur and brandy. This is traditionally done tableside because it is quite a show with the flames!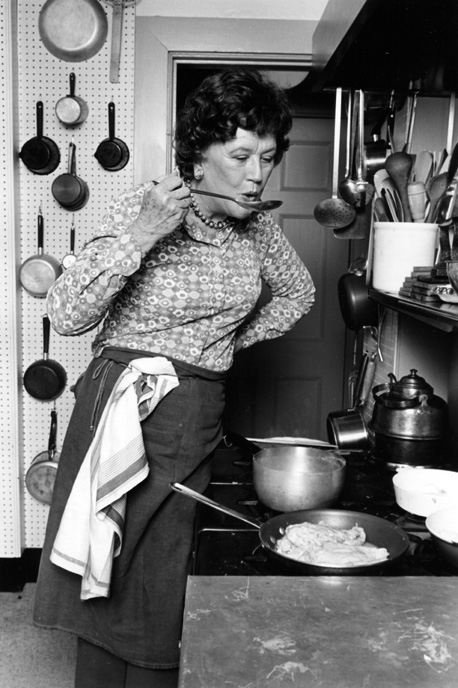 My Life in France
I recently finished reading My Life in France co-authored by Julia Child and Alex Prud'homme (her husband's brother's grandson). This book gave me a whole new appreciation for her perspective on life. You could just feel her joy and sense of humor. I loved how she walked us through meals that piqued her interest in learning how to cook. I highly recommend reading it 🙂 This book also details the writing process for Mastering the Art of French Cooking (which includes this recipe for Crêpes Suzette). It is fascinating and might just be my new favorite book. 
One of the sections that especially stood out to me is when she was talking about how you must never apologize for your cooking:
"I don't believe in twisting yourself into knots of excuses and explanations over the food you make. When one's hostess starts in with self-deprecations such as "Oh, I don't know how to cook…," or "Poor little me…," or "This may taste awful…," it is so dreadful to have to reassure her that everything is delicious and fine, whether it is or not. Besides, such admissions only draw attention to one's shortcomings (or self-perceived shortcomings), and make the other person think, "Yes, you're right, this really is an awful meal!" Maybe the cat has fallen into the stew, or the lettuce has frozen, or the cake has collapsed — eh bien, tant pis! Usually one's cooking is better than one thinks it is. And if the food is truly vile, as my ersatz eggs Florentine surely were, then the cook must simply grit her teeth and bear it with a smile — and learn from her mistakes." (My Life in France, p 77.)
This is a reminder I often need and I hope it provides you some reassurance as well 🙂 Try something new and learn from it!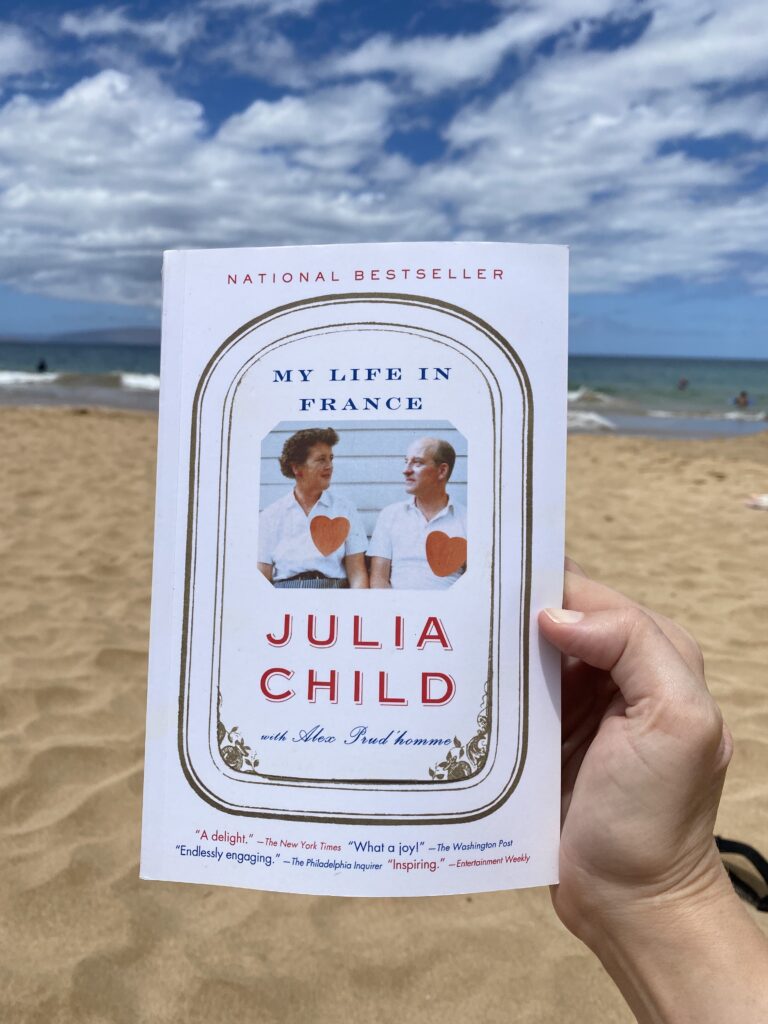 Crêpes Suzette
I followed the recipe from Mastering the Art of French Cooking. This recipe from the Smithsonian is almost exact- instead of using 4 lumps of sugar, I just peeled the orange parts off an orange using a vegetable peeler and put it in a food processor with 1/2 cup granulated sugar.
Step 1 of making crêpes suzette is to make a batch of crêpes. The hardest part for me is flipping the crêpes without folding or tearing them. There is a learning curve for sure! It definitely helps to remove the pan from the heat source when you pour the batter and swirl it around then you return it to the heat source. The crêpes can be made in advance because they are reheated at the next step.
I did not have a big chafing dish as she calls for so I used two pans for the next step. In one pan, I melted the orange butter and used this to coat each side of the crêpe, fold it in half and then in half again. Then I transferred the folded crêpe to a cast iron skillet where I was keeping it warm until I flabléd it. I found it was more helpful to have the extra space to coat and fold- otherwise my pan was getting too crowded.
The result was delicious! The crêpe are ever so slightly crisp on the edges, warmed with a caramelized butter, the fresh scent of orange, and a little zing from Cointreau. I will also need more practice with the folding and assembly before doing it in front of guests 🙂 I think I will also add some vanilla ice cream next time, too.
If you give this recipe a shot, I would love to know how it goes for you!!
Watch Julia making Crêpes Suzette! She makes it look easy 🙂
As she would say…. Bon Appétit!