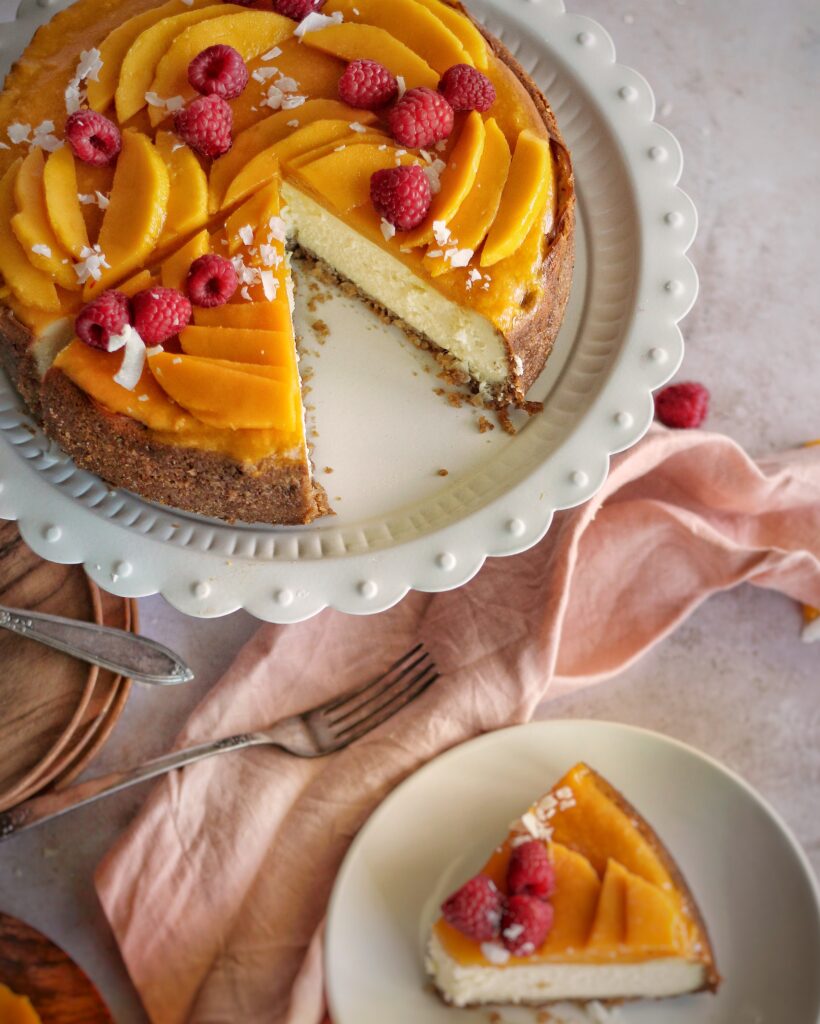 Ready for more tropical flavors while everybody else is posting pumpkin spice? Me too! This cheesecake has a crust made with both graham crackers and coconut flakes. The cheesecake batter has cream cheese and coconut milk- making it extra creamy and delicious with a nice coconut flavor. Then I made a gelée layer with mango puree and gelatine. This gives it a nice intense mango flavor and a great texture for slicing and eating 🙂 I topped it with more mangos, fresh raspberries, and a sprinkle of coconut flakes. I've been dreaming up this recipe for quite some time and I hope you love it!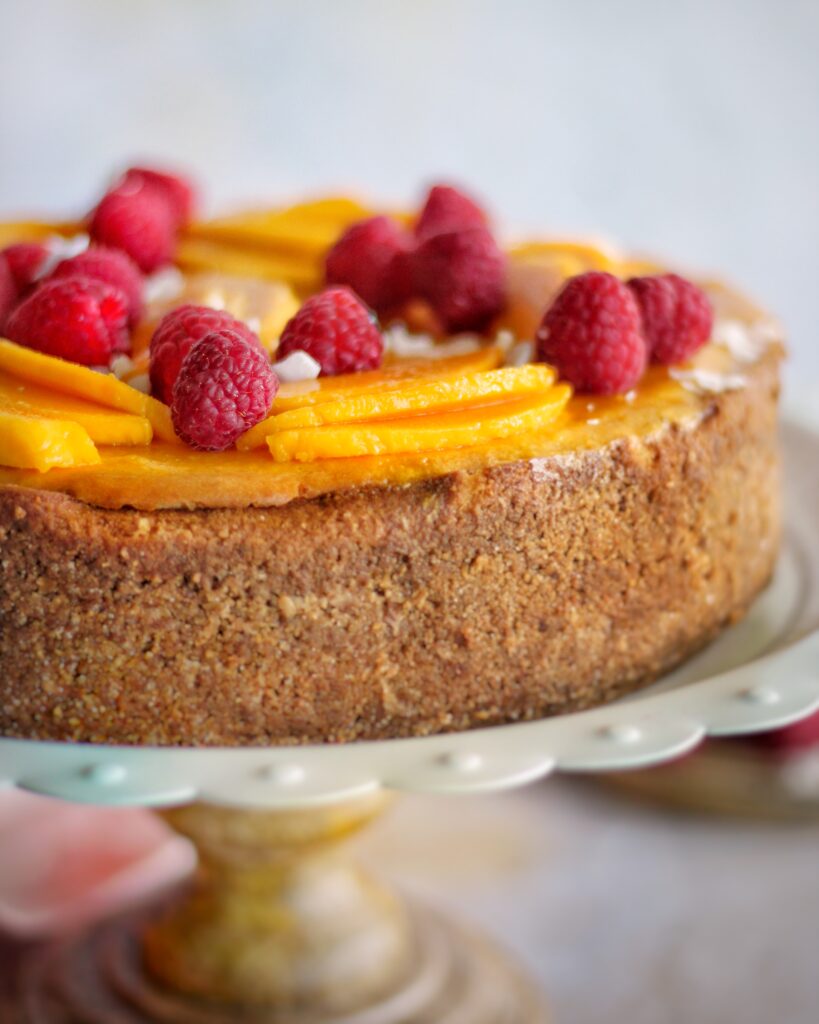 Hawaiian Mangos
If you are ever in Maui, I recommend picking up mangos from Yee's Orchard Stand on South Kihei! These are the BEST mangos I've ever had. They are so sweet and juicy with no stringy fibers. This is also where I learned how many different mango varieties there are. My favorites so far are the Golden Glow and the Keitt.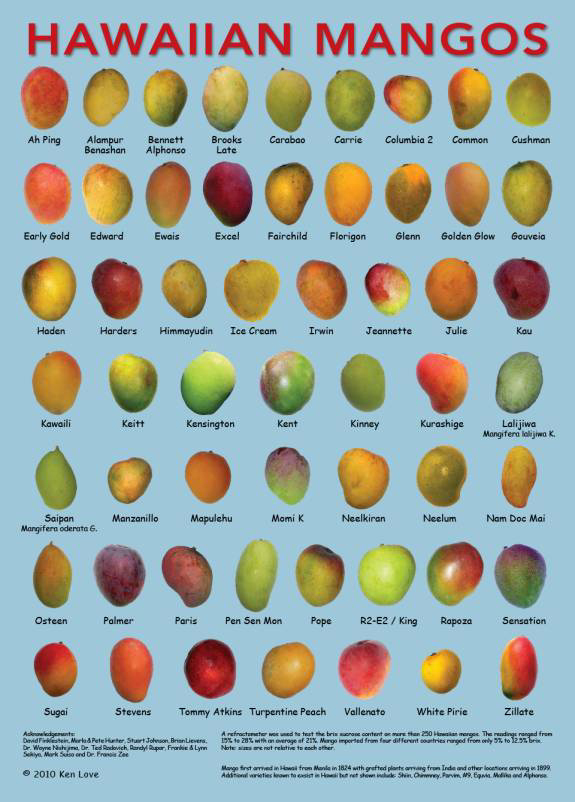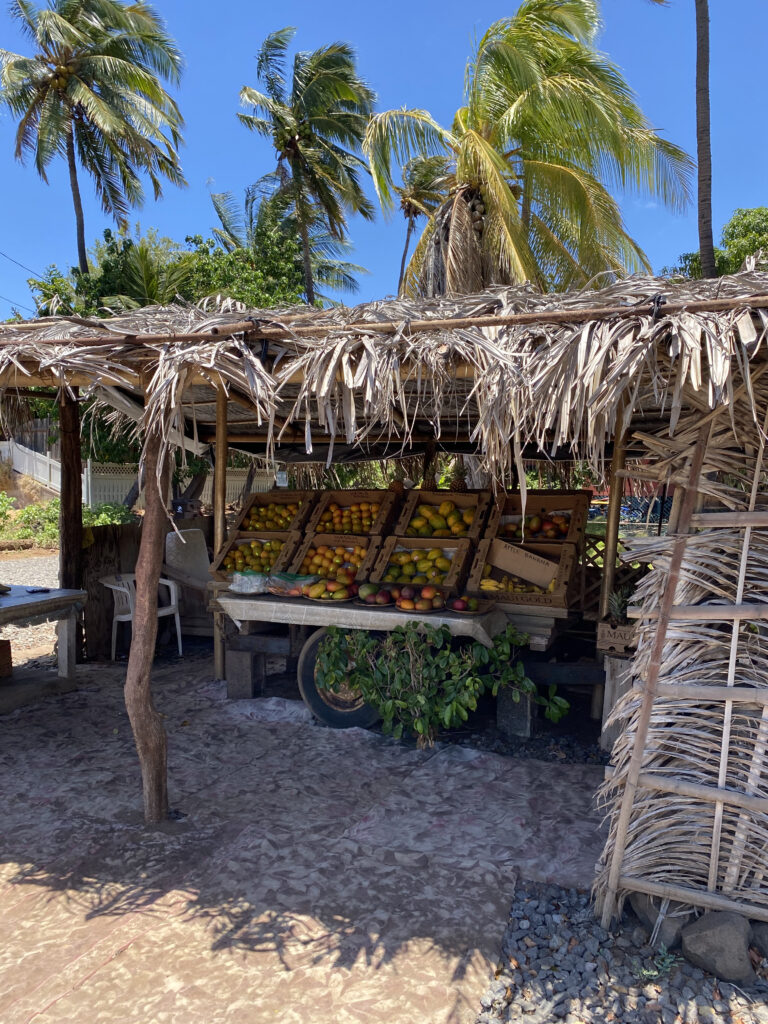 Overview: How to make this cheesecake
Make the crust: I really like this crust because it has both graham cracker and coconut flakes in it. I normally crush the graham cracker by putting it in a ziplock bag and using a rolling pin to crumble it. Transfer the crumbs to a food processor to combine with the coconut flakes. This ensures that everything is evenly mixed and fully pulverized.
Pre-bake the crust: This ensures that your crust will stay crispy after adding the filling.
Make the batter: Make sure to use

room temperature

ingredients during this step. It is crucial for getting a smooth texture.
Bake the cheesecake: There are two methods for making sure you create a humid environment in the oven for baking. This is important for preventing cracks on the surface of your cheesecake and for preventing your cheesecake from getting too dry (who wants that?!?) One method calls for putting your cheesecake directly into a larger sized roasting pan and filling the roasting pan with boiling water. The second method (and the one I use) is to place a roasting pan of boiling water on the rack below the cheesecake. I have had better luck with this 🙂
Make the mango gelée: While the baked cheesecake is coming to room temperature, I make the gelée (AKA a jelly-like food). When using gelatine, you have to let it "bloom" by sprinkling the gelatine into cold water and letting it sit for a few minutes. This ensures that when the mixture is heated, it will dissolve evenly. This will give a smooth texture to the finished product.
Assemble & chill: I added the gelée layer to the cheesecake once the cheesecake was at room temperature. Then I transferred it to the fridge to allow the gelée to set and the cheesecake to chill. Top with additional mango or whichever fruits you prefer!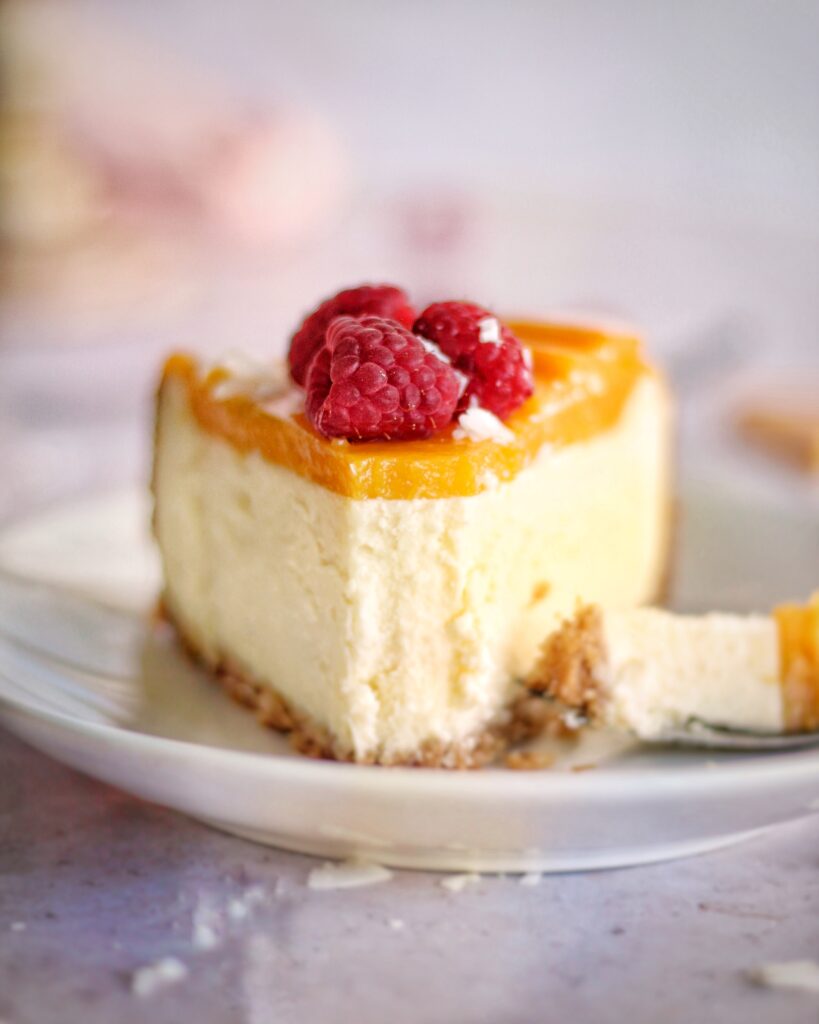 Tips & Tricks
I wrote about additional tips and tricks for making cheesecake in this post for Cinnamon Mascarpone Cheesecake with Brûléed Figs. Figs are in season right now and this also makes a beautiful display. I have a soft spot for cheesecakes 🙂
Enjoy!
I would love for you to try this mango cheesecake recipe! Tag @anchoredbaking or #anchoredbaking so I can see your creations! As always, please let me know if you have any questions or feedback 🙂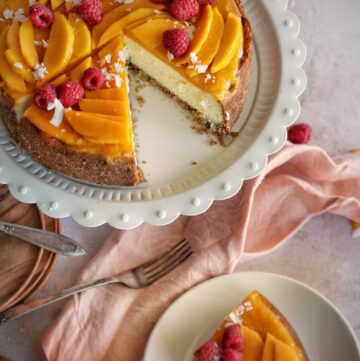 Mango Coconut Cheesecake
This tropical-inspired cheesecake has a coconut graham cracker crust, a creamy coconut filling, and a super fruity mango gelée layer. This is the perfect treat for anybody wanting a taste of vacation 🙂
Ingredients
Coconut Graham Cracker Crust
2

cups (220 grams)

graham cracker crumbs (a little less than 2 sleeves)

1/2

cup (45 grams)

coconut flakes (unsweetened, shredded or flaked)

1/3

cup (70 grams)

granulated sugar

1/2

cup (110 grams)

unsalted butter, melted
Coconut Cheesecake
4

8 oz

blocks full fat Philadelphia cream cheese (room temperature)

1

cup

coconut milk (full fat, room temperature)

(be sure to shake the can before opening it!)

4

large eggs (room temperature)

1

cup

granulated sugar

3

Tablespoons

cornstarch

1/2-1

tsp

coconut extract (depending on how much you like coconut, I used 1 full teaspoon)
Mango Gelée
1

cup

mango puree

2.5

teaspoons

gelatine powder

1/2

cup

water
To serve
ripe mangos, sliced

rasperries

unsweetened coconut flakes
Instructions
Coconut Graham Cracker Crust
Preheat oven to 350 degrees F. Spray a 9" springform pan with nonstick spray and set aside.

Combine the graham cracker crumbs and coconut flakes in a food processor. Add melted butter and sugar and keep mixing until you have the texture of wet sand.

Pour the coconut graham cracker mixture into the prepared springform pan and press it firmly into the bottom and sides of the pan. You can use a measuring cup to press it down evenly. Bake for 8 minutes. Remove from oven and allow to cool slightly as you make the filling.
Coconut Cheesecake Batter
Reduce oven temperature to 325 degrees F. Place a 9x13in pan in the bottom rack of your oven. Start boiling water. You will pour the boiling water in this pan right before baking the cheesecake.

Use a stand mixer fitted with the paddle attachment to beat the room temperature cream cheese until it is smooth and creamy. This will take about 2 minutes on medium speed. Add the coconut milk, sugar, and cornstarch and mix for another 30 seconds to 1 minute or until combined. Scrape down the sides and bottom of the bowl with a spatula.

Decrease the speed to slow and add eggs one at a time, waiting for each egg to fully mix in before adding the next egg. Add the coconut extract and give it one more mix.

Pour batter into the cooled pan with the prepared crust. Gently tap it on the countertop to release any bubbles. Use an offset spatula to even out the surface.

Pour the boiling water into the pan and immediately place the cheesecake on the center rack.

Bake in the 325 degree oven for 1 hour. It is done when the edges are set and the middle slightly jiggles if you gently shake the pan. Turn the oven off and crack the oven door. Let the cheesecake cool in the oven for about 45 minutes. Remove the cheesecake from the oven and allow it to come to room temperature. Keep the springform ring on the cheesecake.
Mango Gelée
Sprinkle the gelatin over cold water in a small saucepan and let it sit for 10-15 minutes. Transfer the saucepan to your stovetop and warm the mixture until the gelatine is completely melted.

Whisk in the pureed mango pulp (the smoother the better) and pour it over the room temperature cheesecake. This should be just enough to cover the surface of the cheesecake. Make sure the gelatine doesn't start spilling over the sides. Stop pouring if it is too much. Pop any bubbles in the gelatine with a toothpick.

Carefully transfer the cheesecake to the refrigerator and allow to chill for at least 2-3 hours (preferably overnight).
For serving
Before serving, release the cheesecake from the springform pan. Decorate with more sliced mango or fruit of your choice. Sprinkle with unsweetened coconut flakes.

Run your knife under HOT water and quickly dry it off. Slice cheesecake (cleaning the knife between slices if needed). ENJOY!