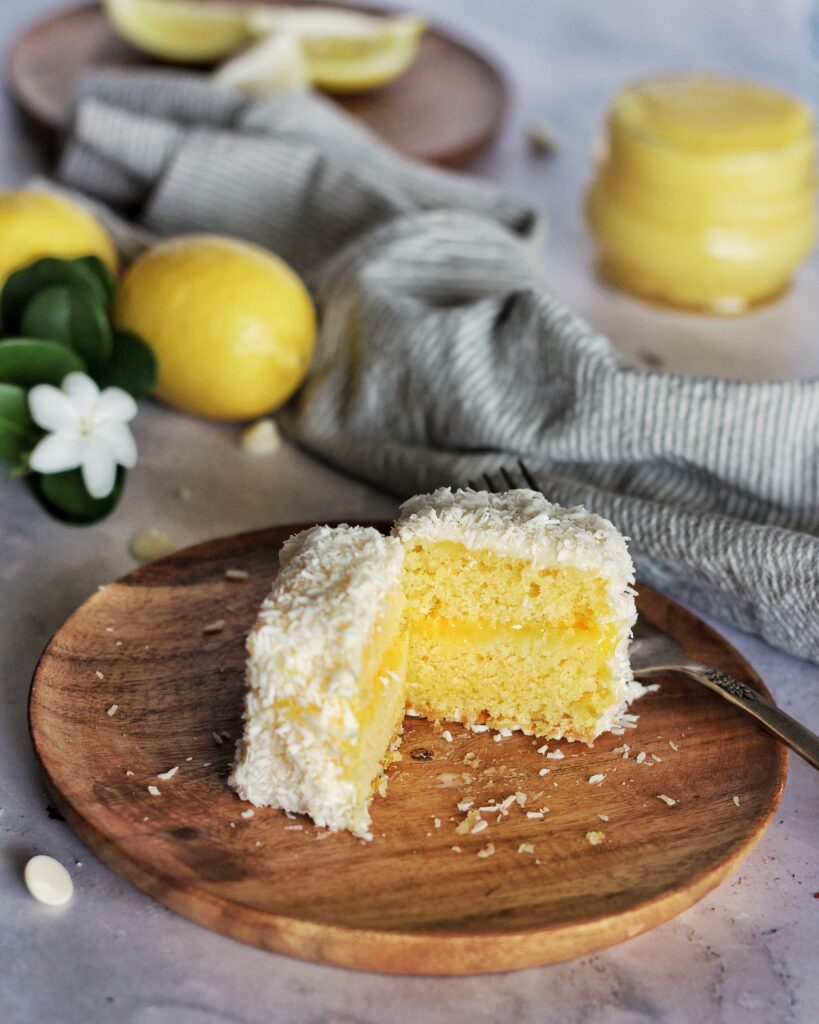 Hello! This is my first post in 3 months- I cannot believe how fast time is going. What have you all been baking? I have really been missing time in the kitchen but I am back today with a new recipe for lemon white chocolate lamingtons!
What are lamingtons?
Lamingtons are an Australian dessert made from sponge or butter cake coated in melted chocolate or chocolate icing (like a thin frosting) and then rolled in desiccated coconut. There is much debate about whether lamingtons should or should not include jam or cream between the cake layers. Jam did not appear in any of the original recipes and some believe that it should stay that way. Either way, these are very untraditional lamingtons because I used white chocolate and a layer of lemon curd 🙂 Lamingtons are a popular item to have at afternoon teas or bake sales. Apparently National Lamington Day is July 21st. So you can save this recipe to make then 🙂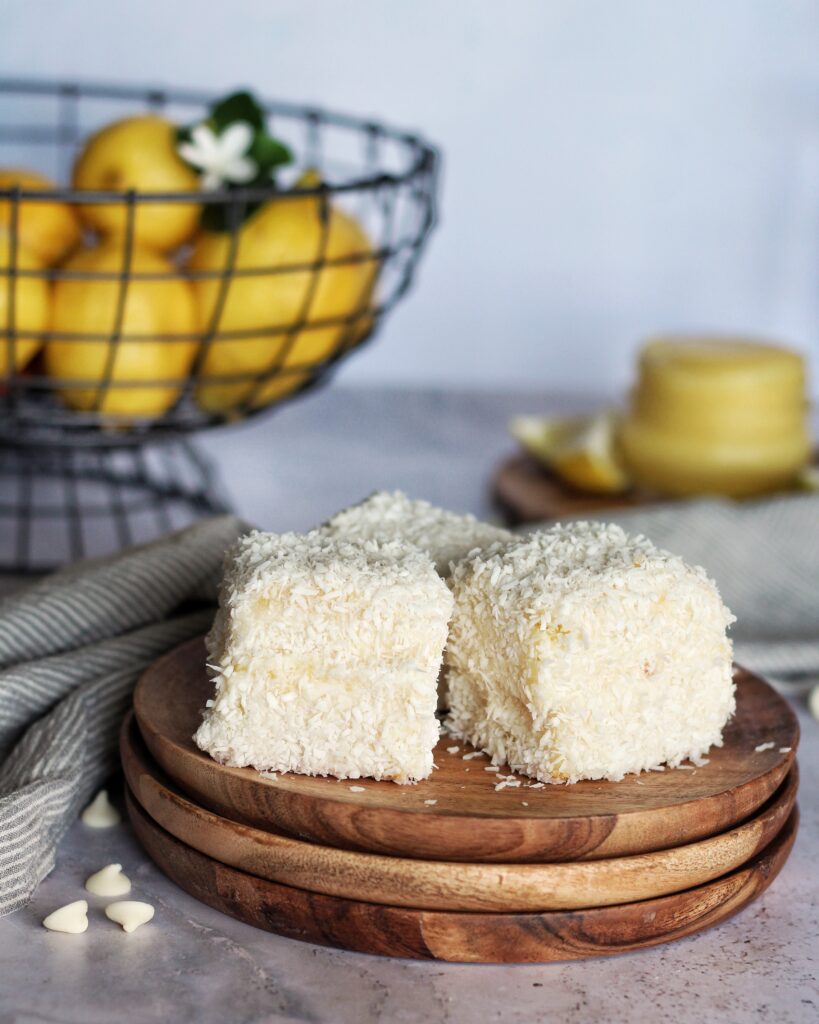 A brief history of lamingtons
Like a lot of food history, there are a few theories about the invention of the lamington. One theory comes from the Old Government House in Brisbane and claims that a maid accidentally dropped sponge cake into melted chocolate and used coconut to avoid messy fingers (source). In general, scholars believe that Armand Galland, Lord Lamington's chef, invented the lamington in Queensland around 1900. There are some theories that he came up with the dessert in a pinch when he didn't have other ingredients available or as a way to use up stale sponge cake. Maurice French, an emeritus professor of history at the University of Southern Queensland, wrote an entire book about the history of lamingtons, The Lamington Enigma: A survey of the evidence. You can listen to a short interview with the author here.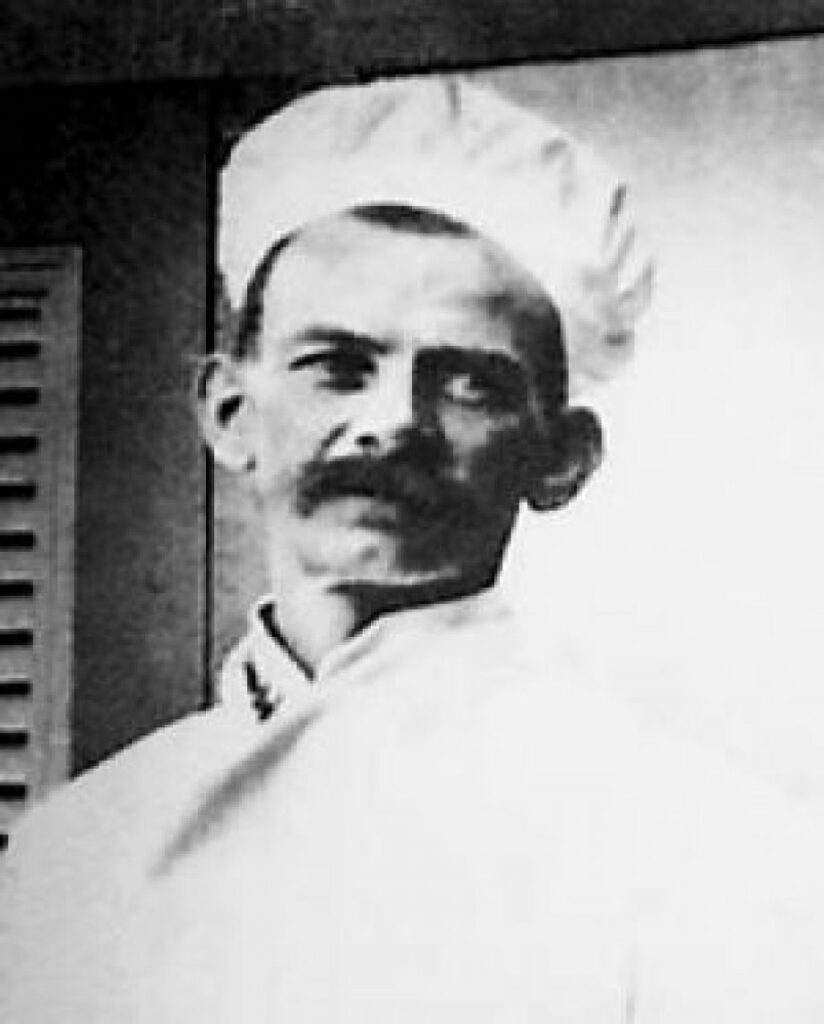 There is agreement that the lamington was named after Lord Lamington or his wife. Lord Lamington served as Governor of Queensland from 1896 to 1901.
About this recipe
I think lamingtons make the cutest individual servings of cake. This recipe is far from "authentic" but I love the springy flavors of lemon and coconut. The white chocolate icing goes well and does not overpower the other flavors.
I started with the sponge cake recipe from Pineapple and Coconut (you must check out her passionfruit lamingtons)! Shanna spent a lot of time testing this recipe and sized it for a standard American cake pan (9×13 inches) instead of a lamington pan (30.5 x 20.5). I substituted lemon juice and added a heaping 1 tablespoon of lemon zest. The filling is made with my trusty lemon curd (last seen here). The icing is made by melting white chocolate and milk and adding enough powdered sugar until you get the right consistency. I was really happy with how these turned out and I hope you give them a try!
Tips for success
I am not going to lie to you- these guys are messy! I put a few tips below that worked for me.
Work with cold cake: After your cake bakes, put it in the freezer for a few hours or overnight. Thaw slightly and cut into two inch squares. Slice them in half horizontally and add the chilled lemon curd to the middle. Put them back in the freezer.
Work in batches: I took a few cakes out at a time, covered them in white chocolate, and then let them drip for a minute before covering in coconut. Put them back in the fridge after this to set. Repeat with remaining cake squares.
Spoon, don't dip: A lot of recipes call for sticking the cake with a fork and then dipping it into the chocolate. This didn't work for me because the layers started sliding around. Instead, I still stuck a fork in the cake but spooned the icing over the top of the square until it covered all sides. Then I let it drip for a second before putting it on the drying rack. I followed a similar method for the coconut- resting the cake on a fork and slightly tilting the sides to completely cover with coconut. If your curd gets too warm, the layers may start sliding again (this is why I work in batches to make sure the layers stay together).
Have fun! These guys are messy but I did like how forgiving they are. You won't see any imperfections once they are covered in coconut 🙂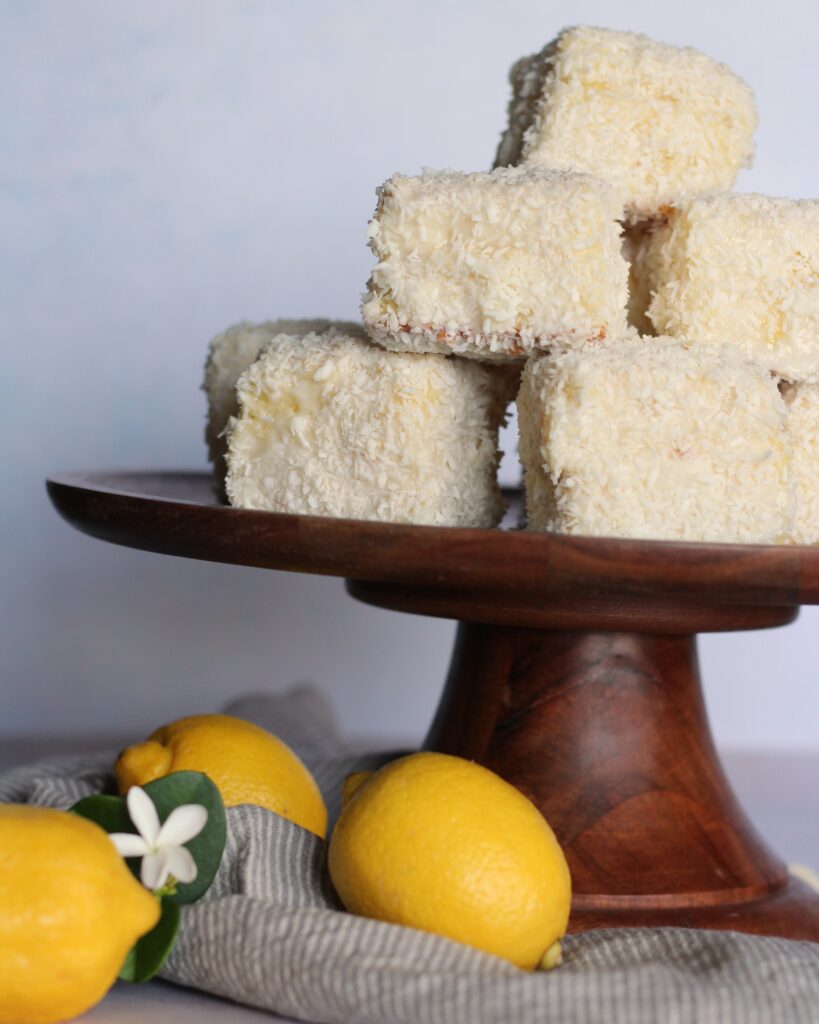 Please leave a review if you make these and tag @anchoredbaking and #anchoredbaking so I can see your creation!!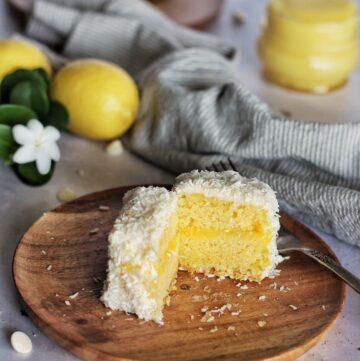 Lemon White Chocolate Lamingtons
Try your hand at making this classic Australian dessert with a twist- lemon curd sandwiched between sponge cake and covered in white chocolate and desiccated coconut.
Ingredients
Sponge Cake:
2 and 1/2

cups

all purpose flour (320g)

1/4

cup

cornstarch

1

Tbsp

baking powder

1/2

tsp

salt

4

large eggs, room temp

1 and 1/4

cup

granulated sugar

2

sticks

butter (225 g)

1/2

cup

whole milk

1/4

cup

freshly squeezed lemon juice

2

tsp

vanilla extract

1

Tbsp

lemon zest (from about 2-3 lemons)
Lemon Curd:
~3/4

cup

lemon curd (homemade or store bought, see notes)
Icing and Topping:
1/2

cup

whole milk

1

cup

white chocolate, chopped

3

cups

powdered sugar, sifted

3

cups

desiccated coconut
Instructions
For the sponge cake:
Preheat oven to 325 degrees F.

Spray a 9×13 in baking pan with nonstick spray and line with parchment paper.

Whisk together the flour, cornstarch, baking powder, and salt in a medium bowl. Set aside.

Using a stand mixer with the paddle attachment, cream together the butter and sugar. You want it light in color and fluffy. Add one egg at a time- making sure the egg fully incorporates and disappears before adding the next egg. Use your spatula to scrape down the sides as needed to ensure an even mixture.

Whisk together the milk, lemon juice, and vanilla in a small bowl.

With the mixer on low speed, slowly pour about 1/3 of the milk mixture into the bowl with the butter mixture and then add about 1/3 of the dry ingredients. Alternate between adding the milk mixture and dry ingredients until it is just combined.

Pour batter into prepared pan and smooth the top with a spatula. Gently drop the pan on your countertop 2-3 times to release the air bubbles. Bake for 25-30 minutes (mine took the full 30).

Let the cake cool in the pan for a few minutes and then transfer to a wire rack by inverting the cake. Let cool slightly but still warm to the touch. Transfer back to the pan by placing the pan over the cake and flipping it back over. Wrap the cake with plastic wrap and freeze for 3-4 hours. (I had mine in the freezer for 2 days!)
Sandwich assembly:
Take the cake out of the freezer, unwrap the plastic wrap, and place the cake on a cutting board. Allow it to thaw on the counter slightly. Trim the edges off the sides. Cut the remaining cake into 2 inch squares (I was able to get about 16 squares). Slice each square in half horizontally and spread the bottom half with about a tablespoon of lemon curd. Place the top half back on the cake to make a sandwich. Place the sandwich back in the pan and repeat with remaining squares. When you are done assembling the sandwiches, put them back in the freezer for at least an hour.
For the icing and assembly:
About 15-20 minutes before you are ready to assemble, prepare the white chocolate icing: Boil water in a small saucepan over medium heat. Whisk together the milk and chopped chocolates in a small, heat-safe bowl. Rest the bowl on top of the boiling water (making sure the bowl doesn't touch the water). Whisk constantly until the chocolate is fully melted and the mixture is smooth. Remove from heat- careful- the bowl will be hot.

Add the sifted powdered sugar to the bowl with the melted chocolate one cup at a time. Whisk until smooth before adding the next cup. Set aside.

Place a wire cooling rack over a rimmed baking sheet. This is where you will put your sandwiches after they have been dipped in chocolate. Set aside.

Place about a cup of the coconut in a shallow bowl. (Replenish with more coconut as you go.) Set aside.

Take a few of the frozen sandwiches out of the freezer. Gently stick the side of one with a fork and place over the bowl with the melted chocolate. Use a spoon to spoon the white chocolate icing over the sandwich until all sides are completely coated. Let it drain over the bowl to catch the drippings for a few minutes. Transfer to the wire rack. Repeat with a few more sandwiches (I did about 4-5 at a time).

Take a sandwich that has already been dipped in white chocolate and rest it on a fork. Place over a bowl with the coconut and use your hand to cover every side with coconut, pressing slighting so it sticks. If your layers start slipping around, make sure to straighten them and cover every inch with coconut. Set aside and repeat with remaining sandwiches.

Follow Step 5 and Step 6 for the remaining sandwiches in the freezer. I found it was best to work in small batches (about 4-5 at a time) so they do not warm up too much.

Place the finished lamingtons in the refrigerator for about 15 minutes to set. Take the cakes out of the refrigerator a few minutes before serving to come slightly back to room temperature. Enjoy!