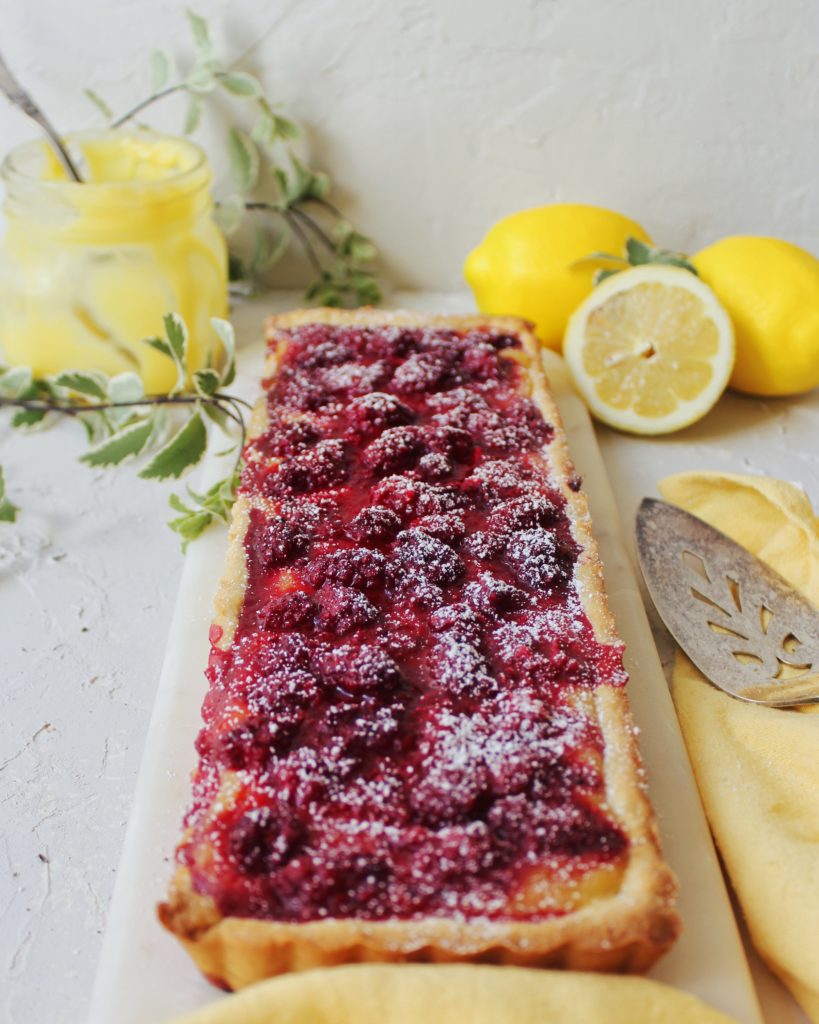 I am so excited to share this lemon tart with you! It has a tender, buttery cookie crust, a layer of tart lemon curd, and a jammy layer of fresh tayberries. This might be my favorite dessert I have ever made!
What are tayberries?
Tayberries are a cross between a blackberry and a raspberry. They are named after the River Tay in Scotland where these were first invented by Derek L. Jennings back in the 1970's. The berry is purple-y reddish color, sweet-tart, and floral. I had my first tayberry at Swanton's Berry Farm at the Ferry Building Farmer's Market. I knew I had to come up with a dessert that featured their unique flavor and bright color.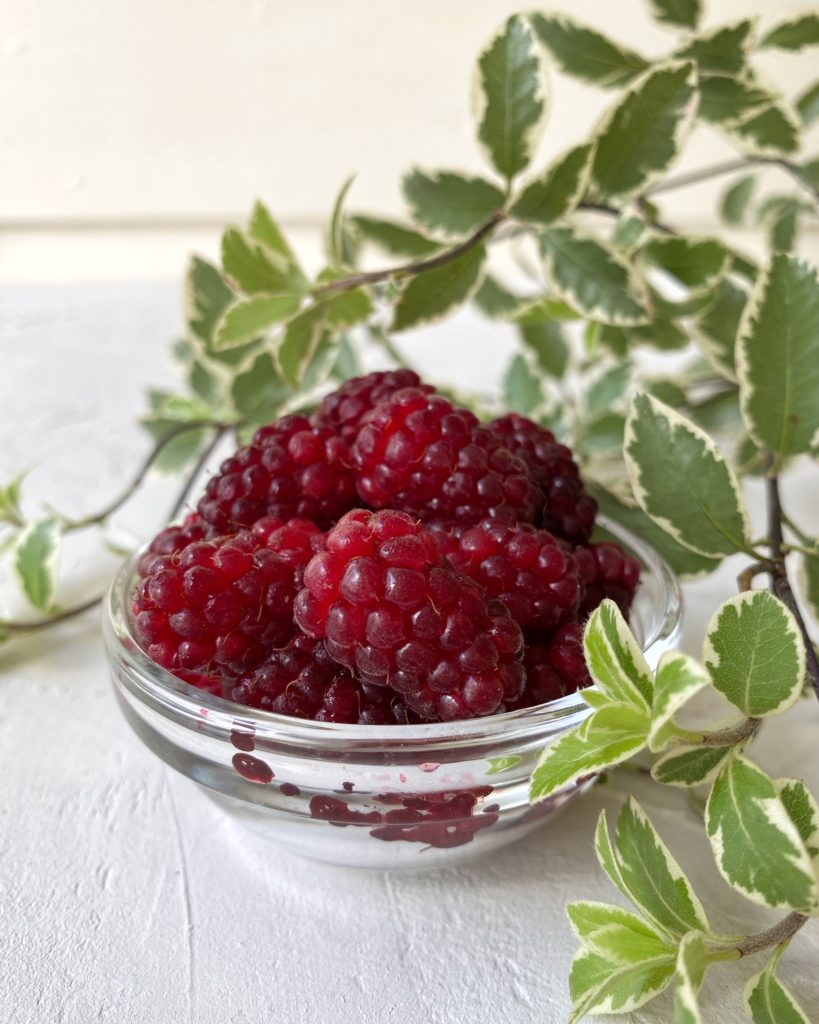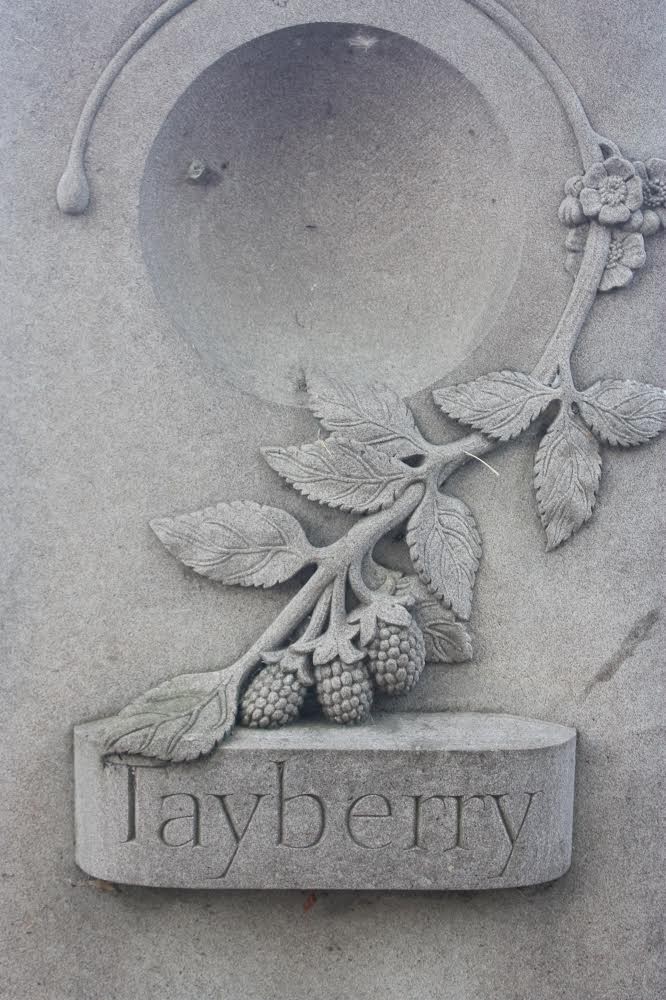 I hope you enjoy this recipe!
Let me know in the comments if you have learned about any new fruits that you like to bake with 🙂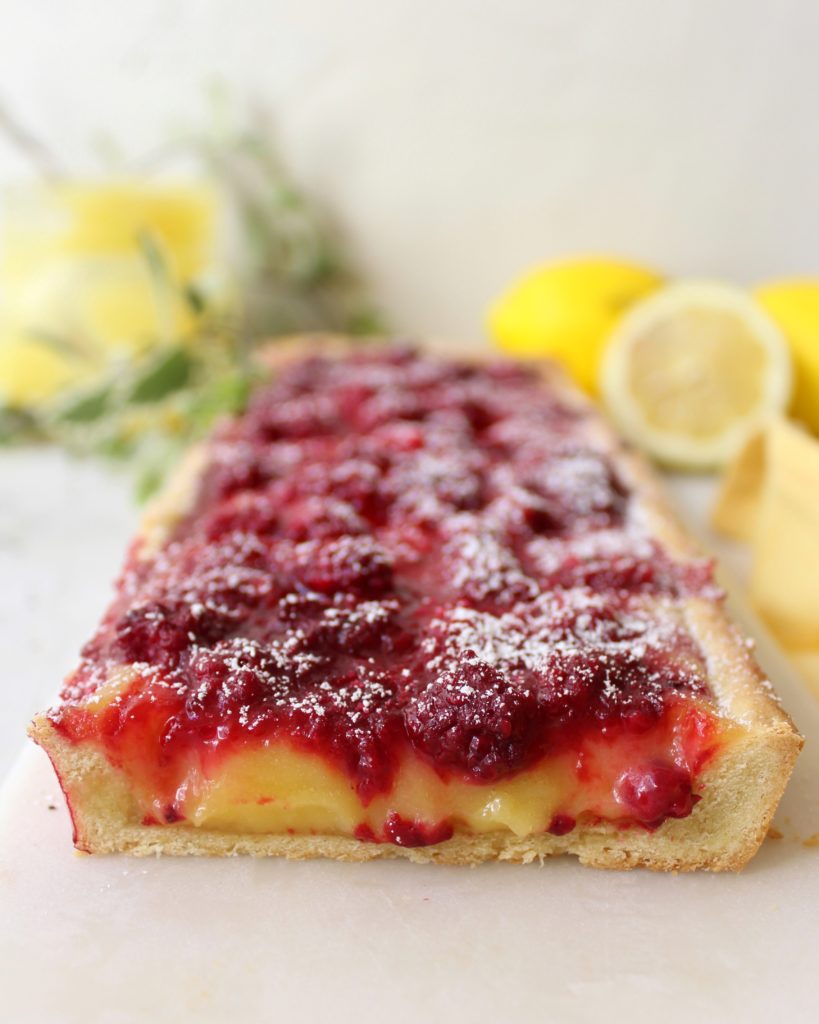 Recipe adapted from Pretty. Simple. Sweet.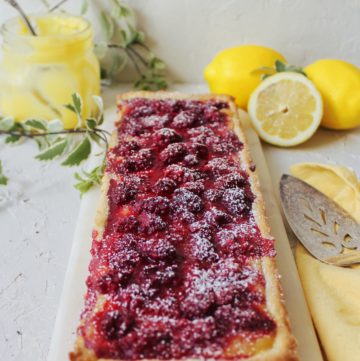 Tayberry Lemon Tart
This tart has a tender, buttery cookie crust, a layer of tart lemon curd, and a jammy layer of fresh tayberries.
Ingredients
For the Crust:
1 1/4

cup

all-purpose flour (180 g)

1/2 

cup

powdered sugar (55 g)

1/4

tsp

salt

1/2

cup

cold butter, cubed

1

large egg

1/2

tsp

vanilla extract
For the Lemon Curd:
2

eggs + 2 egg yolks

3/4

cup

granulated sugar

1

tbsp

lemon zest

1/2

cup

freshly squeezed lemon juice (3-4 lemons for zest and juice)

2

tbsp

heavy cream

1/2

cup

unsalted butter, cubed
For the Tayberry Layer:
2

cups

tayberries

2

tbsp

granulated sugar

1/4

cup

all-purpose flour

1

tbsp

lemon juice

1

tsp

lemon zest

powdered sugar (for serving)
Instructions
For the crust:
Whisk together flour, powdered sugar, and salt in a medium sized bowl. Add cubed butter and use a pastry cutter to combine. Work the butter into the dry ingredients until everything is evenly coated and it looks like course sand.

Add egg and vanilla and cut to combine. The dough will not come together in a big ball but if you pinch it together it should keep its shape.

Turn the dough to a lightly floured surface and use your hands to form the dough into a ball. It should come together easily, especially as the butter begins to soften. Flatten the dough into a disc shape and wrap tightly with plastic wrap. Place in refrigerator to cool for at least 1 hour.

When it is done chilling, take the dough out of the refigerator and roll it out on a lightly floured surface (you may need to wait ~10 minutes until you can roll it). You need it a couple inches wider and longer than your tart pan. It should be about 1/8" thick. Gently place the dough over the tart pan and press it down to make it even around all the sides. It needs to be very compact. Pay particular attention to the corners. Trim edges with a sharp knife. Cover tightly with plastic wrap and put it in the freezer for at least 30 minutes. This will prevent it from shrinking when it bakes. (See notes.)

Meanwhile, preheat your oven to 375 degrees F.

Take the tart out of the oven, remove the plastic wrap, and line with parchment paper. Place pie weights on top of the parchment (or dried bean, rice, etc). This prevents the crust from puffing up while baking. Bake for 25 minutes. Remove from oven and allow to cool.
For the lemon curd:
Start simmering water in a saucepan. The saucepan needs to be big enough to fit a bowl on top but not so big that the bowl will touch the boiling water.

Meanwhile, whisk eggs, egg yolks, sugar, lemon juice, lemon zest and cream in a heat-proof bowl and place over simmering water. (CAUTION: the bowl will get hot, handle with oven mits.) Keep heat at medium and whisk constantly. This will ensure that everything cooks evenly and it won't get lumpy. Keep whisking until the mixture thickens and reaches about 170 degrees F. This will take about 10-15 minutes. You can test doneness by coating the back of a wooden spoon and running your finger through it. It if leaves a clear path, it is done. If not, keep cooking and whisking! (Note that it will continue to thicken as it chills.)

Carefully remove the bowl from the heat and the strain the mixture through a sieve over a medium sized bowl. Add cubed butter in 2-3 batches, whisking to completely melt and incorporate the butter inbetween additions. There is no such thing as overwhisking- it makes it light and airy! Allow curd to cool to room temperature. (See notes for making ahead.)
To assemble:
Preheat oven to 350 degrees F.

Pour the room temerature lemon curd in the pre-baked tart shell crust. Use a spatula to evenly distrubute. You do not have to use all the curd if you are getting close to the top of the tart pan. You need a little room at the top for the berry layer. (You can serve leftover lemon curd with a Dutch Baby the next morning!)

Toss 1 and 1/2 cup of the berries with the sugar, flour, lemon juice, and lemon zest. Make sure ALL the berries are evenly coated with the flour. (ie You should NOT have a bunch of flour settled at the bottom of your bowl.) Spoon the berries evenly on top of the lemon curd. Sprinkle with the remaining 1/2 cup berries. (See notes)

Bake for 30 minutes. Allow to cool before serving. If the tart is still warm, the curd and berries will be too gooey for cutting. The tart will gel as it cools. Cut thin slices and dust with powdered sugar right before serving.
Notes
You can make the tart dough up to 3 days in advance. Follow recipe through forming the dough into a disc, wrap it tightly in plastic wrap, and store in the refrigerator. You will still have to chill the dough again after you shape it into the tart pan. 
You can make the curd up to 7 days in advance. Keep curd in an airtight container in the fridge. You can place a piece of plastic wrap touching the top of the curd to help prevent a skin from forming. Make sure you still use the Tupperware lid even if you have the plastic wrap on it! 
The berry mixture will start to release its juices as soon as you mix it with the lemon juice. I recommend having your lemon curd already poured in the tart shell by the time you mix the berries. Work swiftly 🙂