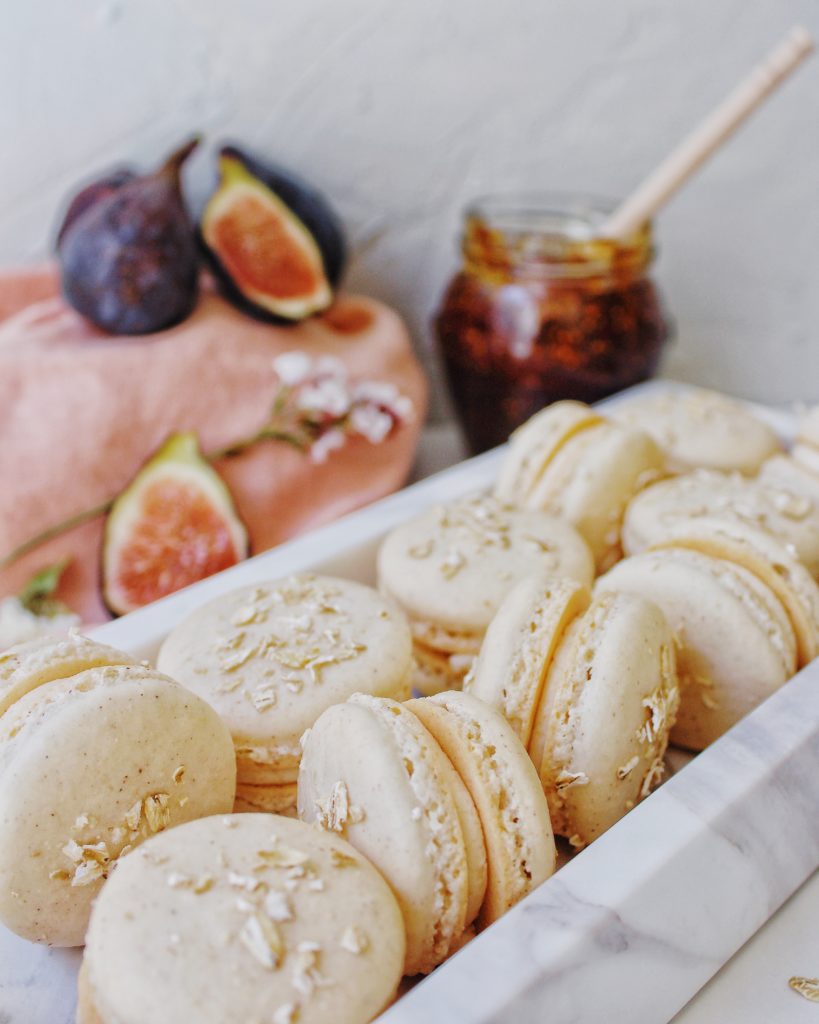 These fig cobbler macarons have a cinnamon oat shell, brown butter buttercream, and a fig preserve filling. Macarons are a fun weekend project requiring time, effort, and practice. The outcome is so rewarding and everybody will love these 🙂
It is important to find a macaron method that works for you. In addition to my tips, I have linked a couple of resources below. Once you get the method down, the flavor combinations are endless! What are some of the flavors that you would like to see?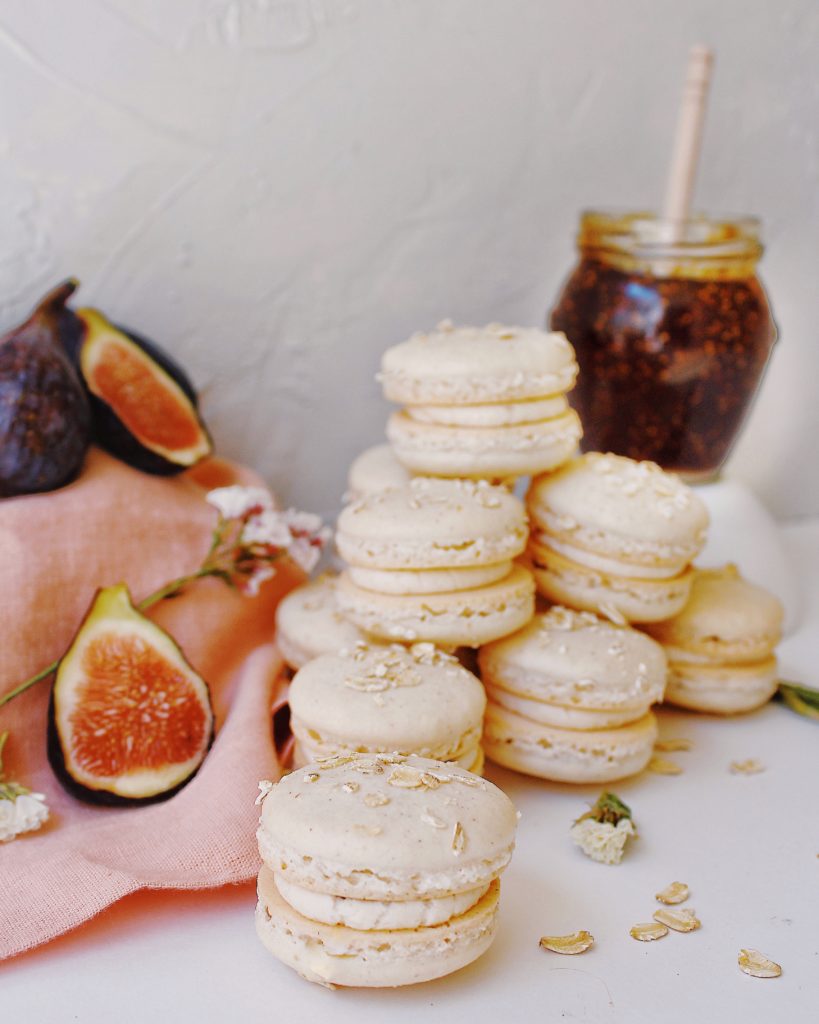 My top tips for successful macarons:

1. Weigh every ingredient! If you do not already have a kitchen scale, now is a good time to invest in one. This is the one I own. Macarons are very finicky. Weighing is crucial.

2. Control for moisture! Use metal bowls that are clean and dry. Plastic and ceramic bowls can have a layer of oil on them. If you are modifying this recipe with any other topping, do not use anything that is too heavy or wet (ex: freeze-dried fruit powder is okay, fruit jam is not.)

3. Under mix! It is better to under mix your macaron batter than over mix it. Over mixing will make your batter too runny and everything will bleed together when you are piping.

4. Use aluminum baking sheets. Non-stick sheets run hotter and are more likely to make the bottom of your shells brown.

5. Read the recipe 2-3 times before embarking! Email me if you have any questions.

6. Be kind to yourself. Macarons require practice. It may take you several batches to learn when your batter is the right consistency for piping, how hot your oven runs, etc.
Other resources: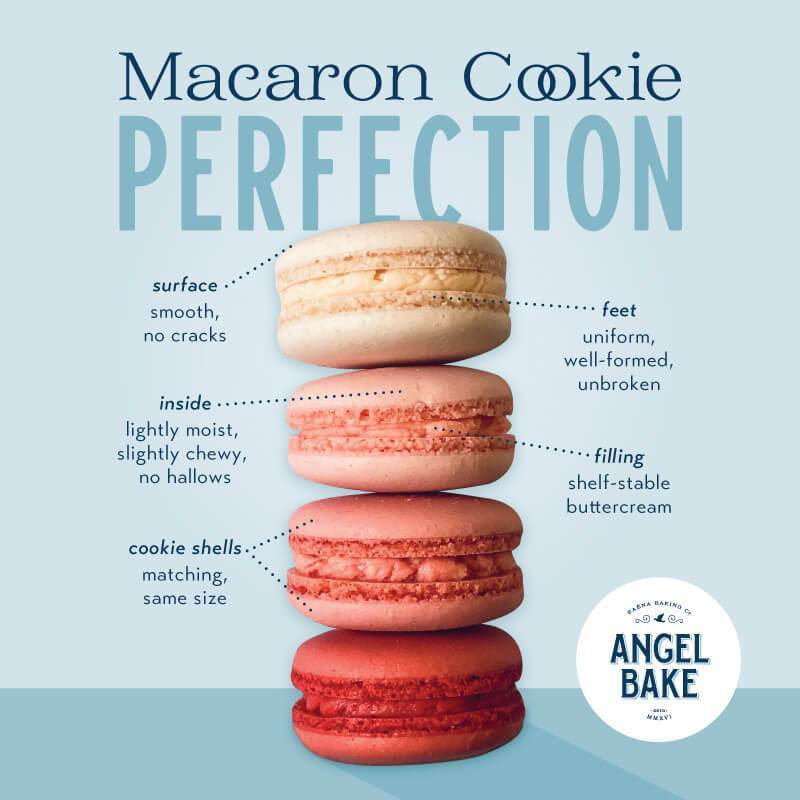 Recipe modified from Food La La's French macaron class. Recipe inspired by Ginger Elizabeth.
Good luck and have fun!! Can't wait to see how yours turn out 🙂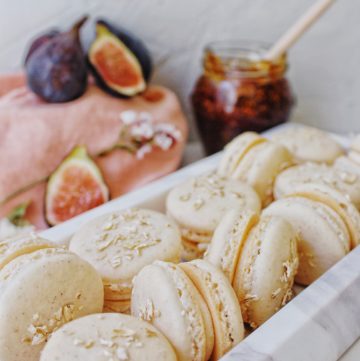 Fig Cobbler Macarons
All the flavors you love about cobbler in macaron form! These macarons have a cinnamon oat shell, brown butter buttercream, and fig preserve filling.
Ingredients
Macaron shells
130

g

super fine almond meal, blanched

225

g

powdered sugar

115

g

egg whites, room temperature (about 3-4 large eggs, see notes)

60

g

caster sugar (see notes)

1/4

tsp

ground cinnamon

1/4

cup

oats, roughly chopped in a food processor
Buttercream + Filling
1/2

cup

salted butter, cubed

2

cups

powdered sugar, sifted

2

tbsp

heavy cream (more if needed)

1/2

tsp

vanilla extract

fig preserves (I used Dalmatia fig spread, make sure it is not too runny)
Instructions
For the shells:
Pulse almond meal, powdered sugar, and ground cinnamon in a food processor for about one minute. Scrape down sides and bottom of the bowl as needed so everything is evenly mixed.

Place a fine sieve over an aluminum bowl. Have other aluminum bowl handy. Sift almond meal mixture three times- back and forth between the two bowls. If you have less than a tablespoon of the dry mixture that is too large to pass through the sieve, you can discard it. Anything greater than 1 tablesppon should be reground in the food processor and then sifted. Set aside.

Place egg whites in the bowl of an electric mixer fitted with the whisk attachment. Whisk until foamy. Slowly add caster sugar while continuing to whisk. Keep whisking on speed for about 5 minutes until you get "stiff peaks." This means that your meringue will be able to stick stight up and you can hold the whisk attachment upside down without it dripping off. Careful not to whisk too much (or at high speeds) because that would add too much air to the batter.

Using a spatula, carefully fold the dry ingredients into the bowl with the meringue. It works best if you do this in 3 batches. Fold from the bottom to the edges of the bowl in a J-shape. Do not stir or whip (you want the dry ingredients to slowly melt into the wet ingredients). Keep folding until you get a "ribbon-like" texture (smooth, glossy, thick). DO NOT OVERMIX or your batter will become runny. It is better to undermix! You can test when it is done by putting a little spoonful on parchment- if it keeps the shape and is stiff, mix a little bit more. If it spreads slightly, it might be done. I think this is the hardest part of making macarons. You might have to test a few batches before you get the "intuition."

Once the batter is properly mixed, transfer it to a piping bag with a round 1/2" tip.

Start piping the batter either onto a slipat with a macaron template or parchment paper that had circles pre-stenciled. As you are piping, the tip of the piping bag should be very close to the parchment paper. Keep your hand steady and in the center of the circle while you pipe the batter out (it will naturally make a circle shape). Quickly flick the piping tip away from you to cut off the batter. This may leave a small peak which will either melt down on its own or when you bang the pan (more on that later). If the peaks are really big, your batter is undermixed. Repeat with remaining circles.

Gently drop your pan on the countertop (about 4 inches) in order to release air bubbles and smooth over the tops. This will help prevent them from cracking. Sprinkle the oats over the tops, careful not to add too much because it will be too heavy. Set aside in a dry area for 30-40 minutes in order to dry and create a skin. This will be challenging if it is humid where you are. You can try using a fan.

While the shells are drying, preheat your oven to 300 degrees F.

When the oven is ready, bake shells for 6 minutes. Open the oven door slightly to rotate the pan 180 degrees without fully removing the pan from the oven. Bake for another 4-8 minutes. Time will vary depending on your oven. You can tell the shells are done when the top is firm and the "foot" doesn't wiggle when you touch the top. Try taking one off the paper. If it sticks, keep baking. If they peel off easily, they are done.

Remove from oven and let them cool completely on the pan before transferring them to a cooling rack. Set aside.
To make the buttercream:
Place the cubed butter into a large skillet over medium heat. Stir occasionally until it melts completely. When it is completely melted, make sure to stire constantly. The butter will go through phases- melted, foaming, crackling- for the next 5 minutes. It is done when the crackling stops and the butter smells nutty. The butter will be an amber color and there will be bits of brown specks at the bottom. (See notes)

Quickly transfer the butter from the skillet and into a heat-safe bowl. Let it cool off for 10 minutes and then refrigerate for 3-4 hours until it solidifies again.

Put the solidified butter into the bowl of your standmixer and whisk until it is light and fluffy. If your butter is REALLY hard, it may need to slightly soften before whisking. Add cream and vanilla extract and whisk until combined. I recommend adding the cream one tablespoon at a time until you get the desired consistency. Slowly add powdered sugar until combined, scraping down the sides as needed. Once incorporated, increase the speed to high and whisk for 3-4 minutes until light and fluffy.

Transfer buttercream to a piping bag with a 1/2" piping tip. Set aside until ready to assemble. (See notes.)
To assemble:
There may be some natural variation in the size/shape of the shells. Try to match them up with a partner of similar size and shape.

Pipe buttercream around the circumfrence of the shell, making a circle, and leaving some room around the edges (see below for a picture). The buttercream makes a "dam" for the filling. Note that you only have to pipe half of the shells with buttercream. The other half of the shells will be "lids" that you place on top.

Spoon about 1/4 tsp of fig filling into the center of the shells. You might have to use more or less filling depending on the size of your shells. Place the matching lid on top and gently sandwhich together. The buttercream starts to create a film when it dries so I recommend piping about 6 macarons at a time and then placing the lid on them so you don't get cracks when you sandwhich them together.

These macarons are served best the day they are made. You can also place in an airtight container in the refrigerator for 2-3 days or in the freezer for a month. Let come to room temperature before serving.
Notes
The egg whites need to be at room temperature. For best results, place your egg whites into a small bowl and loosely cover for 1-2 days before using. 
Caster sugar is a superfine sugar. I always make it at home by pulsing regular granulated sugar in a food processor until it is… superfine. Make sure to weigh your sugar after processing it because you may lose some of it in the process. 
I prefer using a light-colored pan when browning butter. This allows you to see a more accurate color as the butter browns. For other tips on browning butter: https://brownedbutterblondie.com/a-better-baker-how-to-brown-butter/ 
Note that the brown butter needs to harden again for 3-4 hours in the fridge. You can make the brown butter in advance or you can finish making the buttercream in advance. I would recommend making the entire buttercream recipe the day before you are assembling the macarons. The buttercream can be stored in the fridge, covered tightly, for up to 7 days.