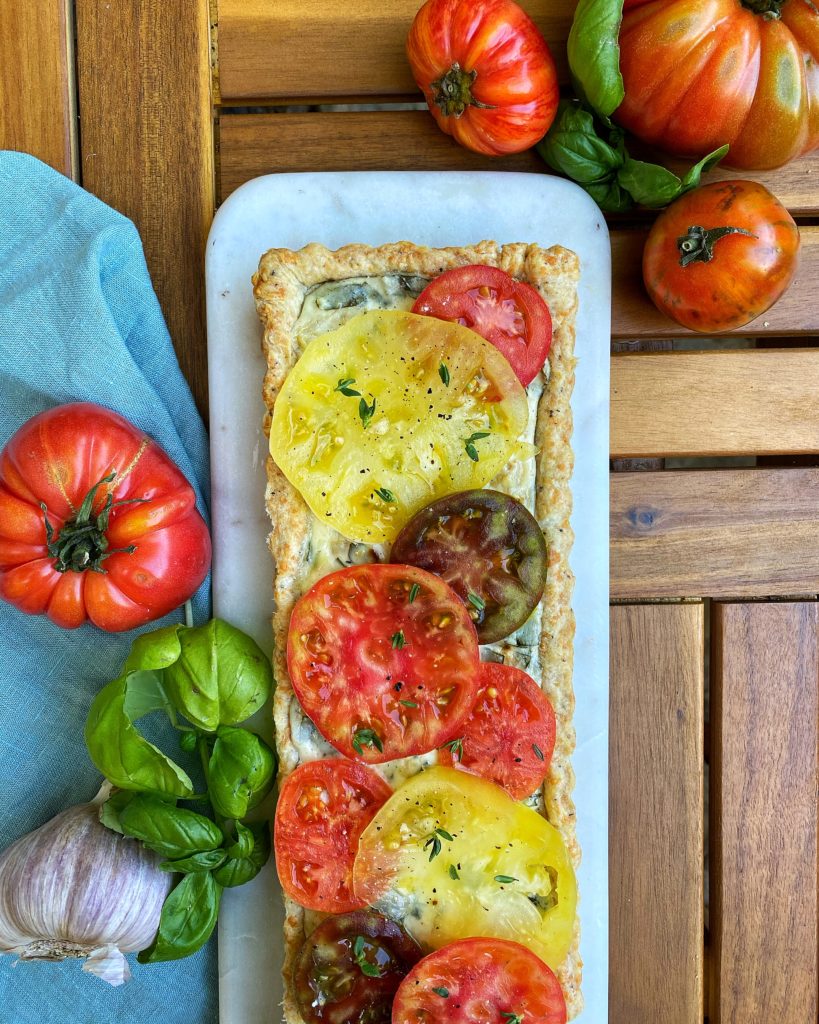 This heirloom tomato tart features homemade ricotta, fresh basil, and zesty lemon. I know we say this about most homemade things, but this ricotta tastes nothing like the ricotta you find in the grocery store. It is rich and creamy, almost like a very soft cream cheese. It is also so easy to make (you spend most of your time just waiting for it to drain)! The basil and lemon are there to brighten and complement the earthy heirloom tomatoes.
I followed Smitten Kitchen's recipe for homemade ricotta which was inspired by Salvatore Ricotta, a Brooklyn-based cheese maker. In Deb Perelman's post, she links this video about Salvatore Ricotta. The video offers interesting insight into the origins of their company and the small-batch process they follow.
The first time I made this recipe, I let the milk mixture sit with the lemon juice for 5 minutes, but I had better results after 15-20 minutes and then draining. The liquid that drains is called "whey." You can discard the whey or use it instead of water for baking (in cornbread, waffles, etc). This post has lots of ideas about how to use leftover whey. The Kitchn, a trusted cooking resource, recommends adding a tablespoon more of lemon juice if your milk doesn't separate enough (source). You can use this ricotta for all kinds of other purposes- toast, lasagna, pizza… the possibilities are endless!
I love the addition of fresh cracked pepper in the crust of the tart dough and I will definitely try this for other savory tarts, too. You want to make sure to press the dough firmly into your tart pan. The tart is then filled with the ricotta mixture and baked again. I personally like this tart with raw tomatoes (especially when they are very ripe) but you could also experiment with placing the tomato slices on the tart and baking it with the cheese.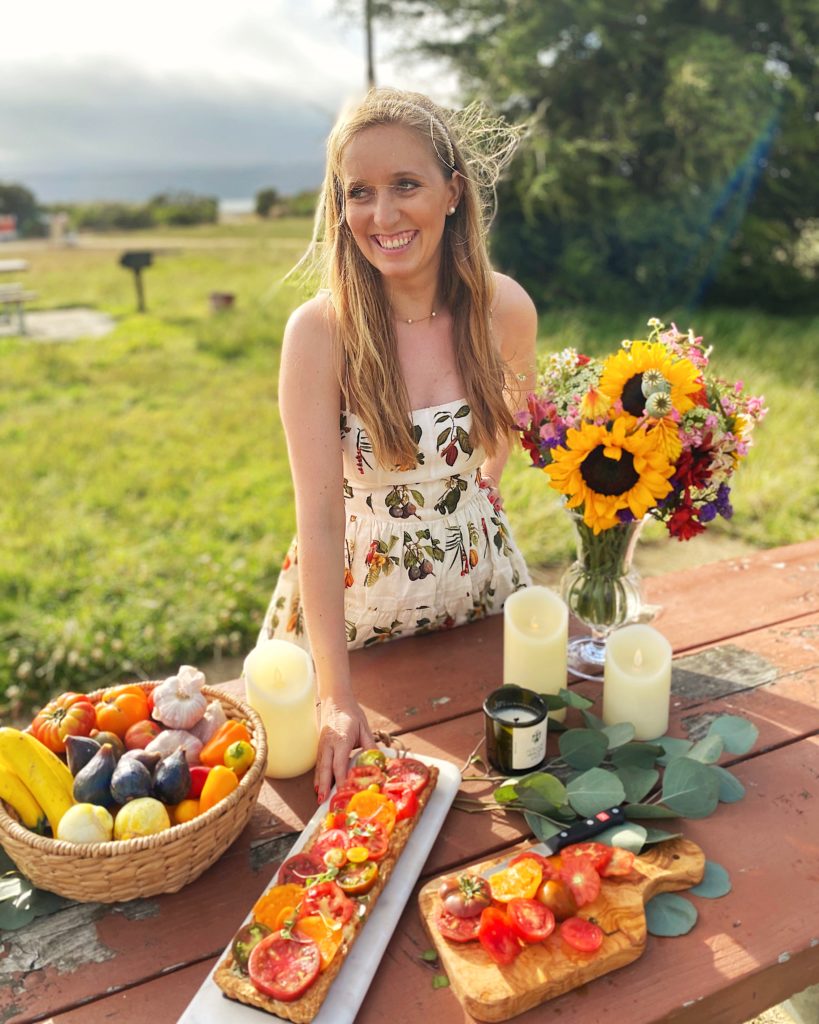 Would you believe me if I told you I got this recipe idea from a candle? Flamingo Estate has an Heirloom Tomato Candle and I was immediately intrigued. It smells like summer. It is fresh, herby and transports you to a table set with the summer's best fruits and veggies. I wanted this tart to capture some of those summer scents.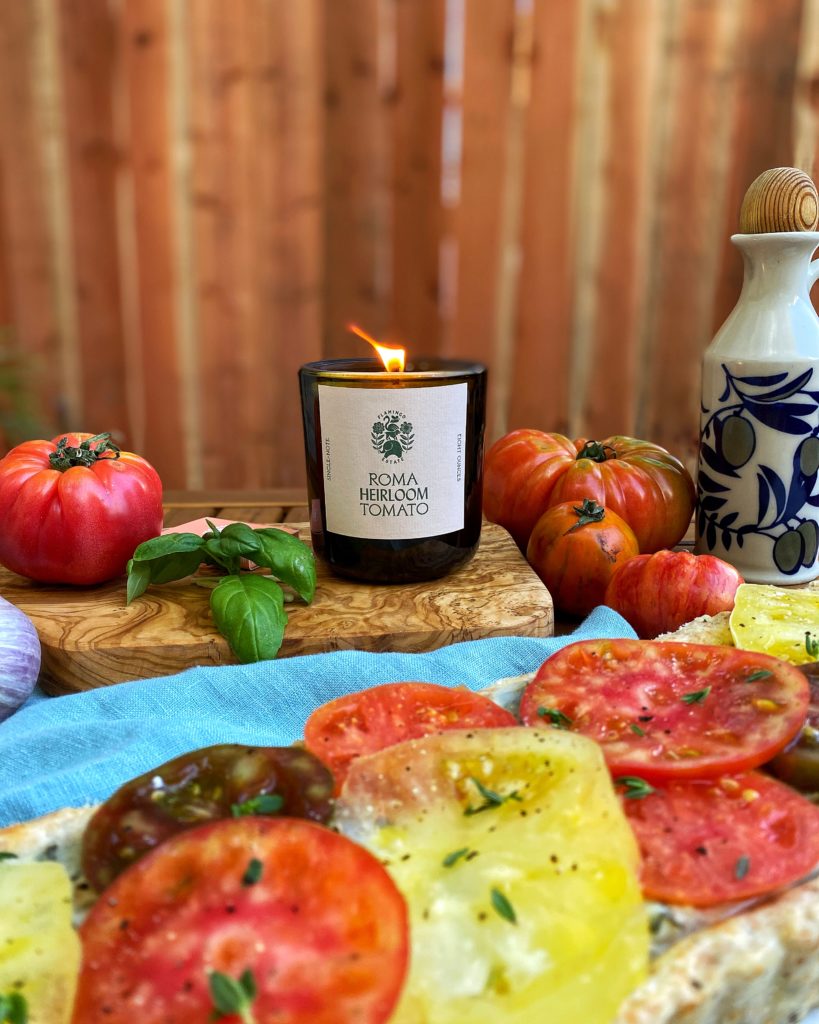 Flamingo Estate is a 1940's Spanish Colonial–style house surrounded by seven acres of land in the hills above Los Angeles. The current owner and founder, Richard Christiansen, is restoring the garden with over 150 botanical species, including an orchard with apples, citrus, plums, pears, avocados, macadamia nuts, olives, and peaches. Look how dreamy the property is! You can read more about the history of the property here and their current farm box offering here.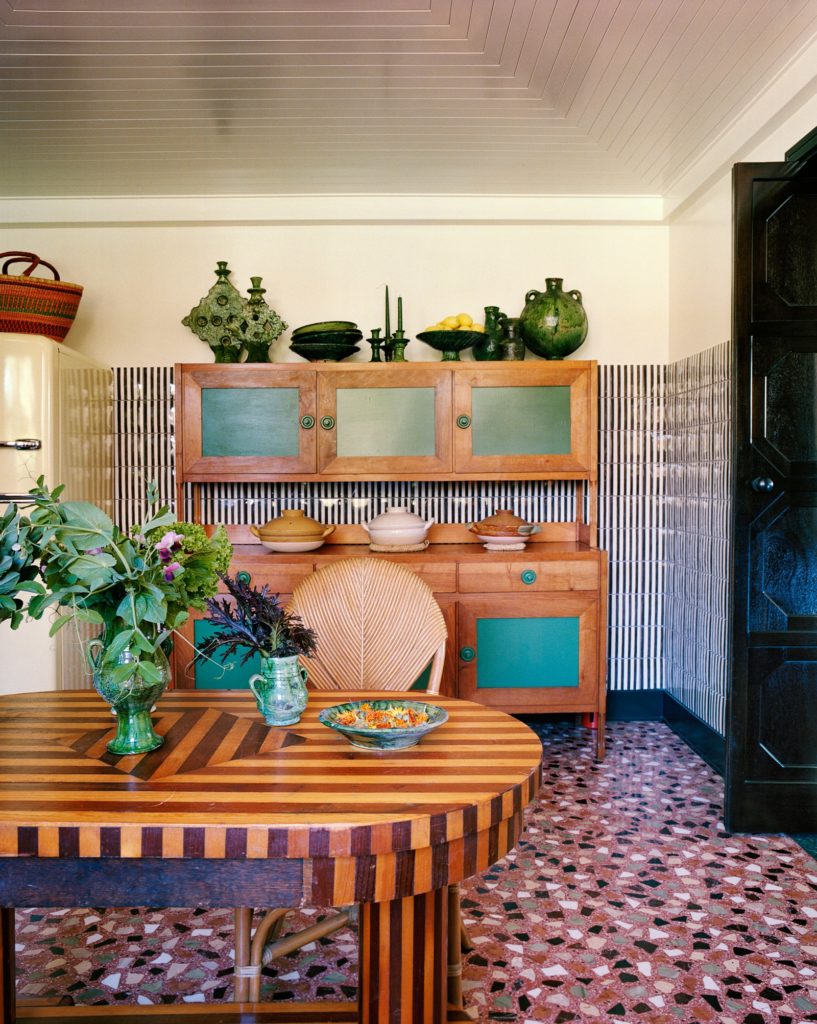 I hope you enjoy this recipe and it reminds you of all the scents of summer 🙂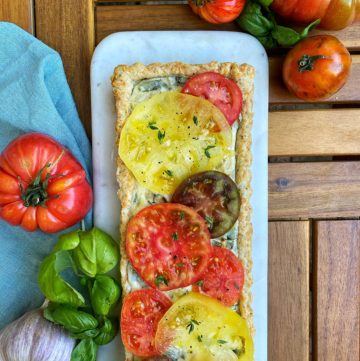 Heirloom Tomato Tart with Homemade Ricotta, Basil, and Lemon
This heirloom tomato tart features homemade ricotta, fresh basil, and zesty lemon. You will be surprised how easy it is to make homemade ricotta!
Ingredients
Ricotta:
3

cups

whole milk (pasteurized not UHT, see notes)

1

cup

heavy cream

1/2

tsp

sea salt

3

tbsp

freshly squeezed lemon juice
Tart Crust:
1 1/4

cup

all-purpose flour

1/2

cup

freshly grated Parmesan

1/2

tsp

freshly ground black pepper

1/2

cup

unsalted butter, chilled and cubed

1/3

cup

ice cold water
Tart Filling:
1

cup

ricotta (the recipe above makes about 1 cup)

1/2

sweet onion, diced

olive oil for caramelizing

1/2

cup

freshly grated Parmesan

1/2

cup

fresh basil, thinly sliced

1

tsp

lemon zest

2

garlic cloves, minced

pinch of red pepper flakes

salt, to taste

3-4

heirloom tomatoes, sliced 1/4" thick

pea shoots or fresh thyme, for garnish
Instructions
To make homemade ricotta:
Whisk the milk, cream, and salt in a saucepan over medium heat. Whisk occassionally to prevent burning. Countinue whisking until the milk mixture reaches 190 degrees.

Remove saucepan from heat and stir in lemon juice (only mixing once or twice). Set aside and rest for 15-20 min. Do not touch it!

Prepare for draining: Place 2-3 layers of cheesecloth over a colander and place the colander over a large bowl. Make sure there is about 4 inches of space between the bottom of the colander and the bottom of the bowl. This will ensure the cheese won't continue sitting in the whey.

Pour the milk/lemon mixture over the cheesecloth and allow to drain for about 1-2 hours. The longer it drains, the firmer it will get.

Remove the ricotta from the cheesecloth and set aside. See notes for making ricotta in advance.
To make tart crust:
Whisk together the flour, parmesean and pepper in a medium bowl. Add the cubed butter and use a pastry cutter to combine. The butter should become pea-sized and equally covered with the flour mixture. Add the ice water, a little bit at a time, just until there is enough to hold the dough together and you can form into a ball.

Roll out the dough on a lightly floured surface until it is a little bit longer and wider than your tart pan. Drape the dough over the tart pan and press down tightly (especially around the corners). Trim the edges. Cover in plastic wrap and freeze for 20 minutes.

Preheat oven to 425 degrees F.

Take the tart pan with the dough out of the freezer. Use a fork to poke holes in the bottom in order to ventilate. Cover with parchment paper and fill with pie weights, dried beans, rice, etc. Bake for 15 minutes. Remove the weights and parchment when it comes out of the oven. Set aside to cool. Meanwhile, make the filling.
To make tart filling:
Heat olive oil in a sauté pan over medium heat. Add diced onions and stir to evenly coat the onions in oil. Spread the onions out into a thin layer and let cook, stiring occasionally. Reduce heat to low to prevent burning. It should take about 20 minutes for the onions to caramelize. Set aside.

Preheat oven to 375 degrees.

Combine the ricotta, Parmesan, basil, lemon zest, and garlic in a medium bowl. Add a pinch of red pepper flakes and the caramelized onions. Taste, add salt and adjust seasoning as needed.

Pour the ricotta filling into the cooled crust. Bake for 35-40 minutes. Allow to cool for 5-10 minutes.

Top with sliced tomatoes, drizzle with olive oil and sprinkle with sea salt and thyme leaves. Serve warm or room temperature.
Notes
Pasteurized milk is fine to use. Try to avoid UHT (Ultra high temperature) because it changes the protein structure of the milk and could prevent it from separating.  
You can make the ricotta up to about 2-3 days in advance and store it in the refrigerator until you are ready to use it. I normally have the ricotta draining while I am making the tart crust.