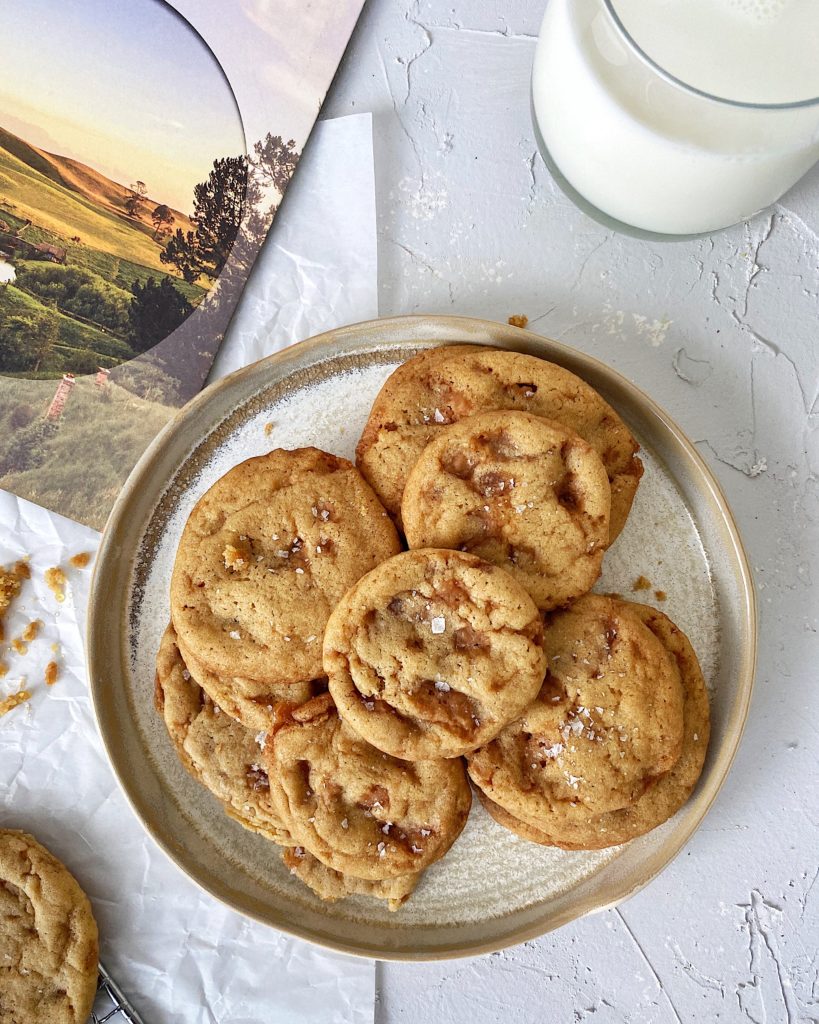 This recipe for salted caramel cookies comes from Leeds St Bakery in Wellington, New Zealand. We went to Leeds St for coffee and breakfast one morning on our honeymoon and got their famous cookie to-go to eat "later in the day," perhaps after going to the Te Papa museum. Let me tell you… we ate this entire cookie before they served us our breakfast. It is THAT good. These are by far my favorite cookie I have ever had from a bakery and I think they are my favorite cookie I have ever made at home. Please try making them to see/taste for yourself!
After having these on our honeymoon I SCOURED the internet to find the recipe. I went down many Instagram rabbit holes and ended up finding it here (via Savour Cooking School).
The caramel is homemade and uses two ingredients that were new to me.
Golden Syrup: Golden Syrup is very thick and amber colored. It is an inverted sugar syrup which means it contains free glucose and free fructose. It is almost like a very sweet honey. The most recognized name brand for Golden Syrup is Lyle's. They carry it at Whole Foods or Amazon. They have a fascinating company history dating back to 1881 (source). You can also try making it from scratch but I have not tried that 🙂
Double Cream: Double Cream is similar to a heavy whipping cream but much thicker due to the higher fat percentage (48% versus 36-38%). I found it from the Devon Cream Company at Whole Foods.
The caramel is made one day in advance. You combine the ingredients and keep stirring until you get to the "hard crack" stage at about 300 degrees F. If you do not have a candy thermometer, just keep stirring and watch it until it becomes darker in color, homogenous, and reduced by about half the original volume. This was the biggest difference I had compared to the original recipe… The recipe says this can take 2 hours but I took it off after about 10 minutes. As the name implies, the candy will be hard when it cools but not to fear- when it gets baked with the cookies it softens up.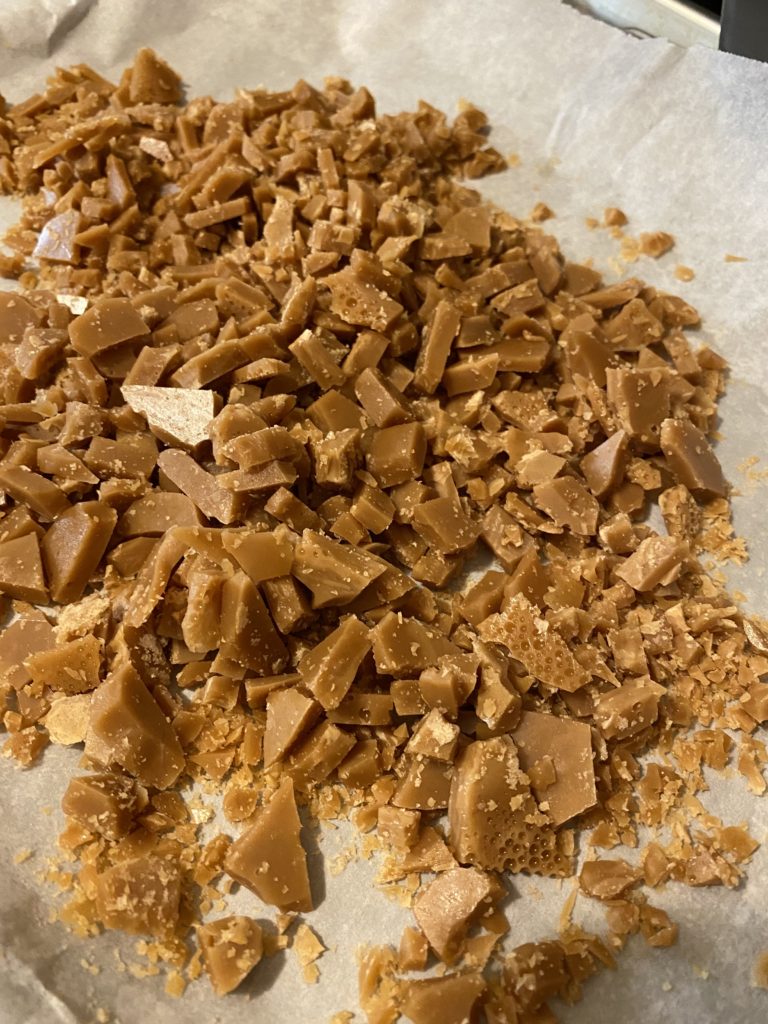 The original recipe calls for cookies that are 100 grams each- this will result in a HUGE cookie! The original cookie is very large (picture below) but I found I was able to get a very large cookie with 60 grams each (~3 Tablespoons). Leeds St also sells mini versions of their classic cookie pre-packaged for gifting so I wanted to test that too… I tried 30 gram cookies (~1.5 Tablespoons) and 15 grams (a little less than 1 Tablespoon). The ones that were 15 grams were pretty true to the small cookies Leeds sells. My personal favorite size with 30 grams.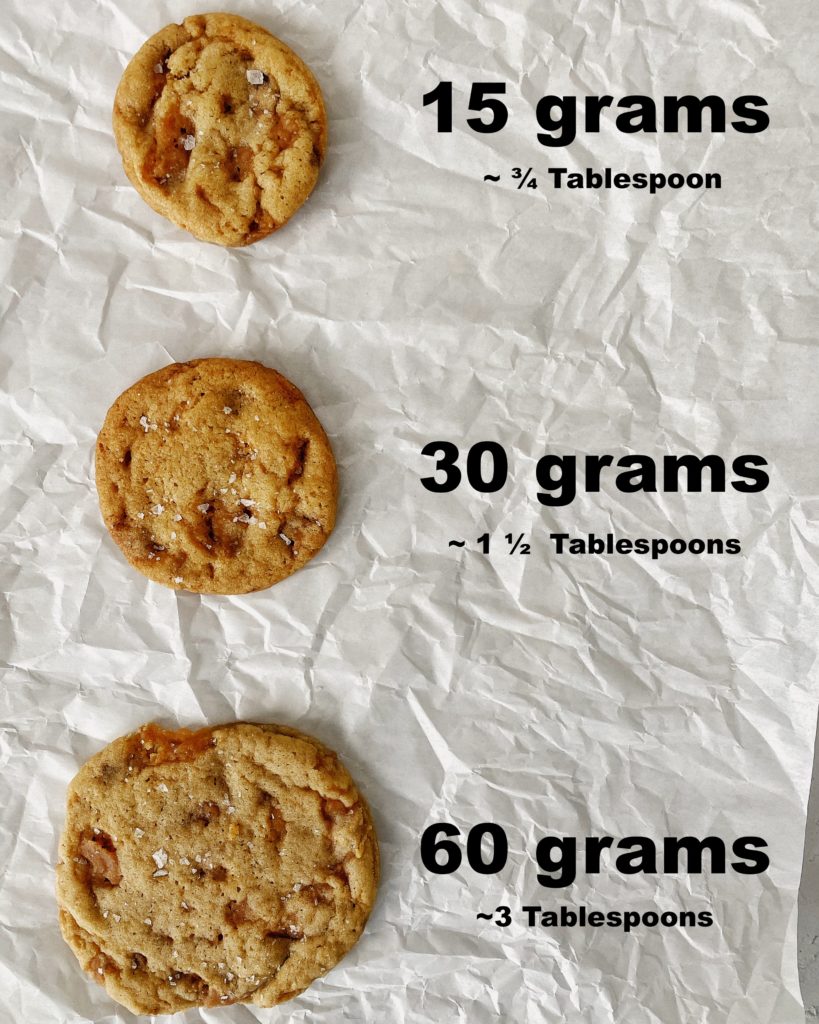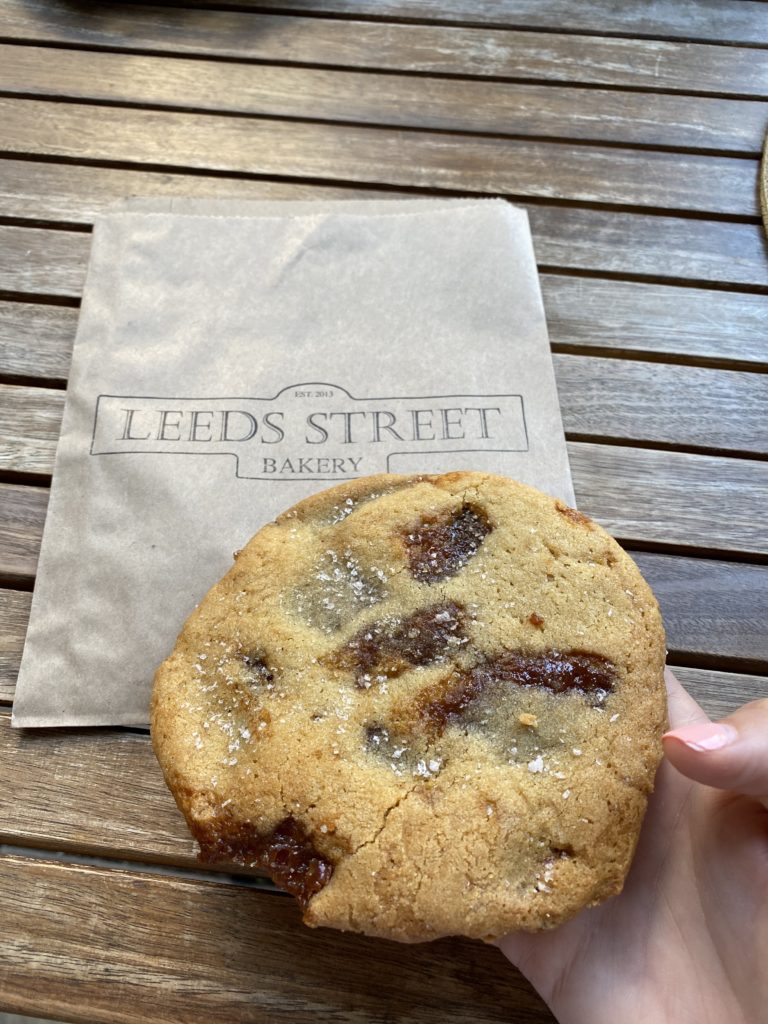 The original recipe also calls for flattening out the cookies in the middle of baking… I tried this with the first batch which actually flattened the cookies TOO much (suggesting my batter was too warm/soft even though I had it in the fridge overnight). Anyways, I don't think that step is necessary.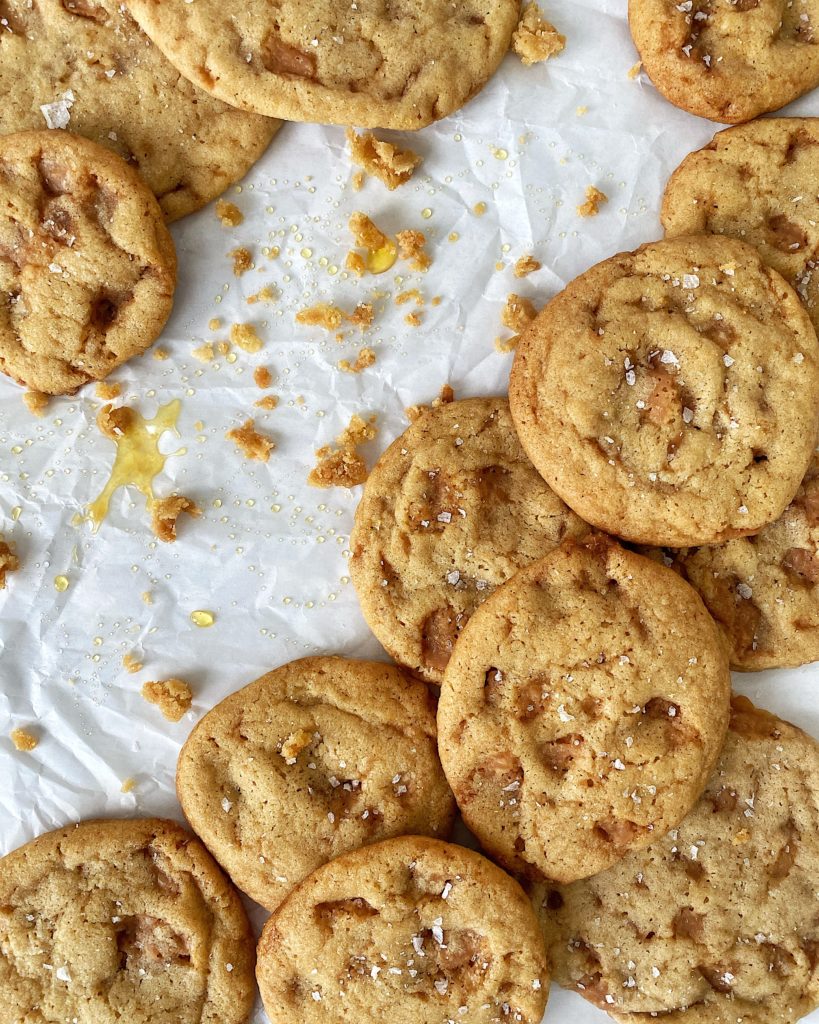 I hope you enjoy this recipe as much as I do. If you ever make it to New Zealand, make sure to go to Leeds St and eat one of everything for me!
P.S. Another weird coincidence… when stalking Leeds St, I discovered that their head baker, Jack O'Donnell, trained with Chad Robinson at Tartine (source). It truly is a small world!
To see my other New Zealand post, click here. To see my Tartine Morning Bun, click here.
The ingredients are all from the original recipe, I just converted it to the Imperial System when helpful (ex: ml to tsp). Note that it is always best to weigh your ingredients to get the most accurate results. I wrote the instructions in my own words based on what worked best for me.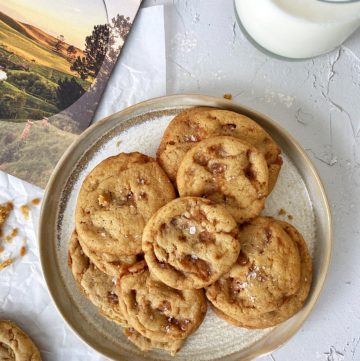 Salted Caramel Cookies from Leeds St Bakery
This is the recipe for the famous Salted Caramel Cookies from Leeds St Bakery. Soft, chewy, salty, and sweet. This is sure to become your favorite cookie!
Ingredients
For the caramel:
40

g

golden syrup (~2 ¾ Tablespoons)

120

g

caster sugar (I used granulated sugar) (~1 cup + 2 Tablespoons)

45

g

butter (~3 Tablespoons)

90

ml

double cream (1/3 cup + 1 Tablespoons)
For the cookies:
225

g

unsalted butter (1 cup)

75

g

caster sugar (I used granulated sugar) (2/3 Cup)

290

g

brown sugar (2 and 1/3 Cups)

1

tsp

vanilla

2

eggs, medium

440

g

all-purpose flour (~3 Cups)

1 and 1/2

tsp

baking powder

3/4

tsp

baking soda

1 and 1/2

tsp

salt

Flaky sea salt, to serve (Marlborough would be most fitting!)
Instructions
For the caramel (1 day in advance)
Line a baking tray with parchment paper. Set aside.

Combine all the ingredients into a medium saucepan over medium heat. Whisk occasionally to prevent scorching. You will need to whisk more often as the butter and sugar melts.

The mixture will go through different phases. It is done when it is a nice golden color and reduced by about half. This took me about 10 minutes. If you have a candy thermometer, the temperature should be 300 degrees F.

Immediately remove the caramel from the heat and pour onto the baking tray lined with parchment paper. Spread it into an even layer with a spatula. Set aside until it has cooled. Put it in the refrigerator to chill overnight.
For the cookie dough:
Remove the baking tray from the refrigerator and break the caramel into bite-size pieces about the size of large chocolate chips (it is okay to have some smaller). I put a piece of parchment paper over the caramel and used a hammer to break it up. Set aside.

In the bowl of a stand mixer fixed with the paddle attachment, cream the butter and sugar together for about 2 minutes. Scrape down the sides as needed.

In a separate bowl, lightly beat the eggs with the vanilla and then add to the butter mixture (the original recipe says to do this one spoonful at a time). Beat until combined.

In a medium bowl, whisk together the dry ingredients (flour, baking powder, baking soda, salt). Add the dry ingredients to the wet ingredients and then beat on low until just combined. Fold in the caramel pieces.

Cover the dough with plastic wrap and refrigerate for at least 4 hours (ideally overnight).
To bake:
Remove cookie dough from the refrigerator. Preheat oven to 320 degrees F. Line baking sheets with parchment paper.

Take pieces of dough weighing approximately 30 grams (approximately 1.5 Tablespoons) and roll into a ball. Place on baking sheet leaving a few inches in between cookies. These cookies will spread quite a bit. I can do 9 cookies per sheet. Bake for 12-14 minutes until golden brown around the edges. (The cookies will look extremely soft but will firm up after cooling.) Sprinkle with sea salt right after removing from the oven. Let cool on the tray for 5 minutes and then transfer to a wire rack to cool completely. ENJOY!!!