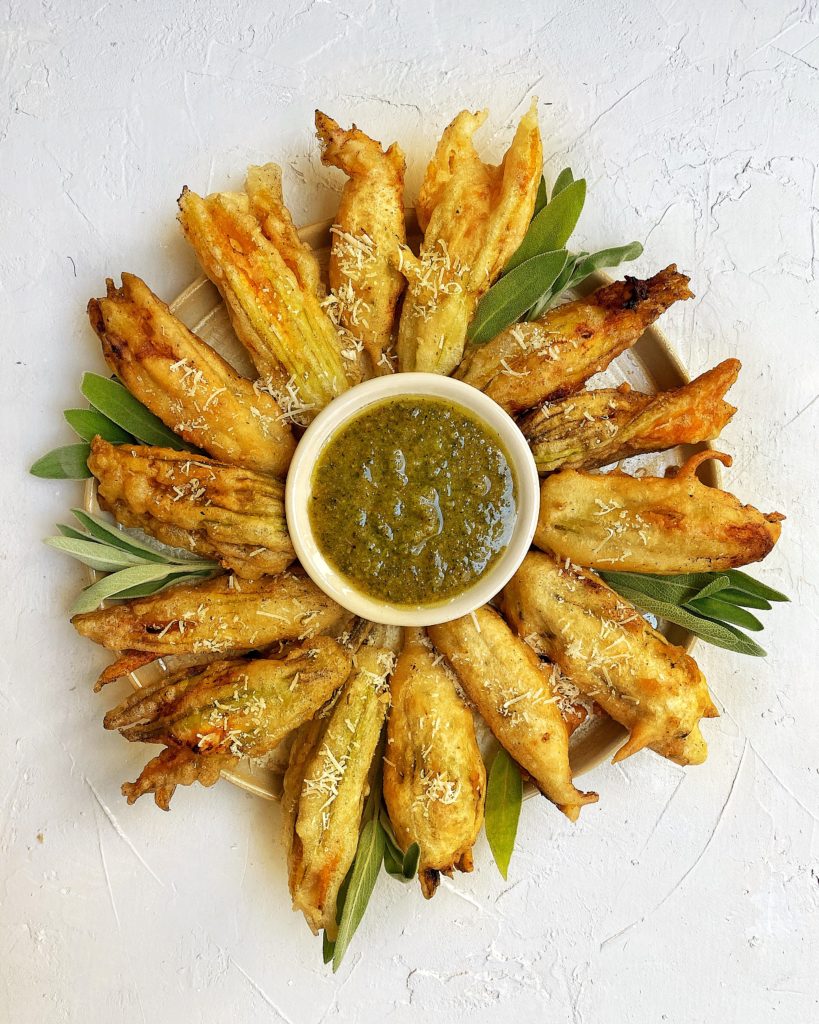 These zucchini blossoms are stuffed with ricotta, golden raisin, walnut, shallot, and garlic. They are coated in a batter made with sparking water which contributes to a super crispy bite. The dipping sauce is a sage-walnut pesto.
This recipe is inspired by the fried zucchini blossoms we had a Rita in Wellington, NZ. My husband and I visited New Zealand for our honeymoon in early February (when the world was a different place). We are forever grateful that we had an opportunity to experience New Zealand's natural beauty, extremely friendly people, and their food scene. We left New Zealand with a greater appreciation for taking care of nature and your neighbors. We cannot wait to go back one day!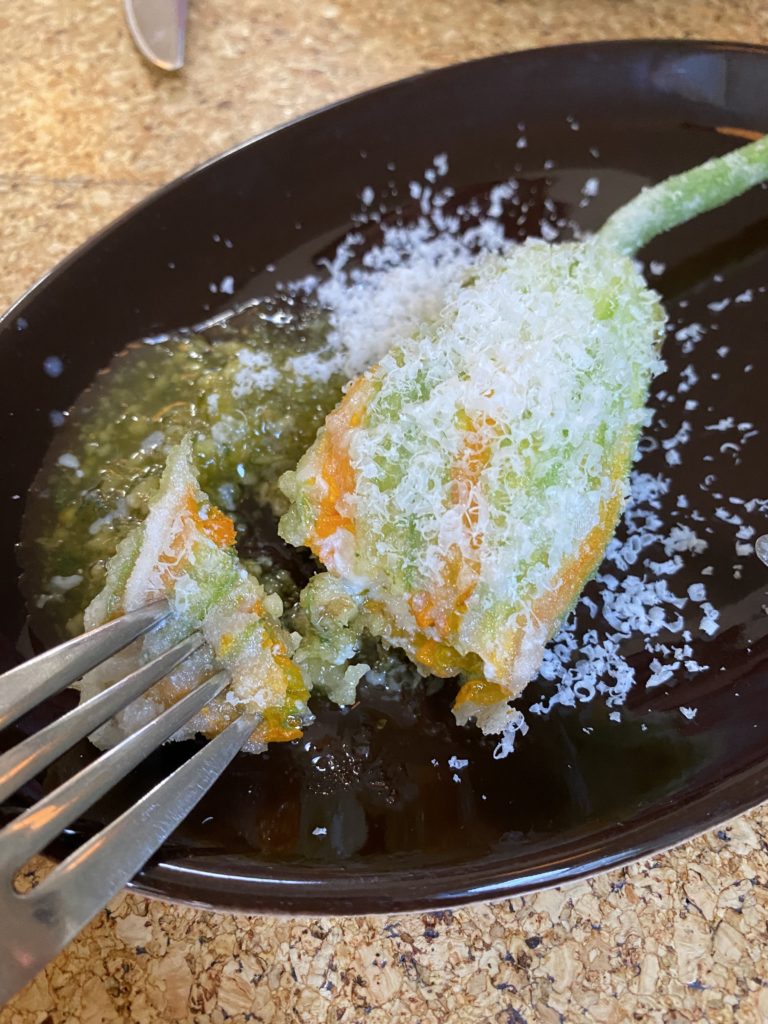 Rita is in a small restaurant only seating about 20 people at a time and offering a three-course menu. You have to make reservations in advance for one of the two seating times. You won't know the menu before you arrive. They surprise you! We were really stuck by the fresh ingredients and the super helpful staff who answered all out questions about the food. I also loved that the dining table had a drawer for each person where your utensils were stored! It is small things like that that contributed to an extra thoughtful and special dining experience. We originally discovered Rita after reading about it here.
After returning home, I read more about the owners and chefs at Rita: Kelda Hains, Paul Schrader, and Matt Hawkes. Chef Kelda Hains cites Chez Panisse and Zuni as her influences. When I asked about the sauce served with the fried zucchini, it ended up being a modification from the Zuni sage and walnut pesto! We really do live in a small world. You can learn more about Rita here and about Chef Kelda Hains' philosophy here.
I hope you enjoy this recipe! Be sure to tag @anchoredbaking and #anchoredbaking on Instagram if you make this. You can also comment below with any tips, tricks, or feedback based on your experience making these. I really appreciate your feedback 🙂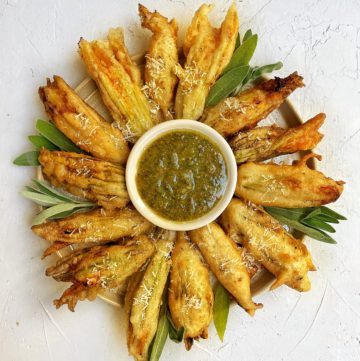 Zucchini Blossom with Ricotta, Walnut, and Golden Raisin, Walnut-Sage Pesto
These zucchini blossoms are stuffed with ricotta, golden raisin, walnut, shallot, and garlic. They are coated in a batter made with sparking water which contributes to a super crispy bite. The dipping sauce is a sage-walnut pesto. 
Ingredients
12

fresh zucchini blossoms
For the filling:
12

oz

full-fat ricotta (I used Bellwether Farms)

1

tbsp

golden raisins

1

small shallot, finely diced

1

garlic clove, minced

2

tbsp

walnut (toasted and roughly chopped)

olive oil
For the batter:
1/2

cup

cornstarch

1/2

cup

all-purpose flour

salt/pepper (to taste)

1

cup

cold sparking water (more or less as needed)

vegetable oil (for frying)

freshly grated Parmesan (for serving)
For the Sage-Walnut Pesto
1/4

oz

fresh sage leaves (about 3 full tablespoons)

1/2

cup

olive oil

2

garlic cloves, peeled

1

oz

Parmesan

1/2

cup

walnuts

Salt/freshly cracked pepper (to taste)
Instructions
For the pesto
Coarsely chop the fresh sage. Add the sage a few tablespoons of the olive oil to a small skillet or frying pan over low heat. Continue stiring for about 5-10 minutes until the sage is hot. Remove from heat source and set aside.

In the bowl of a food processor, add the remaining olive oil, garlic, walnuts, and warm sage with oil. Process until smooth. Add Parmesan and puree for a few seconds. Taste- add salt/pepper as needed. Set aside until serving.
For the filling:
Lightly toast walnuts in a skillet on the stovetop. Constantly stir them around to prevent burning. Remove when they are aromatic and golden. Allow to cool. Coursely chop and set aside until ready to use.

Sauté the shallot and garlic in a bit of olive oil just until soft and fragrant. Set aside to cool slightly.

Combine ricotta, golden raisins, shallot/garlic mixture, and toasted walnuts in a medium bowl. Transfer filling to a piping bag, or Ziplock bag, if using. See notes.
To assemble:
Gently open the petals of the squash blossoms to remove the stamens.

Using a piping bag or a spoon, fill the blossoms with the ricotta mixture. About 2-3 tablespoons each, depending on the size of the flower. Gently twist the tops of the petals to seal.
Frying:
Take a large pot or dutch oven and fill with at least 3 inches of vegetable oil. I like using a big pot will tall sides to help prevent hot oil splatter. The temperature needs to be 375 degrees F.

While oil is heating, quickly make the batter. Combine all the dry ingredients and then add sparking water a little bit at a time. The batter will be runny (like very thin pancake batter).

Dip the zucchini flowers in the batter, making sure to evenly coat. Allow access batter to drip off but do not hold zucchini flower upside down (risking the filling falling out!) Carefully lower into hot oil using tongs. Only fry 4-5 blossoms at a time (see notes). Fry until the batter is puffed and slightly golden (about 5-8 minutes).

Carefully remove with tongs and set on a plate lined with paper towels. Sprinkle with grated Parmesan. Serve immediately with the pesto. Enjoy!
Notes
I cut the corner off a ziplock bag to make a make-shift piping bag. You can also use a proper piping bag; just make sure the tip is wide enough for the raisins to pass. You can also stuff the blossoms using a spoon (which would be a bit messier).
If you fry too many blossoms at once, you will lower the oil temperature, increase the cooking time, and make the blossoms greasy.