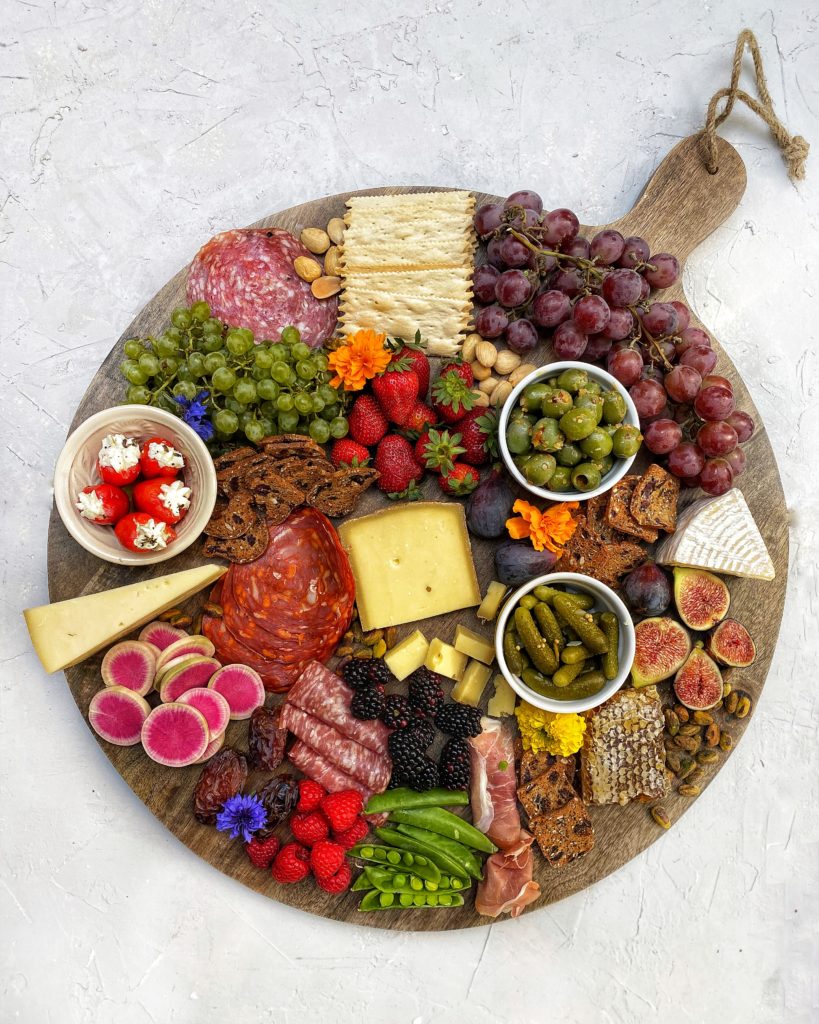 I love a good cheese plate! In fact, I could make a whole meal out of it! It is a great option if you do not feel like cooking anything 🙂
A cheese plate is also ideal for entertaining (whenever we can do that again) because you can prepare it in advance and you can have something ready for as soon as people walk through the door. They can nibble while you put a drink in their hand!
Here are my tips for planning your cheese plate:
Select 3-4 types of cheese with different textures. Think cow, goat, sheep and soft, semi-firm, aged. 
Plan for 3 ounces of cheese per person.
Cheese tastes best at room temp- take it out of the fridge at least 30 minutes before people arrive. 
Make your board visually appealing by having many different colors and textures!
The order you assemble the board: cheeses, crackers, meats, fruits/veggies, nuts (no empty spaces allowed!) 
To make it look more organic and effortless- don't have any of the same thing touching (ex: don't line up all your cheeses together). Make sure your different categories are spread throughout!  
Have a mixture of savory and sweet- have salty things (like roasted nuts and cured meats) to balance out any sweet from the fruit, preserves, etc
Roll the meats a head of time. Pre-slice some of the cheeses into individual bites. If you have a long board, place the same cheese in multiple locations so people don't have to reach. 
Have enough knifes for each kind of cheese so you don't contaminate flavors. 
Make it SEASONAL! Your boards will have different produce depending on the season.
Here is a shopping list I made for you 🙂 Click the file name or press "Download" below. It has some of my favorite items and then a place for you to add your favorites! If you use this list, tag @anchoredbaking and #anchoredbaking on Instagram, I would love to see your boards!