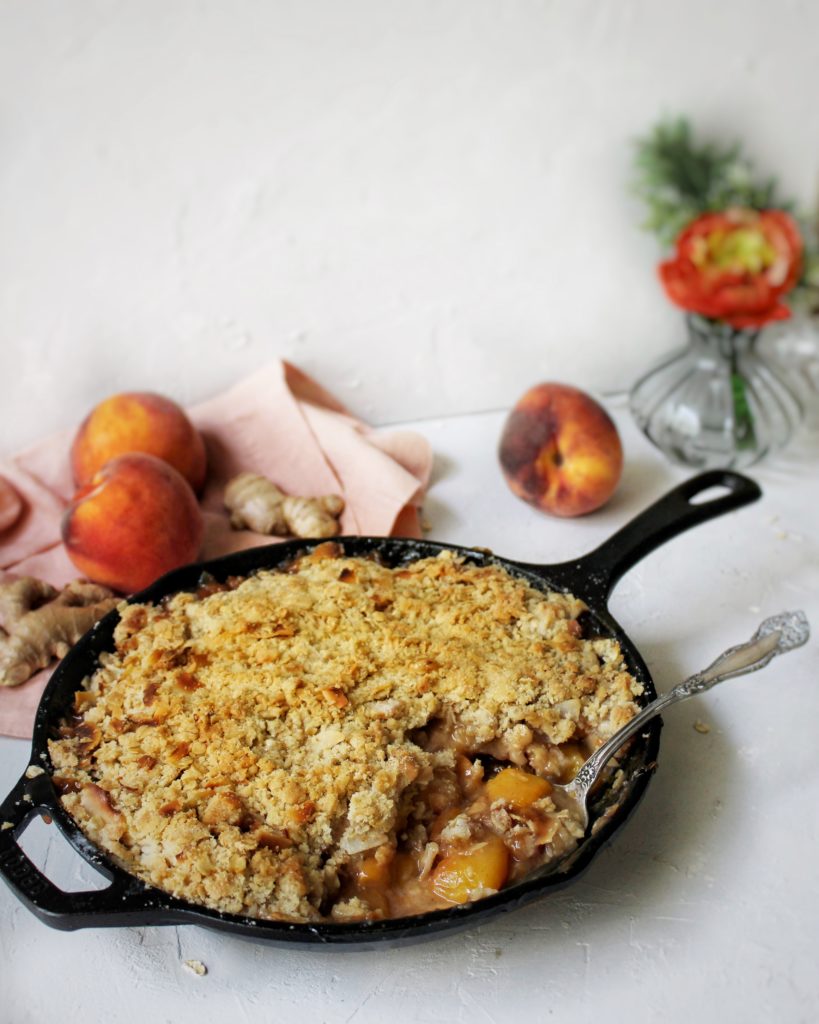 Introducing your new favorite dessert for summer! This recipe features juicy peaches in vanilla bean paste, brown sugar, and freshly grated ginger. The topping is made with oats, ground ginger, and crunchy coconut flakes. Serve this warm with vanilla ice cream… You may never go back to a normal peach crisp!
I used both freshly grated ginger and ground ginger in this recipe. The fresh ginger is in the filling and the ground ginger is in the crumb topping. Ginger is a very nice complement to peach. It almost makes it a touch savory and not too sweet. The ginger is not overpowering, just a subtle pop of flavor.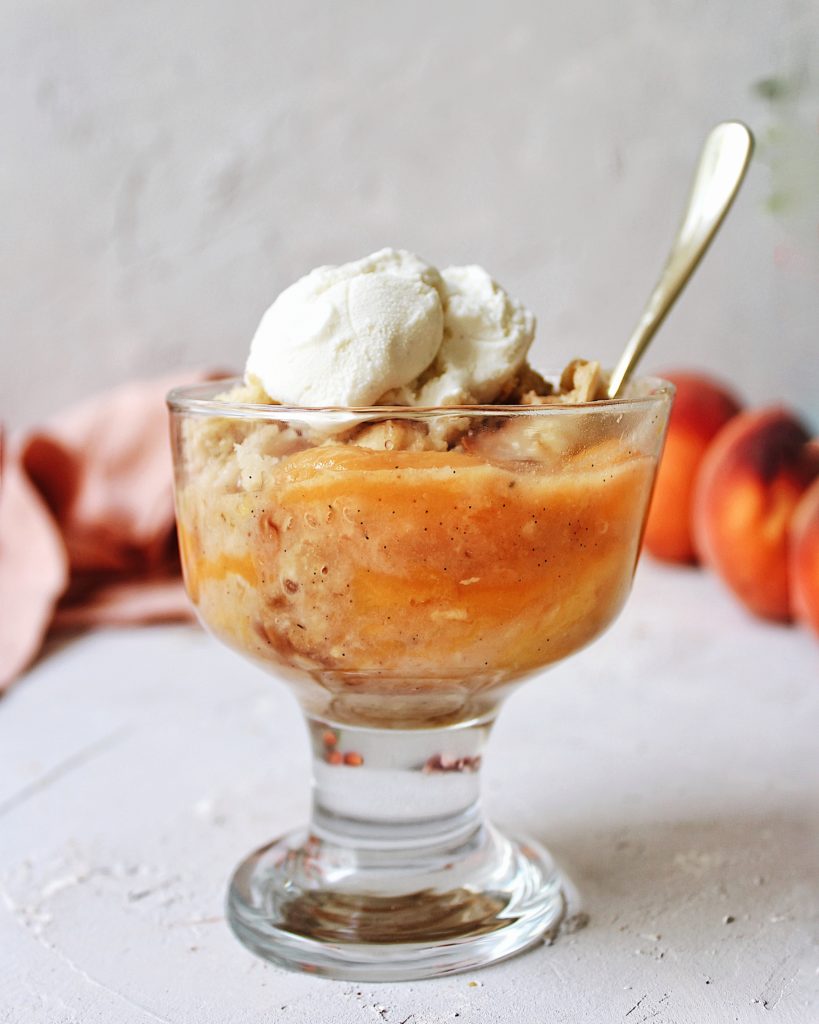 Is it just me or do desserts just taste better out of a skillet? This also makes it easy to transport, bring outside, or (one day) bring over to a friends'! Next time I may even try grilling the crisp, like they did in this Southern Living recipe.
I hope you give this a try! If you like it (or have suggestions for improvements), please leave a review below. I would love if you tagged @anchoredbaking and #anchoredbaking on Instagram so I can see your desserts!
P.S. Check out the recipe notes for a tip to easily peel your peaches!
Enjoy the rest of summer!!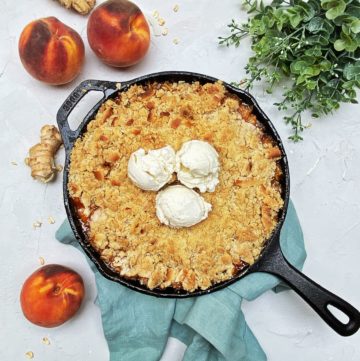 Ginger Peach Skillet Crisp
Juicy summer peaches in vanilla bean paste, brown sugar, and freshly grated ginger. Top it off with a perfectly crunchy coconut ginger crumb (and vanilla ice cream, of course).
Equipment
10 inch cast iron skillet
Ingredients
Topping
3/4

cup

all-purpose flour

3/4

cup

old-fashioned oats

2/3

cup

granulated sugar

1/4

tsp

ground ginger

pinch of salt

7

tbsp

butter, cold and cubed

1/2

cup

unsweetend coconut flakes (or chopped pecans)
Filling
6

large peaches, peeled and sliced, about 2.5 pounds +/- (See notes)

1/3

cup

brown sugar

1

tbsp

grated ginger

2

tsp

vanilla bean paste

1

tbsp

lemon juice

1

tbsp

cornstarch
Instructions
Preheat oven to 375°F and butter a 10 inch cast iron skillet.
For the topping:
Whisk together the flour, oats, sugar, ginger and salt in a medium bowl.

Add the cubed butter and use a pastry cutter to combine. (You can also use your fingers.) You want the butter bits to be about the size of peas and evenly coated in the flour mixture. Add coconut flakes (or pecans) and toss to combine.

Cover with plastic wrap and place in the refrigerator until you are ready to use it.
For the filling:
Peel and slice the peaches and add them to a large bowl. Add brown sugar, grated ginger, vanilla bean paste, lemon juice, and cornstarch. Gently toss to combine. It is very important that everything be evenly coasted (especially the cornstarch). Pour into the skillet.

Remove topping from the refrigerator and sprinkle it over the peaches. It will seem like a lot but use all of it! You can use your hands to press it down to compact it a bit.

Bake for 35-40 minutes until the top is slightly golden brown. Serve warm with vanilla ice cream. Enjoy!
Notes
How to peel peaches: Boil a pot of water. Fill a large bowl with ice and water; set aside. Score the bottom of the peaches with an X using a sharp knife (don't cut too deep, just the skin). Carefully drop peaches in boiling water for 30 seconds. Use a slotted spoon to retrieve the peaches and place them in the ice water. Remove after 10-15 seconds. Use your fingers to easily peel the skin off!