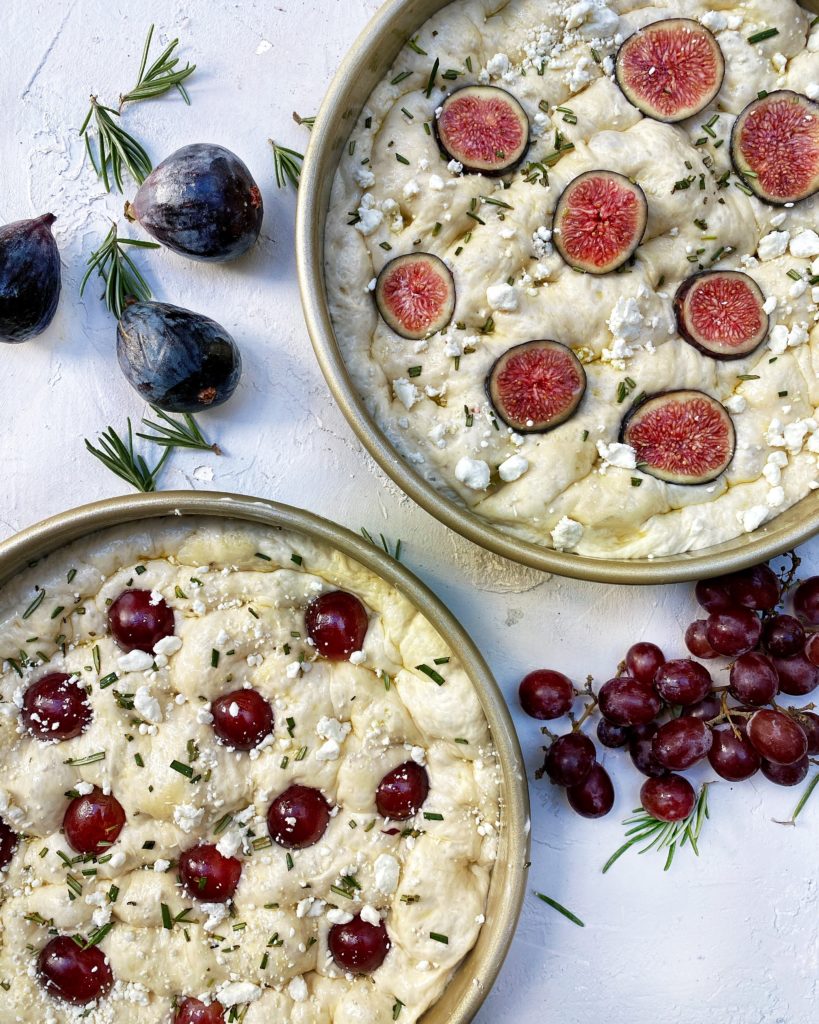 The base recipe for this focaccia comes from Sarah Jampel at Bon Appetit. As her title states, it is both "shockingly easy" and "no-knead." Knead I say more? hehe
This recipe is easy to follow, comes together quickly (not counting the rise times), and it has the most delicious flavor and texture. I don't think I will ever attempt a different focaccia recipe.
The deflating method in-between the 1st and 2nd rise is particularly interesting. Bon Appetit cites Alexandra Stafford for this technique.
The recipe calls for baking it in a 13×9″ pan. I saw Ashley from Local Haven make the full recipe but divide it into two cake pans. This worked perfectly for me, too! This is great if you can't agree on which toppings to choose 🙂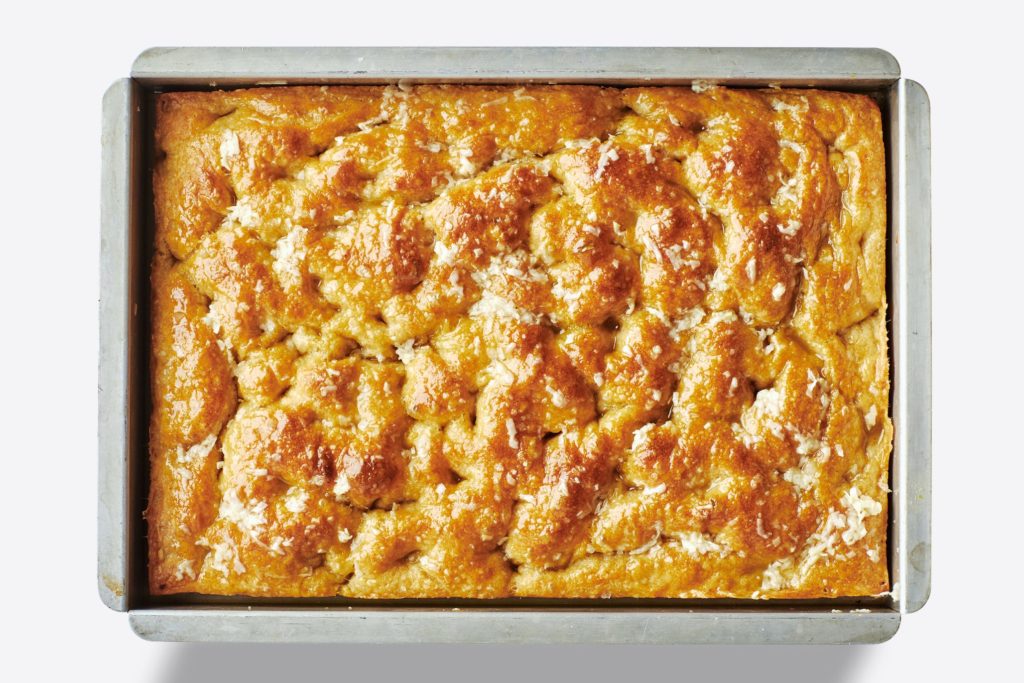 I made one with red grape halves, goat cheese, rosemary, and honey. For the second one I did everything the same but used fig slices instead of red grapes.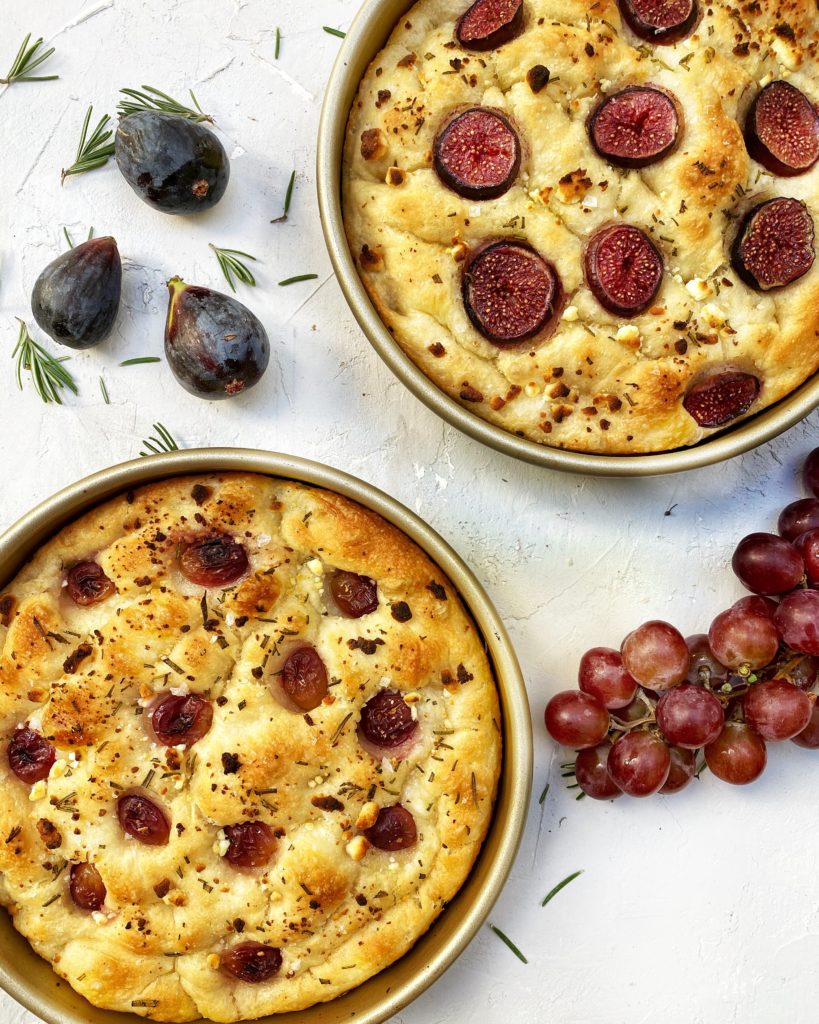 There are endless flavor combinations you can put on top of focaccia- from the classic garlic to tomatoes, squash, potatoes, etc! What are your favorite toppings?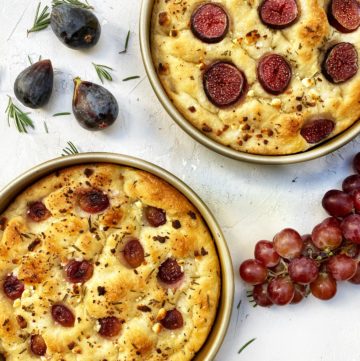 Red Grape, Rosemary, and Goat Cheese Focaccia (customizable)
A variation of the Bon Appetit recipe to include red grapes or figs.
Ingredients
1

recipe focaccia (see notes for link)

handful red grapes, cut in half lenth-wise (or fresh figs, sliced horizontally)

goat cheese

rosemary, removed from stem and thinly sliced

honey, to serve
Instructions
Follow everything as written in the Bon Appetit recipe.

If you want to make 2 cake rounds instead of 1 large pan, follow everything through deflating the dough and forming a ball. Cut it in half and place each half in its own buttered and oiled pan to complete the second rise. Then proceed to follow the rest of the Bon Appetit steps.

After you dimple the foccacia, press in the grapes (or fig slices), sprinkle with rosemary and goat cheese. Bake for 20-30 minutes. (See notes.)

Drizzle with honey before serving. Enjoy!
Notes
I followed this Bon Appetit recipe but did not include the garlic cloves. I did keep the sea salt and everything else the same. https://www.bonappetit.com/recipe/easy-no-knead-focaccia 
When I used 2 cake pans baked at the same time in the oven, it took about 22 minutes. Keep your eye on it. It is done when it is golden brown and slightly crispy on the edges.