Happy Easter! Today I am sharing a recipe for a tropical carrot cake loaf. It has bananas and coconut in the batter and it is topped with coconut buttercream and a sprinkle of toasted coconut. It is kind of like carrot cake, banana bread, and coconut cake all in one!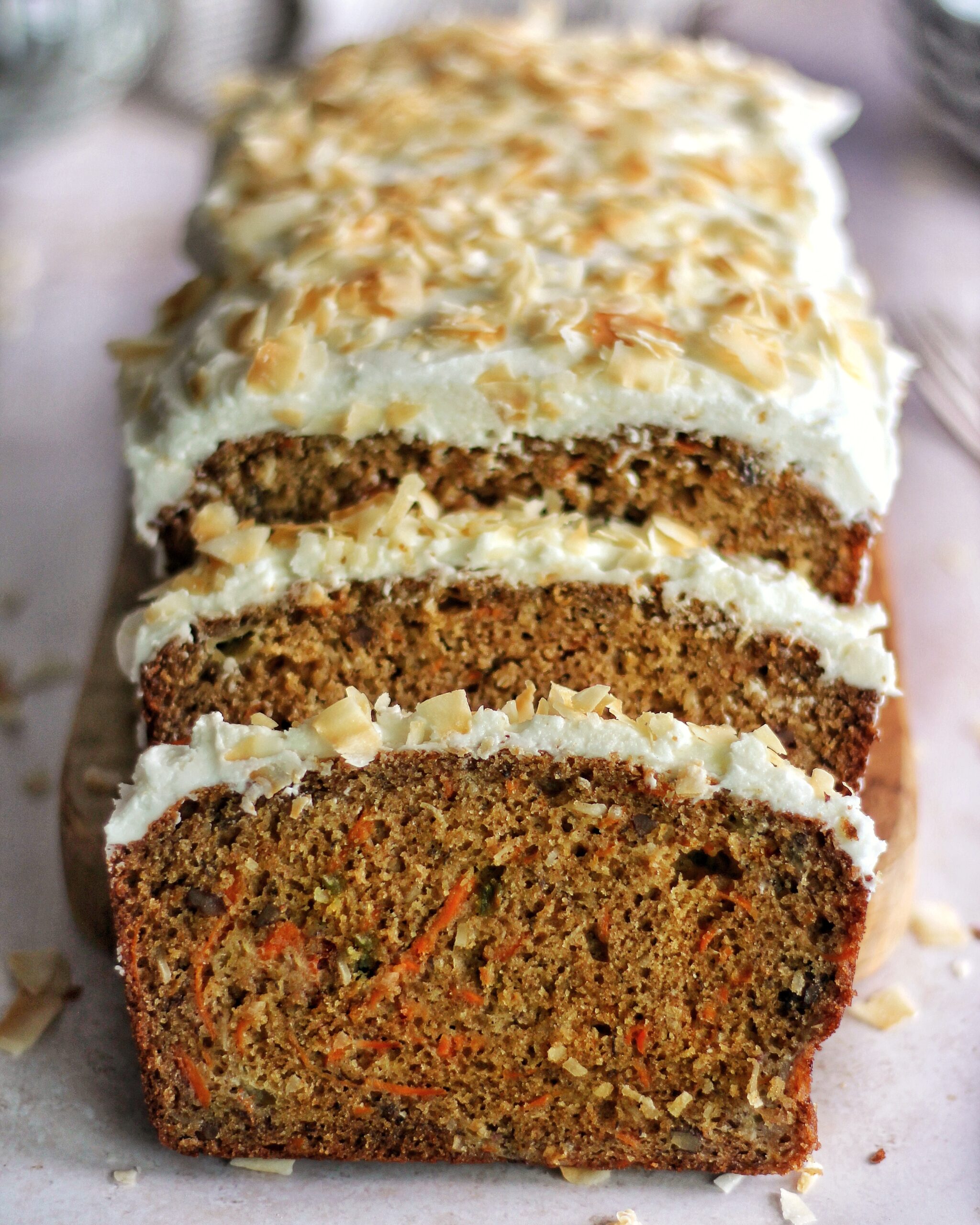 Special Ingredient Notes
Bananas: I know it may sound surprising to see bananas in a carrot cake recipe but trust me, it is so good! Bananas offer sweetness and keep the bread moist. I originally saw bananas in carrot cake on Ambitious Kitchen. I knew the bananas would go well with the coconut flavors.
Carrots: This recipe calls for 1 heaping cup of shredded carrots. That equates to about 2 medium carrots.
Coconut: I used sweetened shredded coconut in the batter. I also tested it with unsweetened coconut and I found the coconut a little stringy and disruptive. The sweetened coconut stays nice and soft while still imparting coconut flavor. There is coconut extract in the frosting and toasted, unsweetened coconut flakes on top!
Yogurt: Don't skip this ingredient (see below!) You can use plain or vanilla flavor.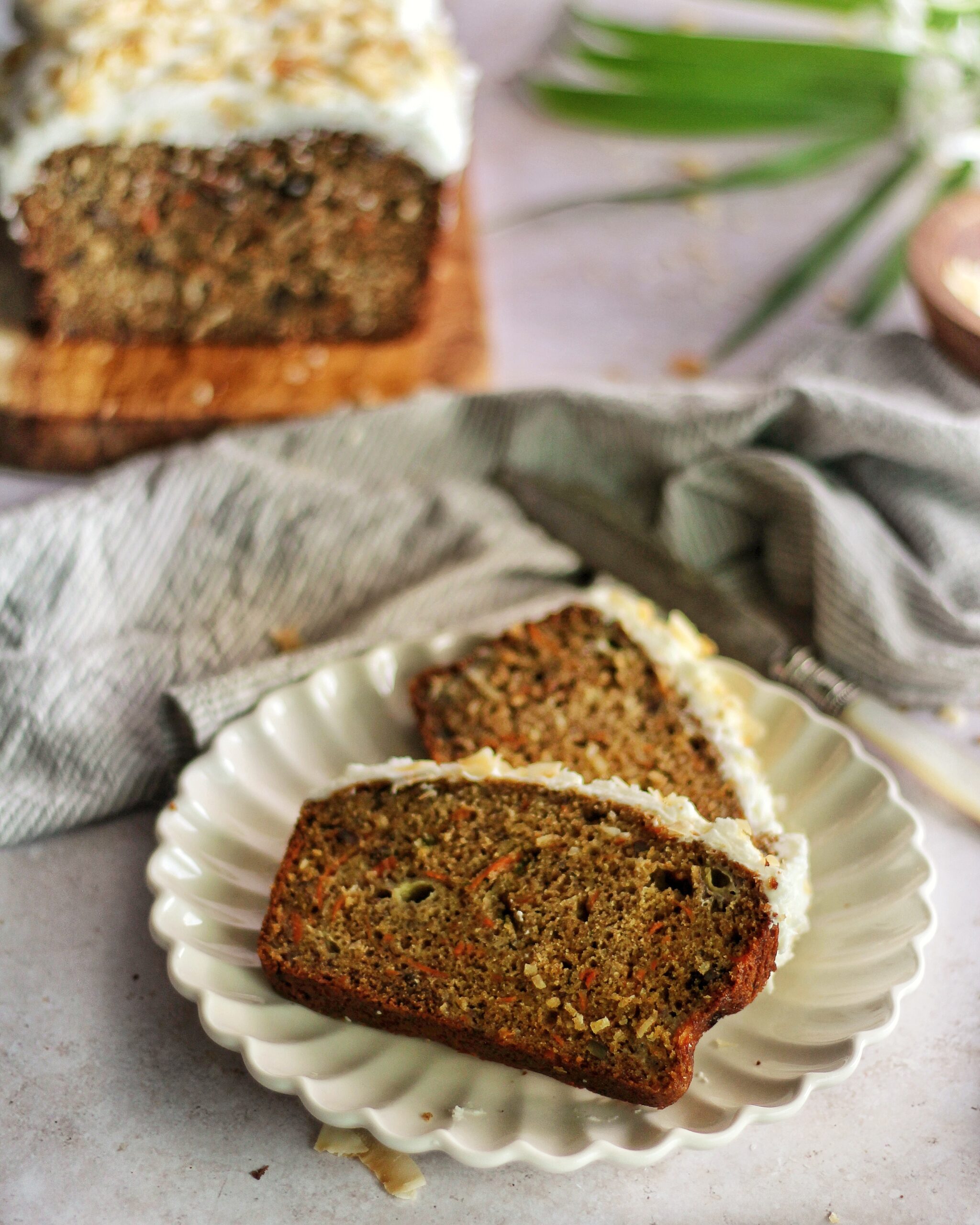 A note on Baking Powder and Baking Soda
The first time I made this recipe, it did not rise at all! I was very disappointed. After reading a number of other recipes, I saw that most recipes added yogurt or applesauce. Do you know why? I didn't! I thought I could skip it because the bananas and coconut oil added moisture.
Turns out, in order for baking soda to activate and provide the rise we are looking for, you need to make sure there is an acid for it to react to. Common ingredients that bakers use to activate the baking soda include yogurt, applesauce, or molasses. When the baking soda reacts to the acid, it releases carbon dioxide bubbles which causes the batter to rise.
Yogurt did the trick!
Sometimes baking soda alone is sufficient. However, I really wanted to ensure extra lift so I used both baking soda and baking powder.
I recommend reading this article if you are interested in learning more science 🙂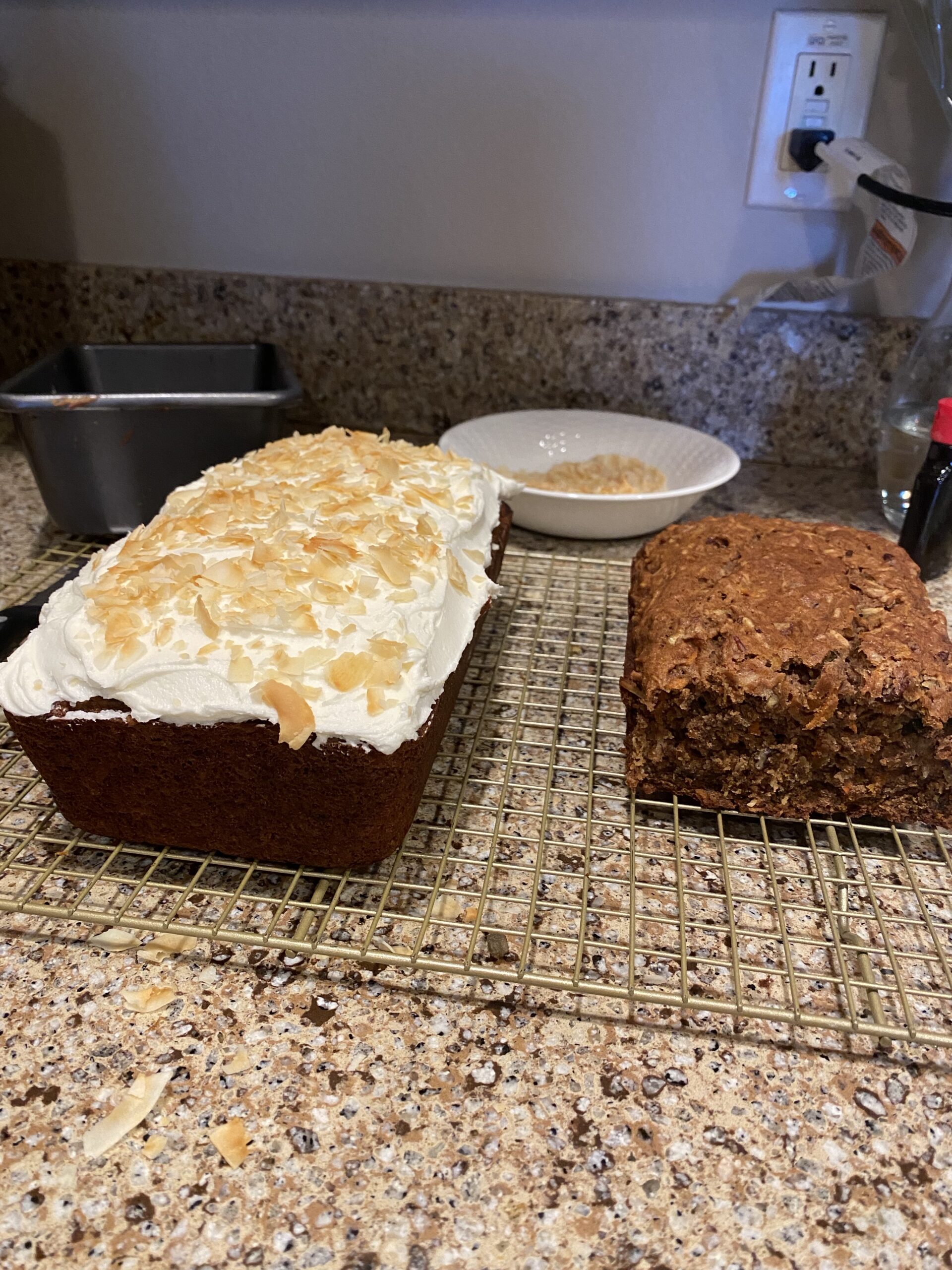 Other recipes to try
If you like coconut, you may also want to try my Mango Coconut Cheesecake or these Lemon White Chocolate Lamingtons!
ENJOY!
I would love for you to try this coconut carrot cake recipe! Tag @anchoredbaking or #anchoredbaking so I can see your creations! As always, please let me know if you have any questions or feedback 🙂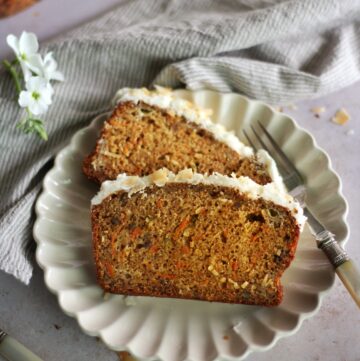 Tropical Coconut Carrot Cake Loaf
Carrot cake with a tropical twist!
Ingredients
Coconut Carrot Cake
2

cups (250 g)

all-purpose flour

1

teaspoon

baking powder

1

teaspoon

baking soda

1/2

teaspoon

salt

2

teaspoons

ground cinnamon

1/2

teaspoon

ground ginger

1/2

teaspoon

ground nutmeg

1/2

cup

coconut oil, melted

2

large eggs, room temperature

3/4

cup

packed dark brown sugar

1/3

cup

yogurt

1

teaspoon

vanilla extract

3/4

cup

mashed banana (about 2 medium bananas)

1

heaping cup

shredded carrots (about 2 large carrots)

1/3

cup

chopped pecans

1/2

cup

sweetended shredded coconut
Coconut Frosting
6

tablespoons

unsalted butter, softened

1 and 1/2

cups

powdered sugar

1/4

teaspoon

coconut extract

Splash of milk until you reach desired consistency

1/2

cup

unsweetended coconut flakes, toasted

for serving
Instructions
Preheat the oven to 350 degrees F. Spray a 9X5 inch loaf pan with nonstick spray. Set aside.

Mix the dry ingredients: Whisk the flour, baking powder, baking soda, salt, cinnamon, ginger, and nutmeg together in a large bowl. Set aside.

In a separate large bowl, whisk together the coconut oil, brown sugar, eggs, yogurt, vanilla, carrots, and banana until smooth and evenly combined.

Pour the wet ingredients into the bowl with the dry ingredients. Gently whisk it together until the batter is just barely combined. It is important to not overmix it. Fold in the chopped pecans and shredded coconut until they are evenly dispersed.

Pour the batter into the prepared loaf pan. Bake it for 40-50 minutes. The bread is done when a toothpick inserted in the center comes out mostly clean. Remove from the oven and let it cool.

Meanwhile, with a handheld or stand mixer, beat the butter and the powdered sugar until smooth and creamy. Add the coconut extract and a splash of milk until you reach your desired consistency. Taste the frosting and add more coconut if desired 🙂

After the cake has cooled completely, spread the frosting evenly across the loaf and immediately sprinkle with the toasted coconut flakes. Enjoy!