Grilled pineapple with coconut gelato is the perfect summer dessert. It makes you feel like you are on vacation and you do not need to turn your oven on in the summer heat!
We tested a few methods for grilling pineapple and the best results came by brushing the pineapple slices with a brown sugar and maple syrup glaze. You only need a thin layer and it results in a caramelized pineapple with those quintessential grill marks.
We paired the grilled pineapple with coconut gelato and toasted flaked coconut.
Pineapple is one of my favorite tropical fruits! Have you all seen a pineapple farm? Here is a picture from Maui Pineapple Tours. I haven't personally been here yet but it looks amazing!
If you are looking for other pineapple-themed things to do in Maui, I would recommend visiting Maui Wine for the pineapple wine (and sparking wine!) and Maui Brewing Co for the Pineapple Mana beer 🍍
What are your favorite pineapple recipes?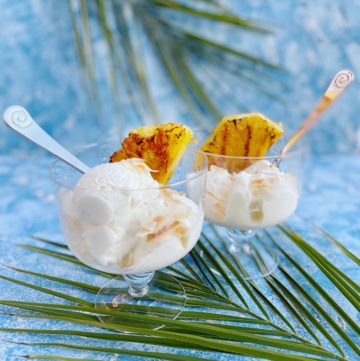 Grilled Pineapple with Coconut Gelato
An easy summer dessert, no need to turn on your oven!
Ingredients
1

pineapple (top, bottom, and skin removed)

1/4

cup

brown sugar

2

tbsp

maple syrup
For serving:
coconut gelato

coconut flakes, toasted
Instructions
Whisk together brown sugar and maple syrup in a small bowl.  

Slice pineapple into pieces about 1/2 inch thick.

Using a pastry brush, brush a thin coat of glaze on both sides of the pineapple.

Place on hot grill. Grill for 3-5 min each side or until you achieve desired grill marks and caramelization.

Serve warm over coconut gelato. Sprinkle with toasted coconut flakes.