This recipe comes together quickly and it can be customized with whatever fruit is in season. There is NO SHAME in using frozen puff pastry (especially if you are making these before your first cup of coffee). The cream cheese filling has just a touch of almond extract which is a nice compliment for the fruit.
This recipe was born out of my desire to reduce food waste. For those who know me, you know that I will eat day-old wilted leftover salads, I will save even just 1 tablespoon of extra chopped onions in a ziplock baggie, and I completely ignore expiration dates as long as something still smells okay 🙂
We had a handful of very ripe apricots that I knew we couldn't finish before we left town for a week. I googled apricot jam recipes and found this one from Tessa at The Kitchn. I loved the addition of vanilla bean. It tastes sweet but not TOO sweet. If you have any extra fruit that is about to go bad, look for jam recipes before you throw it away!
You can easily use store-bought jam instead of homemade. I have been really happy with the quality of Bonne Maman and it is readily available at the grocery store.
Feel free to experiment with this recipe and use raspberries, strawberries, apple, etc. Just make sure to add enough cornstarch to control for the extra moisture in juicy fruits. King Arthur Flour has a helpful guide about which fruits need more thickener.
Let me know what you flavors you come up with! If you make these, tag me @anchoredbaking on Instagram 🙂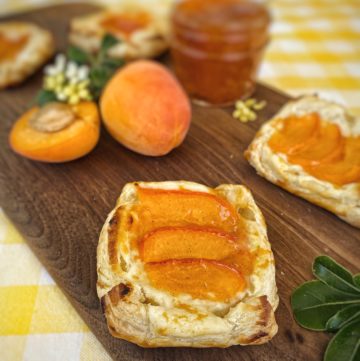 Vanilla Bean Apricot Danish
Use homemade apricot jam for the best flavor!
Ingredients
1

sheet frozen puff pastry, thawed

4

oz

cream cheese, softened

2

tbsp

granulated sugar

1/2

tsp

vanilla extract

1/8

tsp

almond extract

1/4

cup

Vanilla Bean Apricot Jam, plus more for brushing on top

(see recipe notes)

4

ripe apricots, pits removed, thinly sliced

2

tbsp

cornstarch

1

large egg + 2 tsp water or milk (for egg wash)
Instructions
Preheat oven to 400 degrees F. Line a baking sheet with parchment paper.

For the filling: Whisk cream cheese, sugar, and extracts in a small bowl. Set aside.

Toss sliced apricots in cornstarch.

Unroll puff pastry. Use a pizza cutter to cut pastry into3rds both length and width-wise (making 9 squares, see recipe notes). Place on baking sheet a few inches apart. Roll up edges slightly to make a dam. Brush edges with egg wash. 

Spread about 1 rounded teaspoon of cream cheese mixture into the center of each pastry. Scoop a scant teaspoon of jam on top of cream cheese. Align sliced apricots on top.

Bake Danish for about 18-20 minutes.

When the Danish comes out of the oven, the middle part maybe domed but it will cave back in after cooling. Brush with more jam to give a shiny finish (and more apricot!)
Notes
This is the recipe I used for homemade apricot jam: https://www.thekitchn.com/recipe-apricot-vanilla-bean-jam-222406
You can also use store-bought jam if apricots are not in season! 
Cutting the puff pastry in 9 sections results in pastries that are about 4-5 bites each. I like this cute size for a nibble but you can also cut the pastry into 6 pieces for a more substantial pastry.