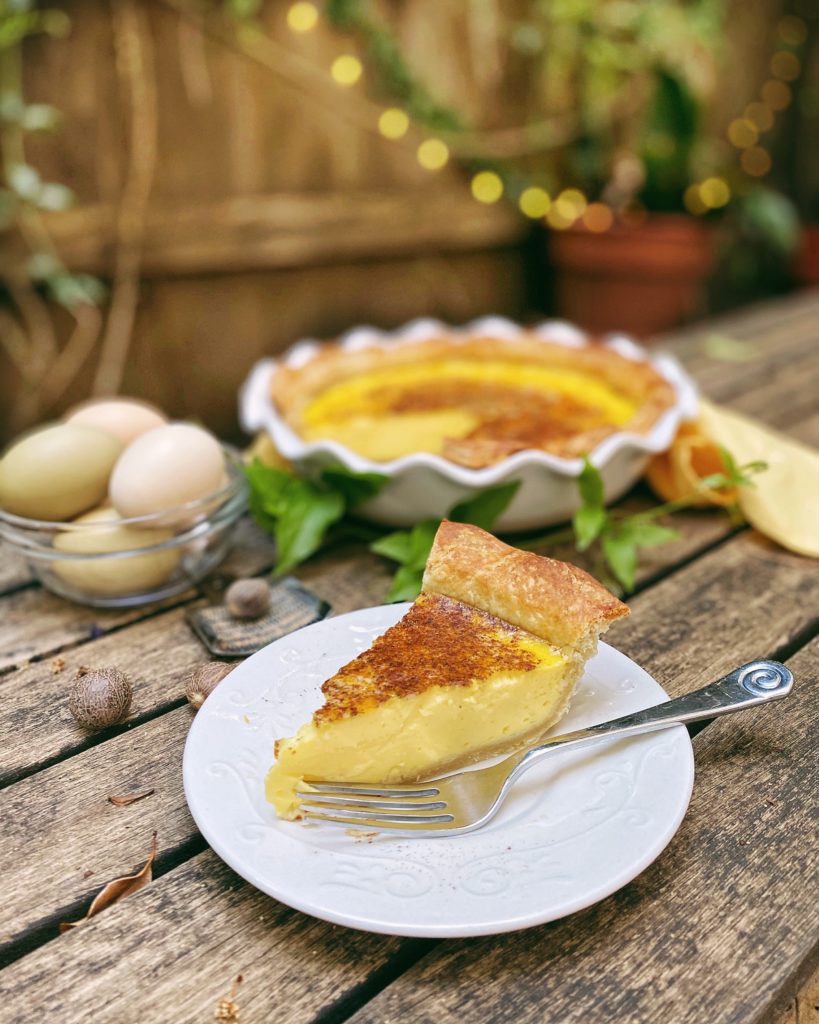 This is the custard pie recipe from "What Mrs. Fisher Knows About Old Southern Cooking," published in 1881. This cookbook is thought to be the first African-American cookbook.

Mrs. Fisher was born into slavery in South Carolina. She married a man from Alabama and they made their way to San Francisco after the Civil War. In San Francisco, she ran a pickles and preserves business and was widely recognized for her culinary skills. Since she could not read nor write, her cookbook was made by dictating her knowledge to a group of white women.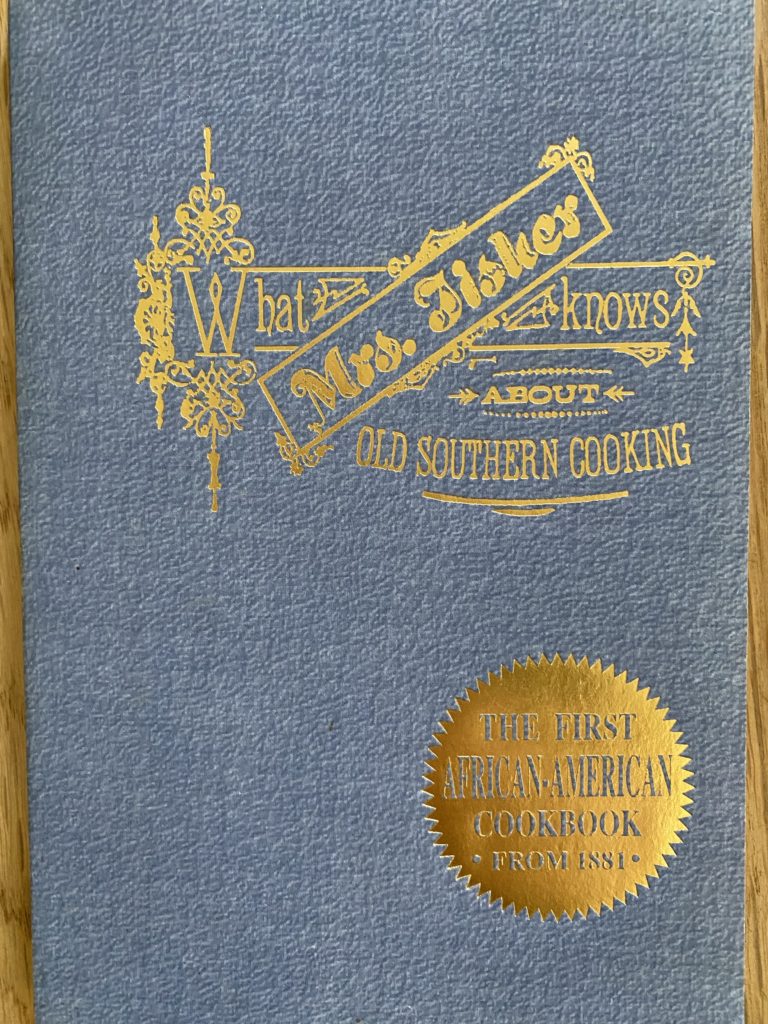 The crust of this pie has both butter and lard. Lard is a fat product from pigs and it creates a very flavorful, flaky crust (not to mention it is much better for you than manufactured vegetable shortening). This recipe also calls for freshly grated nutmeg which is fragrant and smells heavenly. As with other vintage recipes, this recipe does not include an oven temperature nor how long to bake it, relying on the home baker to have a basic level of knowledge.
A very special person gave this book to me two years ago at a culinary history event. Not only did he foster a curiosity in me about food history but he shed a new light on American history. You can read more about his research on Abby Fisher in the Fall 2007 issue of Repast (click the image below).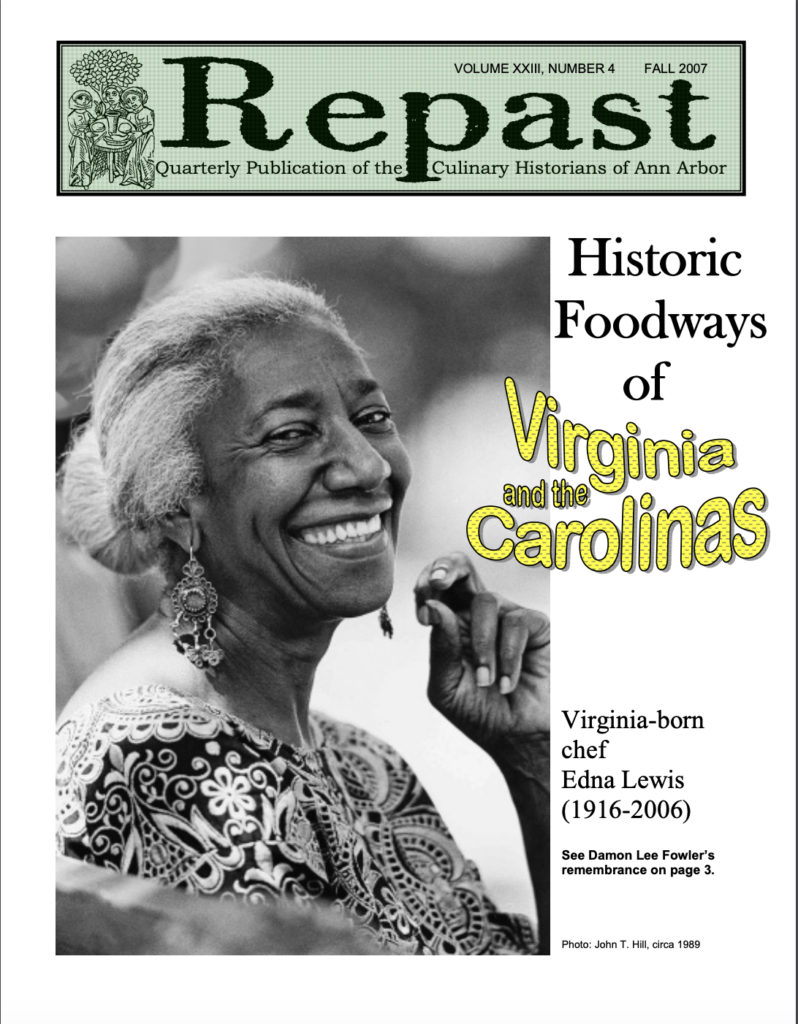 Click here for another interesting article about Mrs. Fisher from Gastro Obscura.
Here is the text from the original which I have modernized with additional instructions below. Note that the original recipe makes 2 pies! Half this recipe if you want 1 standard 9″ pie.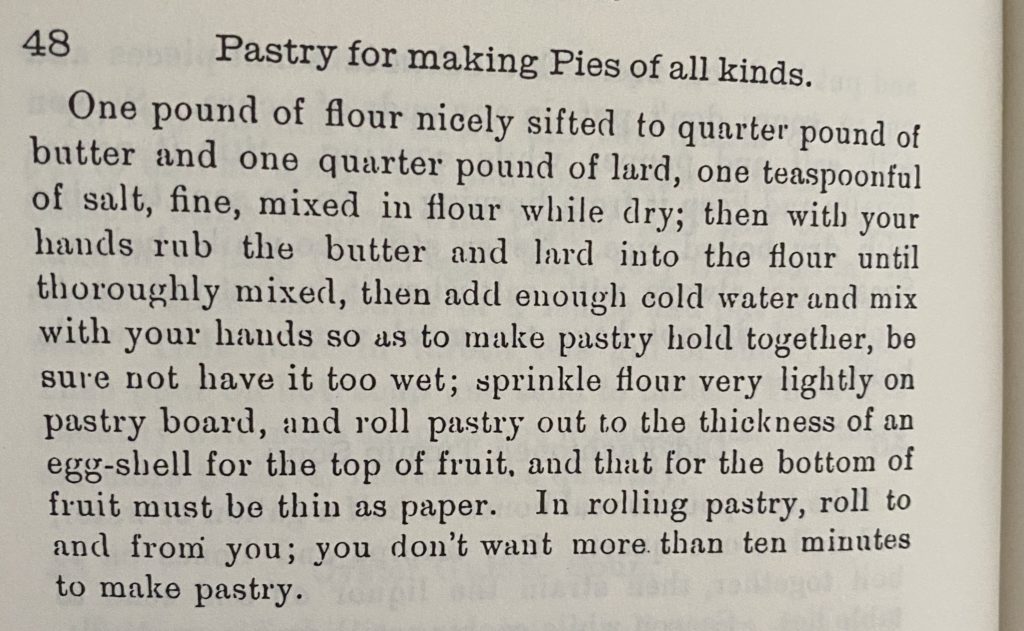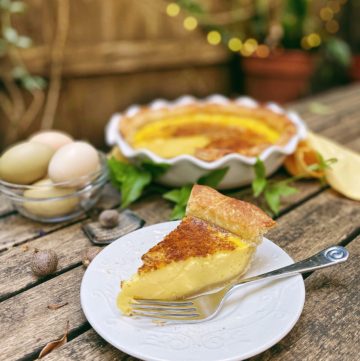 Mrs. Fisher's Custard Pie
Try making this recipe for custard pie from What Mrs. Fisher knows About Old Southern Cooking, 1881, the first African-American cookbook!
Ingredients
For the pie crust:
8

oz

flour, about 2 cups sifted

plus more for rolling

4

tbsp

butter

4

tbsp

lard

Ice water
For the custard filling:
3

eggs

1

cups

whole milk

1/2

cup

white granulated sugar

1/2

fresh nutmeg (about 1 teaspoon), divided

1

tsp

vanilla (optional, this was not in the original recipe, see notes)
Instructions
To make the pie crust:
Using a pastry cutter, combine flour, butter, and lard until butter and lard are pea-sized and covered by flour.

Add enough ice water so the dough becomes clumpy and shaggy and begins to form a ball when pressed together. Be careful to not to add too much water! The dough should be sticky but not wet. For me it took about about 1/2 cup, use more/less water as needed.

Place dough on a floured working surface and fold the dough together until all the fats are incorporated.

Form dough into a disc. Wrap in plastic wrap. Refrigerate for at least 2 hours.
To prep the pie crust:
Preheat oven to 375 degrees F.

Roll out dough on a lightly floured working surface until about 12" in diameter.

Place the dough into your pie dish (no need to spray/butter it first). Crimp the edges.

Place parchment paper over the dough and fill with pie weights/beans/rice. Bake crust for 12 minutes. Let cool while making the filling.
To make the filling:
Preheat oven to 400 degrees F.

Whisk together eggs, milk, sugar, and half of your grated nutmeg (about 1/2 teaspoon).

Pour egg mixture in pie dish prepared with pre-baked crust. Sprinkle the top with remaining nutmeg (about 1/2 teaspoon).

Bake for 35-45 minutes until a knife inserted into the center comes out clean.

Cool on wire rack, refrigerate. Serve chilled.
Notes
Vanilla was not included in the original recipe. However, it is common in custard pies today. I think it adds a nice complement to the nutmeg, depth, and more sweetness. 
Freshly grated nutmeg is much more pure and fragrant than store-bought ground nutmeg. If you do not have fresh nutmeg, you may want to double the amount used in this recipe.