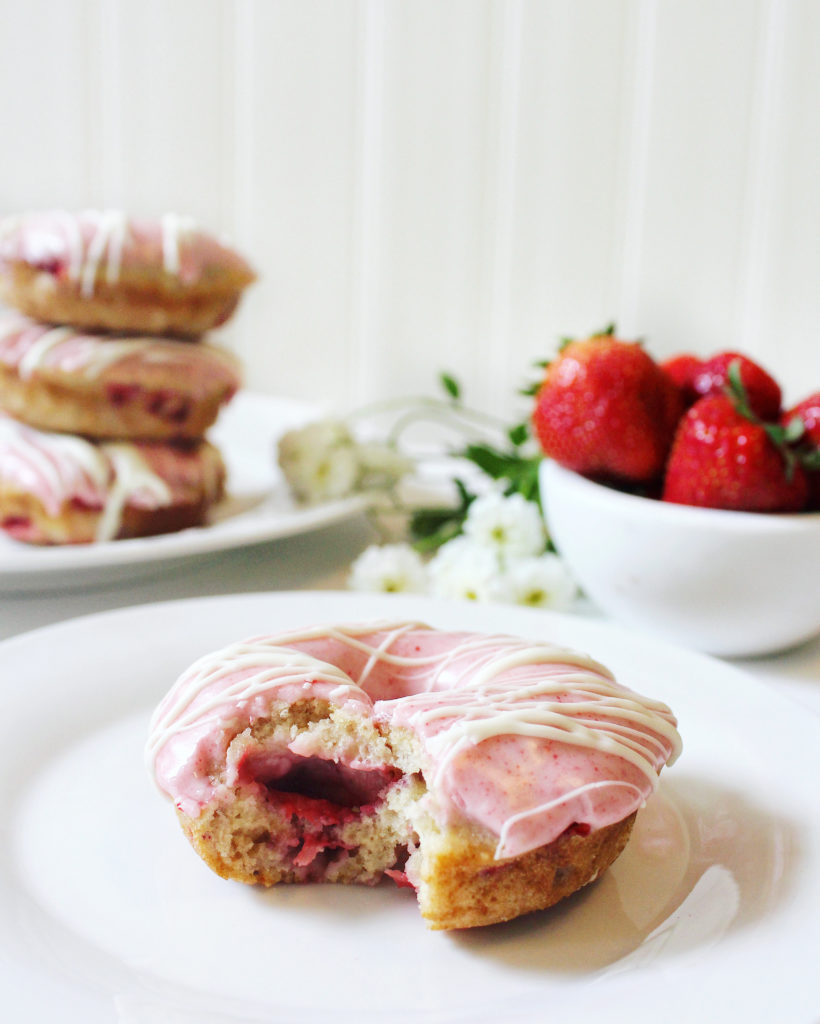 Enjoy the strawberry season while it is still going strong! I used lots of fresh strawberries so you get one in almost every bite. The glaze is made with freeze-dried strawberries ground down to a powder giving you an extra intense flavor and that beautiful hue! The white chocolate drizzle is for good measure 🙂
This is the donut pan I use. This recipe makes just enough for 6 donuts.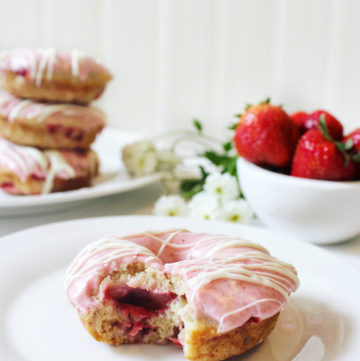 Baked Strawberry White Chocolate Donuts
Enjoy summer's best strawberries for breakfast! Small pieces of strawberry in every bite and a pink-hued glaze made from freeze-dried strawberries.
Ingredients
Donut Batter:
1

cup

flour (125 grams)

1/4

cup

granulated sugar

1/4

tsp

baking soda

1/4

tsp

salt

1/3

cup

whole milk

1

tsp

white balsamic vinegar (see recipe notes)

3

tbsp

vegetable oil

1

tsp

vanilla extract

1

egg, room temperature

2/3

cup

finely chopped strawberries (see recipe notes)
Strawberry Glaze:
2

cups

powdered sugar

1

cup

freeze dried strawberries

1/3

cup

heavy cream (plus more if needed for thinner consistency)
White Chocolate Drizzle:
2

oz

white chocolate chips

1

tsp

coconut oil
Instructions
Preheat oven to 375 degrees. Spray donut pan with non-stick spray or use room temerature butter and flour (shaking off excess flour).

Pour white balsamic vinegar into whole milk and set aside while you mix the dry ingredients.

Whisk together the flour, sugar, baking soda, and salt. Set aside.

Whisk together the vegetable oil, vanilla, and egg. Add the milk with vinegar and whisk to combine. It may appear to curdle/separate but that is okay!

Make a well in the middle of the dry ingredients and pour your wet ingredients in the middle. Use a wooden spoon to mix the batter together. Mix until just barely combined and then gently fold in the chopped strawberries.

Spoon the batter into the prepared donut pans until they are almost full. The batter will make 6 full-size donuts. Bake for 10-12 minutes until a toothpick inserted into the middle of the donut comes out clean.

While the donuts are baking, make the glaze. Place 1 cup freeze dried strawberries into a food processor and pulse until you have a strawberry powder. Whisk with powdered sugar and heavy cream until smooth.

When the donuts are done, flip them out of the pan onto a cooling rack. They need to be slightly cooled so the glaze doesnt melt off- wait about 5-10 minutes and then dip the tops in the glaze. Place the donuts back on the cooling rack (glazed side facing up) and allow the glaze to set, about 5 more minutes.

Place the white chocolate chips and coconut oil in a microwave safe bowl. Microwave in 15 second intervals, stirring between times, until melted and smooth. You can also do this on a stovetop. Drizzle on donuts and enjoy!
Notes
If you do not have white balsamic vinegar, use 1/3 cup buttermilk instead of 1/3 cup whole milk. 
The strawberries need to be finely chopped to about pea-size. This ensures that you get some strawberry in every bite and that you won't get any mushy spots. If your strawberries are too big and settle to the bottom of the pan, it can mess with the integrity of the shape of the donut.