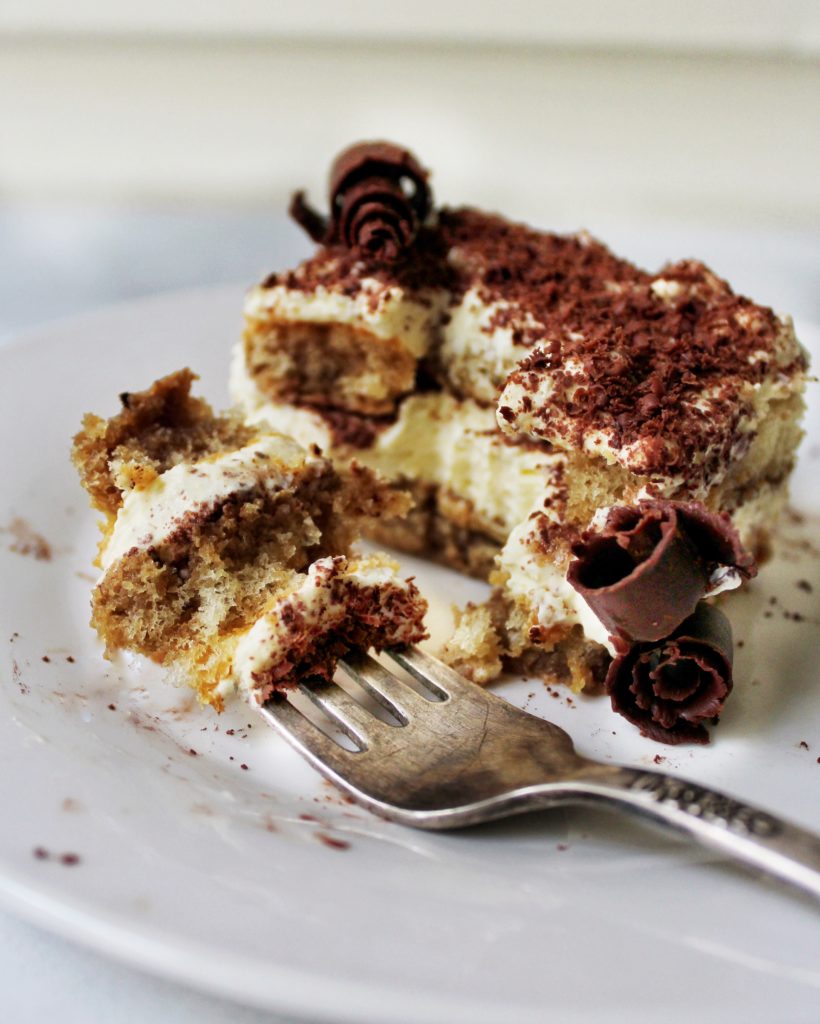 Tiramisu is an Italian dessert with layers of espresso-soaked savoiardi (lady fingers), creamy mascarpone, and shaved chocolate or cocoa powder. In this post I will discuss the history behind tiramisu, weigh-in on common adaptations, and give you my favorite recipe!
History
Tiramisu translates to "pick me up." It is a relatively new dessert dating back to the late 1970's-80's. There is some dispute over who should receive credit for creating it. Most commonly, the restaurant Le Beccherie in the town of Treviso receives "official" credit. The pastry chef, Roberto Linguanotto, said he worked "side by side" with restaurant owner, Alba Campeol, who claims the idea came about after the birth of one of her children. Cameol spiked sbatudin, a type of sugar that was commonly beaten together with egg yolk and believed to give extra nutrition to children, with extra caffeine for energy (source). You can still visit this restaurant today but it is no longer owned by the Campeol family (although they say they use the same recipe).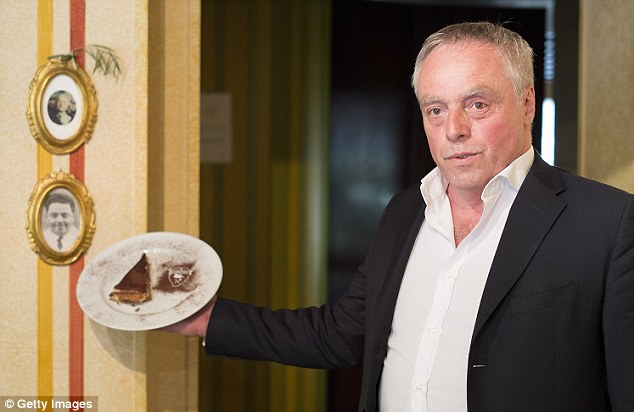 However, according to Lidia Matticchio Bastianich's research for her book, "Lidia's Italy: 140 Simple and Delicious Recipes from the Ten Places in Italy Lidia Loves Most," the true creator of the dessert is Speranza Garatti, who starting serving the dessert in a goblet as early as the 1960's (source). Another chef from Treviso, Carminantonio Iannaccone, also claims to have created the dessert.
A neighboring town, Friuli-Venezia Giulia, argues that tiramisu was invented in the hotel Albergo Roma where Norma Pielli, wife of the manager of the hotel's restaurant, made a modified version of a dessert called Dolce Torino, swapping butter for mascarpone and alchermes, a spiced liqueur, for coffee. This modification appeared on their menu in 1963 and 1965 (source). Here is a recipe for Dolce Torino.
There is also a scandalous theory that tiramisu was created by a brothel mistress as a way to "reinvigorate" men before they returned home to their wives (source).
Which story do believe?
The modern-day version of tiramisu gained popularity in the 1980's. This is an interesting article that documents how tiramisu took New York, San Francisco, and Paris by storm!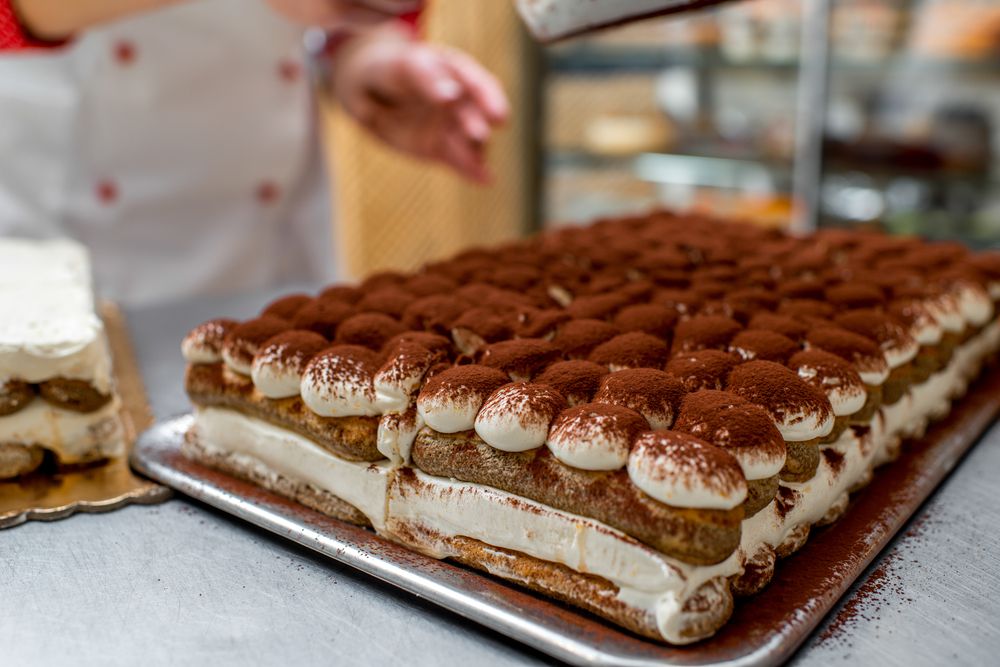 Adaptations
There are a million variations of tiramisu!
Coffee versus espresso: Some recipes call for espresso and some call for coffee. I used strongly brewed coffee with great results. This is also easier to do at home without a fancy machine. Feel free to use espresso if you have access.
Egg whites versus whipped cream: Traditionally, tiramisu uses egg whites folded into the mascarpone. To do this safely without risk of salmonella, you should use eggs that have been pasteurized in the shell. I chose to use homemade whipped cream instead. It is light and fluffy and gave a great texture.
Marsala wine versus rum: Marsala wine is traditional. Make sure to get a dry wine so as to not add too much sweetness.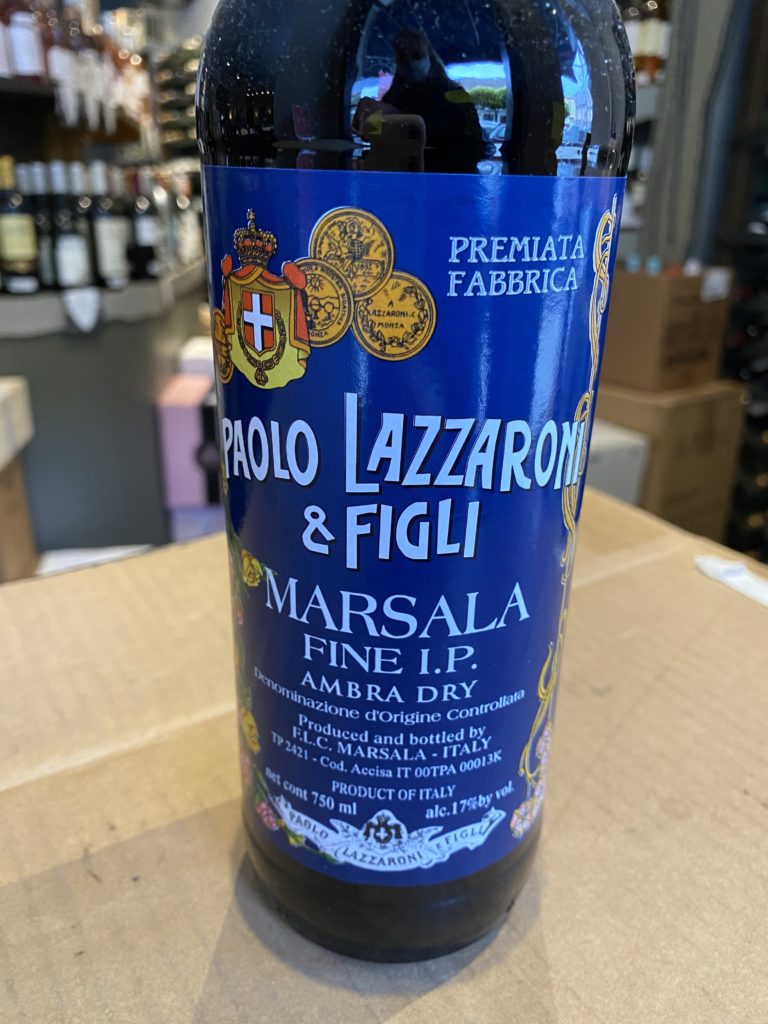 Shaved chocolate versus cocoa powder: I chose to use shaved chocolate instead of cocoa powder mostly because of my Italian friend, Emily! I think the shaved chocolate holds up better and has a richer flavor. I used dark chocolate. 
Recipe adapted from Inspired Taste.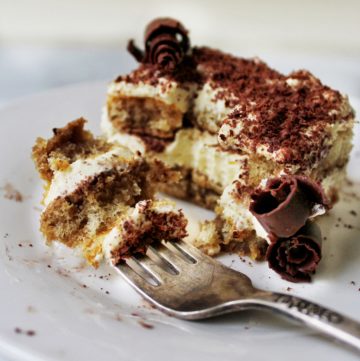 Tiramisu
Tiramisu is an Italian dessert with layers of espresso-soaked savoiardi (lady fingers), creamy mascarpone, and shaved chocolate or cocoa powder. This dessert can be made in advance and does not require baking.
Ingredients
Coffee Soak
1

cup

strongly brewed coffee (or espresso)

1/4

cup

Dry Marsala wine (see notes)

4

tsp

vanilla extract

2

tbsp

granulated sugar
Mascarpone Filling
8

oz

mascarpone cheese (about 1 1/4 cups)

2

tbsp

Dry Marsala wine (see notes)

3

tbsp

granulated sugar

3/4

cup

heavy cream (see notes)

3

egg yolks
To Assemble
7

oz

Lady fingers (about 24 biscuts)

2

oz

dark chocolate, grated
Instructions
Coffee Soak
Whisk together coffee (or espresso), wine, vanilla, and granulated sugar. Set aside.
Mascarpone Filling
Whisk egg yolks, wine, and sugar in a double broiler (or saucepan with simmering water) over medium heat. Make sure to whisk continuously for 5-8 minutes. The mixture will turn slightly foamy and triple in size. Remove from heat. Add mascarpone cheese and stir to combine. Set aside.

Whip the heavy cream in your stand mixer or hand mixer until you have stiff peaks.

Fold in half of the whipped cream with the mascarpone mixture until combined. Add the second half of the whipped cream until just combined. The goal is to avoid deflating the whipped cream as much as possible. Set aside.
To Assemble
Grate 2 oz of chocolate on a cheese grater using the smaller hole.

Set aside a 9 inch square baking dish (or similar). Place your landy fingers, coffee mixture, mascarpone, and shaved chocolate close by.

Take half of the lady fingers and individually dip each in the coffee mixture very quickly (the lady fingers will absorb the coffee quickly…. you do not want them to get too soggy). Place dipped biscut in the bottom of the baking dish. Continue dipping lady fingers and placing them in the baking dish until the bottom is fully lined. You may have to break a few biscuts in half in order to fully line the bottom. That is okay- nobody will know! It is more important for the bottom to be fully covered.

Spoon half of the mascarpone mixture over the lady fingers. Use a spatula to carefully smooth it out evenly. Sprinkle half of the grated chocolate over the mascarpone.

Repeat with remaining lady fingers, mascarpone, and grated chocolate for the second layer.

Cover with plastic wrap and place in the refrigerator for at least 6 hours (or overnight).

Before serving: let sit at room temperature for about 20 minutes. If needed, sprinkle with more chocolate (always recommended). You can also add chocolate curls, see notes.

Enjoy within 2 days for best flavor and texture. After that, it will start to get soggy.
Notes
Marsala wine is preferred because it is traditional and not overpowering. You could also try a dark rum, brandy, or coffee liqueur. Marsala is less potent and smoother than those substitutes so you may have to use less of the substitutes in order to not overpower the other flavors. I recommend sticking to marsala. 
 Heavy cream versus egg whites: Instead of heavy cream, you can whip 3 egg whites until you get stiff peaks and proceed with recipe as written. Make sure to use high-quality eggs that have been pasteurized. 
Chocolate curls: This is the recipe I followed to make chocolate curls: https://www.foodnetwork.com/recipes/ree-drummond/chocolate-curls-recipe-2107673