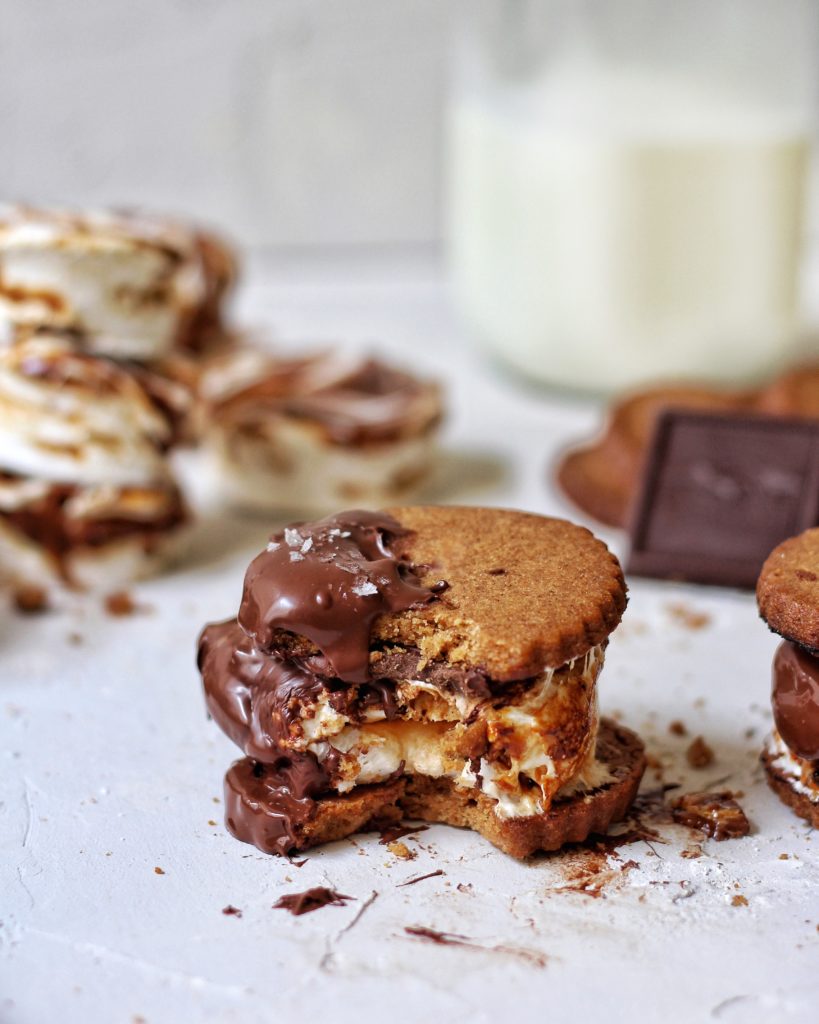 These s'mores are made with homemade graham crackers, homemade salted caramel marshmallow and Ghirardelli chocolate.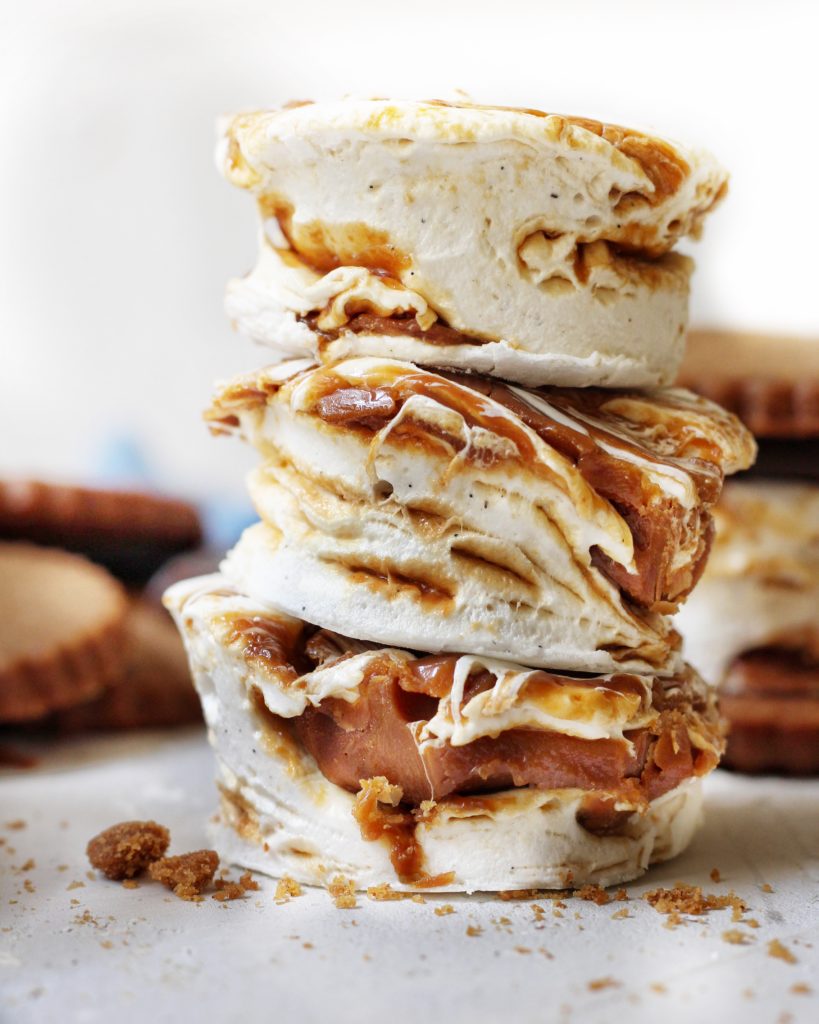 We live less than a mile away from Ghirardelli Square in San Francisco so I have always been fascinated with the company's history and iconic status in the city. The founder, Domingo Ghirardelli, was born in Italy in 1817 and began studying chocolate at age 11. His father was an exotic foods importer so Ghirardelli was exposed to global spices and flavors at a young age.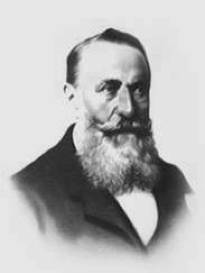 Ghirardelli began selling chocolate in San Francisco in 1848 (two weeks before gold was discovered in California). He was based in Lima, Peru, at the time and he sent 600 pounds of chocolate to his friend in San Francisco to see how the chocolate would sell. I think you know the answer 🙂
Ghirardelli incorporated his chocolate company in 1852. The company moved operations a few times due to their expanding product line. They settled in the current location on Larkin and North Point Streets prior to the 1906 earthquake. Miraculously, this building remained intact and they continued building out the square in 1910 with the Chocolate Building, Cocoa Building, and Clock Tower. Ghirardelli Square was declared an official city landmark in 1965 and became a national historic landmark in 1982. You can read more about the history here or in their cookbook. If you find yourself in San Francisco in the future, you must stop at the square for a hot fudge sundae!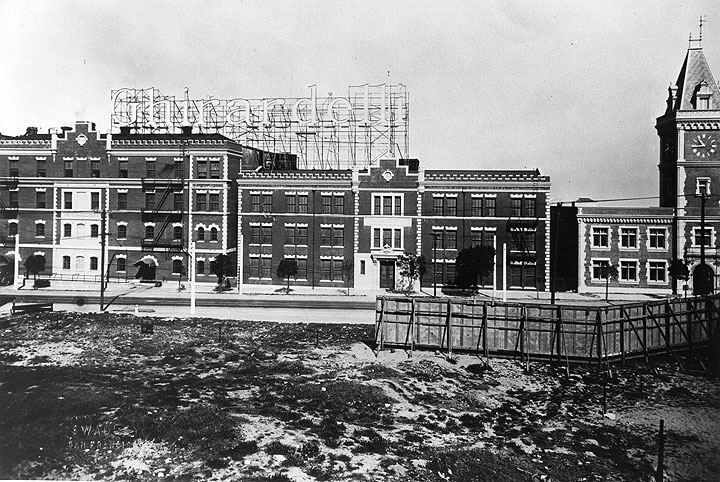 Now back to these s'mores! This is a homemade take on the summer classic. In order to make these, you will need a few special tools
Candy thermometer: You need a candy thermostat for both the homemade caramel and the marshmallow base. Precise temperatures are critically important in candy making.
Biscuit cutter: I recently ordered this set and I have been incredibly impressed with the quality! The handle is very helpful and the fluting provides a nice detail. I like that there are a number of sizes to choose from. I used the 2 1/4″ for these crackers.
Rolling pin: This rolling pin has different clips at the end which help you achieve an even thickness while rolling out the dough. This will make your life a lot easier when making the graham crackers and will help you achieve uniformity.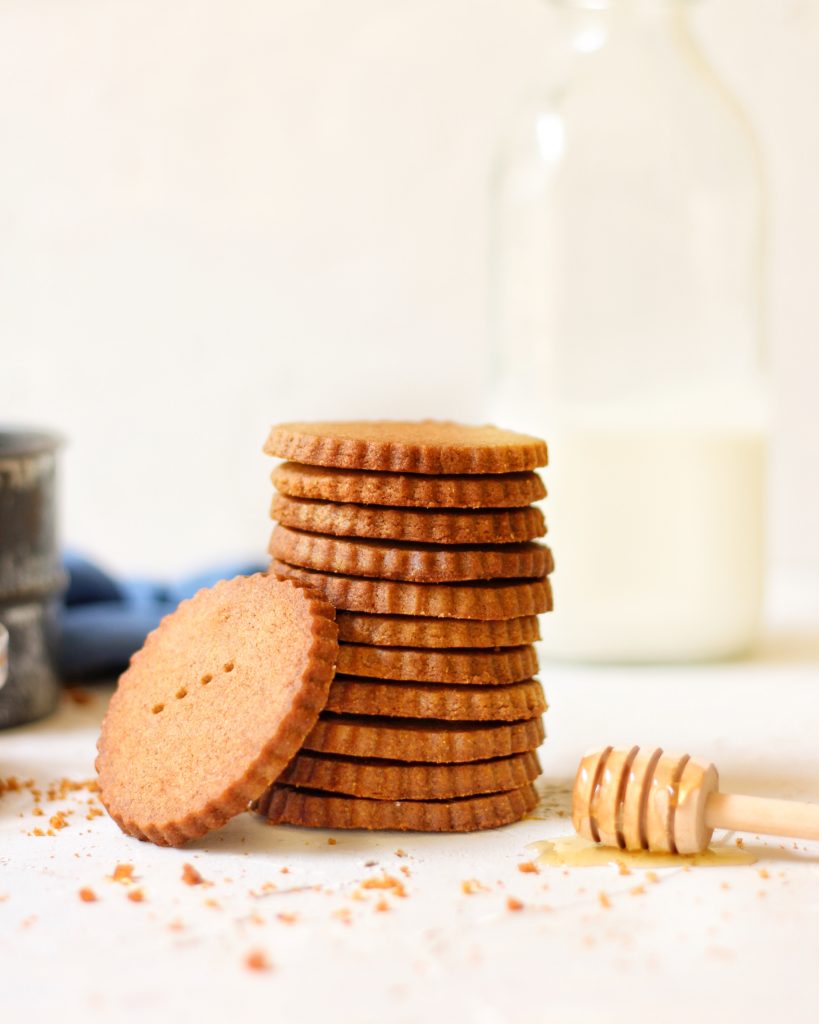 I hope you enjoy this recipe! Please leave a review if you make these and tag @anchoredbaking and #anchoredbaking so I can see your creation!!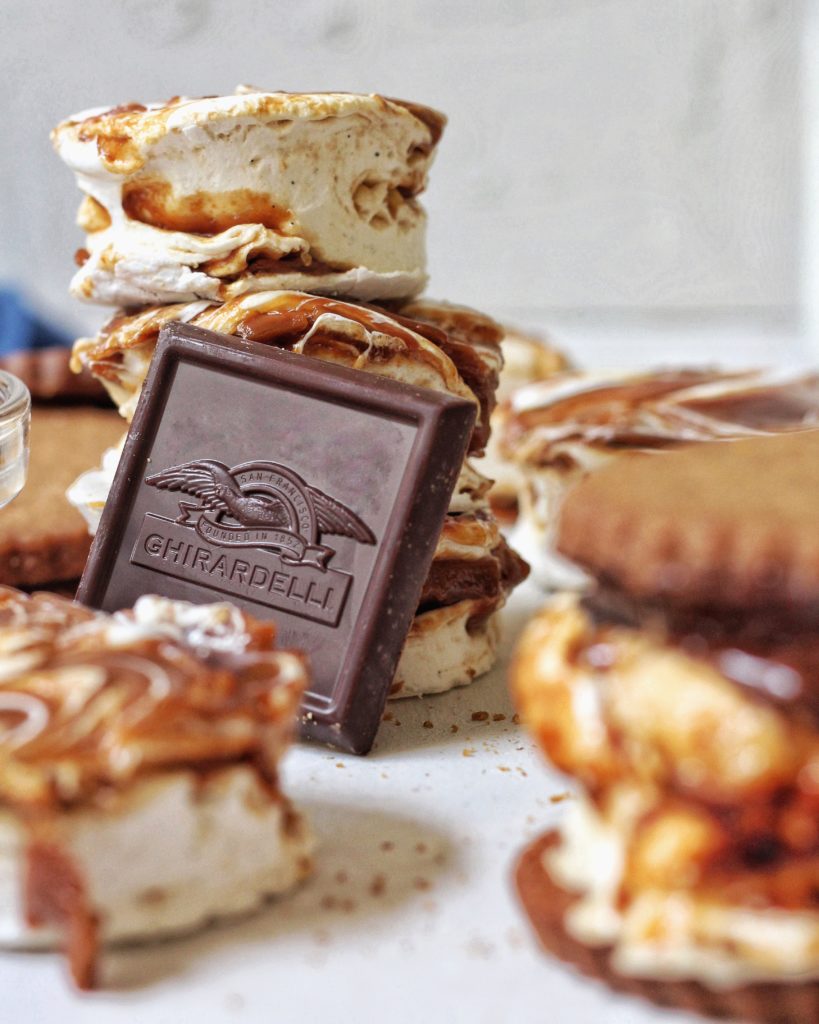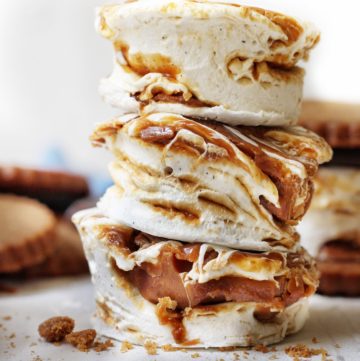 Salted Caramel Marshmallow
Once you have a homemade marshmallow, you will not go back to the store-bought ones! This version features a classic vanilla bean base with swirls of homemade caramel.
Ingredients
Caramel
3/4

cup

granulated sugar

1/4

cup

unsalted butter

1

cup

heavy whipping cream, lukewarm

1

tsp

vanilla extract
Marshmallows
2 and 1/2

tbsp

unflavored gelatin (about 4 envelopes)

1/2

cup

ice cold water

1/2

cup

room temp water

1 and 1/2

cup

granulated sugar

1

cup

light corn syrup

1/4

tsp

salt

2

tbsp

vanilla bean paste
For dusting:
1/4

cup

powdered sugar

1/4

cup

cornstarch
Instructions
Prep the marshmallows:
Combine gelatin and 1/2 cup cold water in the bowl of an electric stand mixer fitted with the whisk attachment. Let rest for 30 minutes.
For the caramel:
Combine butter and sugar in a small saucepan over medium heat. Stir contantly for 10-12 minutes until the mixture turns light golden brown. Remove from heat.

Slowly pour the warmed heavy cream into the saucepan. Be very careful- this will splatter! Whisk continuously until combined.

Return saucepan to the stovetop over medium-low heat. Stir occasionally for 20-25 minutes or until candy thermometer reaches 190-200 degrees F. See recipe notes. Remove from heat and add 1 tsp vanilla. Set aside.
Marshmallows, continued:
Combine granulated sugar, corn syrup, salt and 1/2 cup of water in a small heavy saucepan; place over low heat and stir until sugar has dissolved. Wash down sides of pan with a wet pastry brush to dissolve sugar crystals.

Clip on a candy thermometer; raise heat to high. Cook syrup without stirring until it reaches 244 degrees (firm-ball stage). Immediately remove pan from heat.

With mixer on low speed, slowly and carefully pour syrup into the softened gelatin. Increase speed to high; beat until mixture is very thick and white and has almost tripled in volume, about 15 minutes. Add vanilla during the last minute; beat to incorporate.
To assemble:
During the final minutes of the marshmallow whipping, make sure your caramel is at the right consistency. If it is too solid, it will not incorporate or swirl well. You can warm up the caramel on the stovetop over low heat. The caramel may separate (this is normal), keep whisking to combine. You want the caramel thick but still able to pour in a thin stream.

Spray a 9X13 inch pan with nonstick spray. Generously dust with powdered sugar mixture. Set aside.

When the marshmallow is done whipping, fold in HALF of the caramel. You want there to be ribbons throughout- do not overmix.

Pour marshmallow mixture into your prepared pan. Use a spatula sprayed with nonstick spray to spread evenly. Drizzle the remaining caramel mixture on top and use a knife to create swirls. Let stand overnight, uncovered, to dry out.

Use a knife dusted with powdered sugar to cut the marshmallows (or use desired cookie cutter shape). Dip the edges of the marshmallow in the remaining powdered sugar mixture to reduce stickiness. Enjoy!
Notes
I read a few other caramel marshmallow recipes and they instructed you to raise the caramel to 240 degrees F. I found this made the caramel too hard to work with and it did not spread well. I preferred a lower temperature and then reheating if necessary.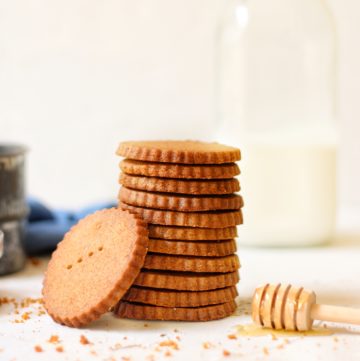 Homemade Graham Cracker
These homemade graham crackers have whole wheat, molasses, and honey. They are not overly sweet, making them the perfect complement to a sweet mashmallow and chocolate.
Ingredients
8

oz

unsalted butter, softened (2 sticks)

1/2

cup

brown sugar, packed

2

tbsp

molasses

2

tbsp

honey

2

tsp

cinnamon

1

tsp

salt

1 and 3/4

cups

whole wheat flour (198 grams)

3/4

cup

all-purpose flour (90 grams)
Instructions
In the bowl of a standmixer fitted with the paddle attachment, beat the butter, sugar, molasses, and honey until light and fluffy, about 2 minutes.

Add cinnamon, salt, and both flours to the bowl and beat until just combined. Do not overmix.

Roll cookie dough between two layers of parchment paper that have been lightly dusted with flour. Roll the dough as evenly as possible to 1/4 inch thickness. Transfer the rolled dough to the refrigerator for 10-15 minutes. Meanwhile, line 2 baking sheets with parchment paper.

Remove the dough from the refrigerator and quickly cut out grahm crackers using a cookie cutter and transfer to the lined baking sheets. Use a fork to make 4 decorative indentations. (Your dough should be firm but not too firm that it will crack. If the dough is too soft it will not keep its shape while transfering.)

Place baking sheet with all the cut out graham crackers in the freezer for 10-15 minutes. Meanwhile, preheat oven to 350 degrees F.

Remove baking tray with the graham crackers from the freezer and place directly in the oven for 20 minutes or until the edges are just barely golden brown. Let cool slightly and then transfer to a cooling rack.