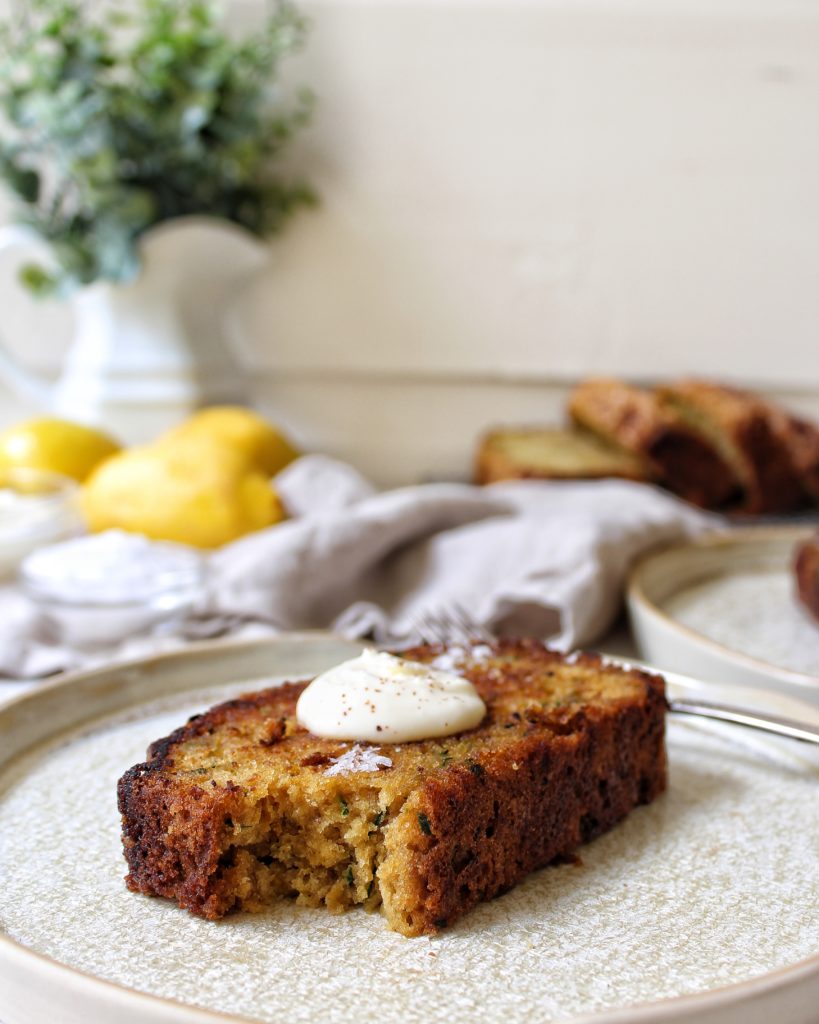 This is a fun twist on the classic zucchini bread with flavors of ginger, freshly grated nutmeg, and lemon zest. To finish, the bread is toasted in brown butter and topped with a dollop of créme fraiche and a sprinkle of sea salt. Plus, the zucchini requires ZERO draining and wringing dry prior to baking! WIN-WIN-WIN!!!
I can't wait for this to be your next favorite zucchini bread recipe. This makes for a decadent breakfast but it is also well-suited (and originally intended) as a dessert.
The Inspiration
This recipe was born out of my desire to combine my favorite components of two zucchini bread recipes:
Smitten Kitchen: Deb Perelman created the ultimate zucchini bread that is nicely spiced and has a great rise. It is everything you want in a traditional zucchini bread. Most notably, her recipe does not require you to drain the zucchini before mixing it which is life-changing! Once I made her recipe, I knew I would never go back to wringing the zucchini dry.
A Boat, a Whale & a Walrus: Menus and Stories by Chef Renee Erickson: This recipe stood out to me because of the ginger and lemon. I also loved the serving suggestion and presentation. She uses an interesting method for draining the zucchini (see below). At Renee's restaurant, The Whale Wins, this zucchini bread is served on the dessert menu! I do not own her cookbook (yet) but I found the recipe on Not Without Salt. I found the bread to be a wee bit dense for my liking so I knew I wanted to make a slightly lighter crumb.
I made each recipe as originally written and then I did three tests combining them (with different tweaks each time). Due to the extra moisture in the zucchini, I had to decrease the oil. I cut the sugar in half, increased baking powder, and used less egg. I finally got it right!
I hope you enjoy this recipe as much as I enjoyed creating it 🙂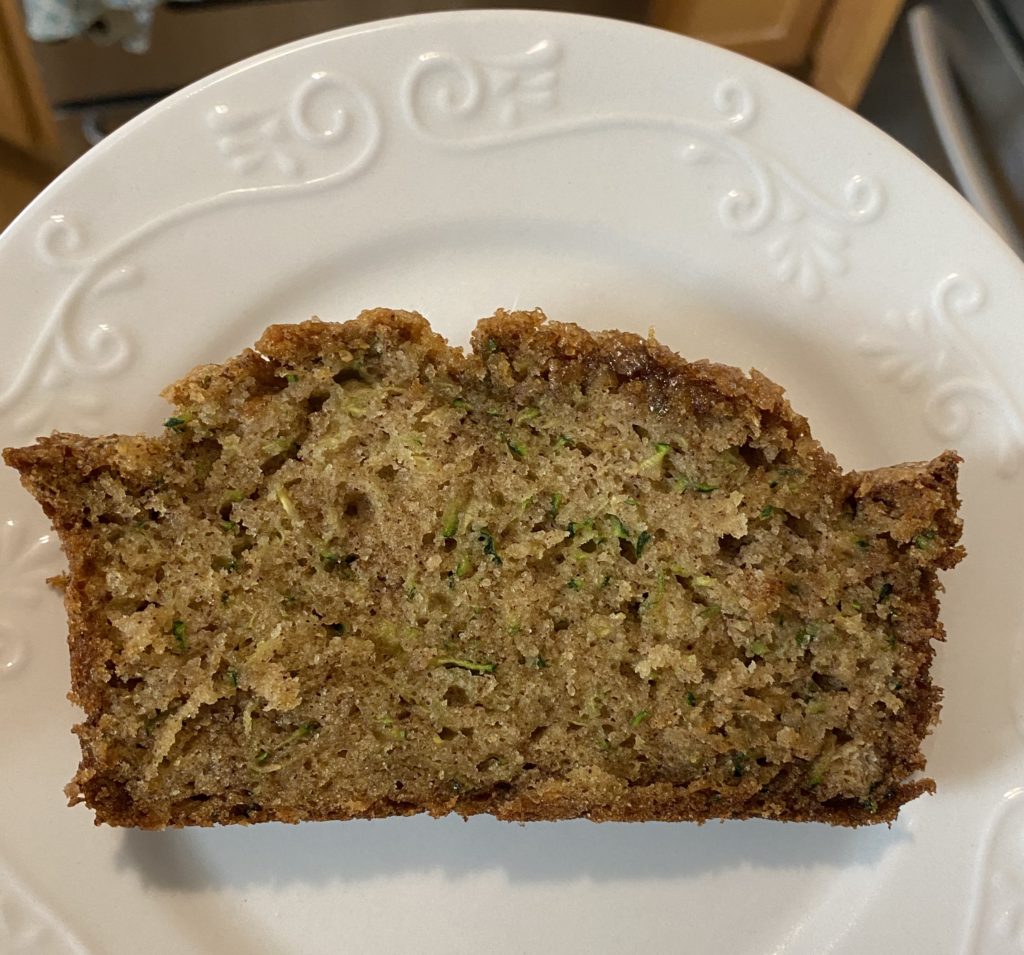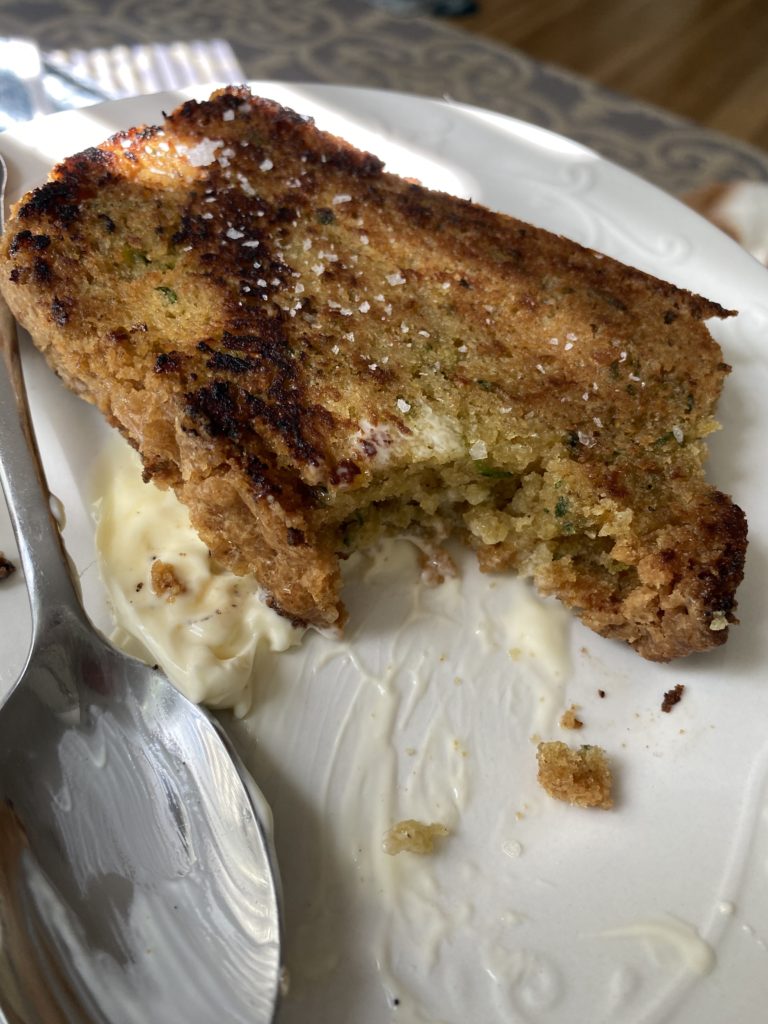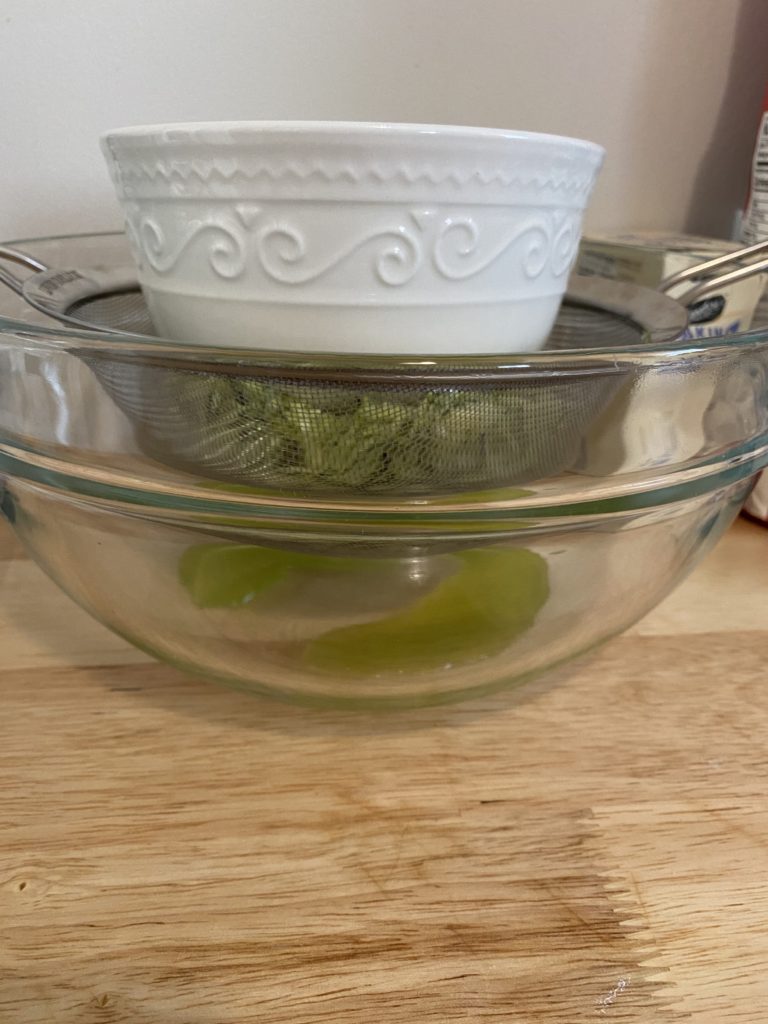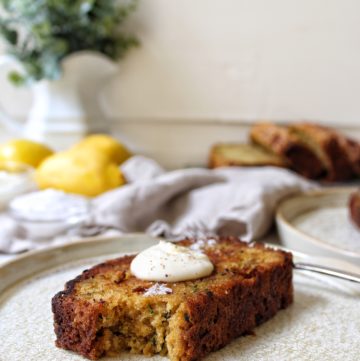 Lemon Ginger Zucchini Bread
This is a fun twist on the classic zucchini bread with flavors of ginger, freshly grated nutmeg, and lemon zest. It is then toasted in brown butter and topped with a dollop of créme fraiche and a sprinkle of sea salt.
Ingredients
2

cups

(13 oz or 370 grams) grated zucchini, packed (not wrung out)

Finely grated zest from 2 large lemons

1/2

cup

safflower oil (or other neutral oil)

2

large eggs

1/2

cup

(95 grams) packed dark brown sugar

1/2

cup

(100 grams) granulated sugar

2

tsp

vanilla

1

tsp

salt

2

tsp

ground ginger

1/2

tsp

fresh grated nutmeg

3/4

tsp

baking soda

1

tsp

baking powder

2

cups

(260 grams) all-purpose flour

2

tbsp

turbinado sugar
For serving
unsalted butter

créme fraiche

flaky sea salt
Instructions
Preheat oven to 350 degrees F. Lightly coat a 9X5-inch loaf pan with nonstick spray.

Grate zucchini on the large holes of a grater and put into a large bowl (do NOT pat dry, wring out, etc). Add lemon zest, oil, eggs, both sugars, vanilla, and salt. Stir to evenly combine. Add ginger, nutmeg, baking soda and baking powder to the bowl with the zucchini. Mix well to combine (you cannot overmix this part).

Add flour to the bowl and mix until just barely combined. Do NOT overmix or your bread will be tough.

Pour batter into your prepared loaf pan and use a rubber spatula to smooth out the top. Sprinkle with turbinado sugar (see notes).

Bake for 55-60 minutes or until a toothpick inserted into the center comes out clean. Let loaf cool in pan for 20 minutes and then transfer to a cooling rack to cool completely.

To serve: Slice bread into pieces that are 1-inch thick. Melt butter in a cast iron skillet over medium heat (~2 tbsp of butter per slice of bread). When butter is starting to foam, add slices and toast on each side for a few minutes until golden brown. Plate each slice on a dessert dish, add a dollop of créme fraiche and sprinkle with sea salt. See notes.
Notes
Make sure to evenly sprinkle the turbinado sugar over the entire surface area of the bread. I had one loaf where the sugar was not evenly dispersed and some of the crust came off in the frying pan. 
Note that the original plating has the créme fraiche smeared on the dessert plate and then the zucchini bread is added with a sprinkle of sea salt. I preferred the créme fraiche on top because it got less soggy and you can control how much you want with each bite. To each their own!