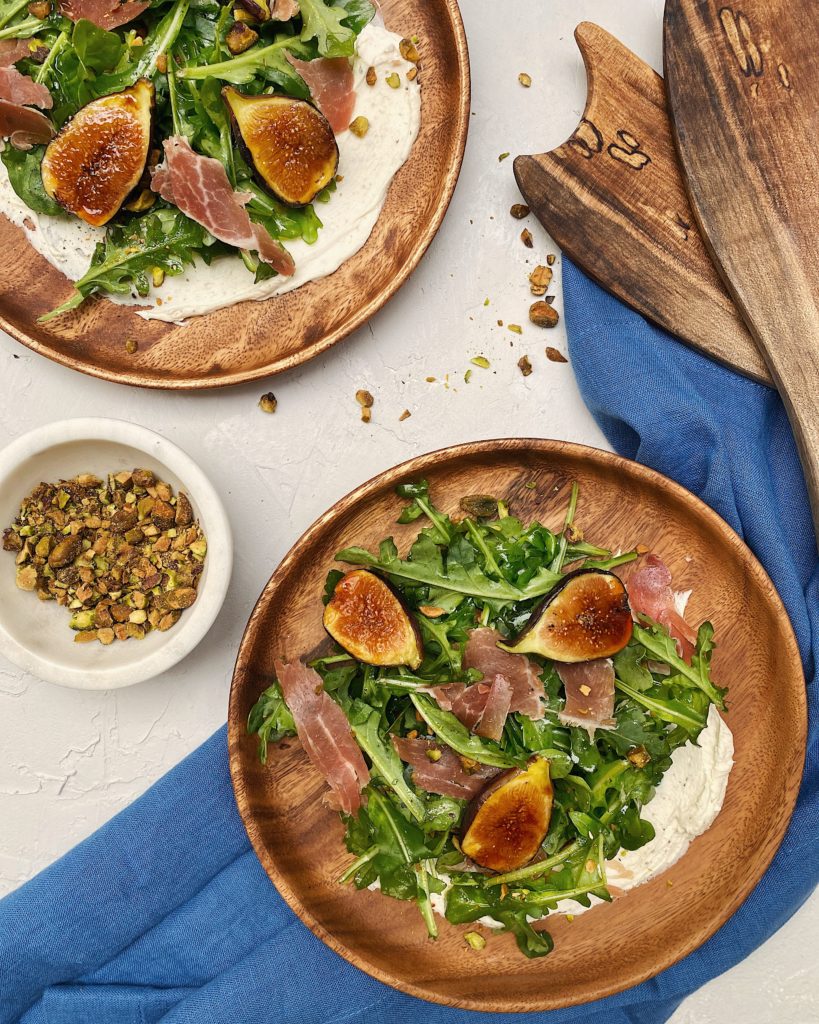 Introducing the brûléed fig salad with arugula, prosciutto, and pistachio on a bed of whipped mascarpone!
A few years ago I took a cooking class with Chef Mat at Kitchen on Fire in Berkeley, California. I have been wanting to recreate this salad ever since. The theme of the evening was a "Culinary Tour of Italy." We made this salad, eggplant puttanesca, pork sugo, broccoli rabe, and porkchop. Chef Mat taught us new techniques like how to properly chop produce, what to look for when sourcing your ingredients, and how to add some method to your cooking operations. Although beginners could take this class, I found that there were lessons for all skill levels.
My top take-aways from the cooking class were:
1. Always chop and prepare your ingredients before you start cooking. This ensures you have all your ingredients ready at the time you need them. You can also pay closer attention to any open flames 🙂
2. Whenever possible, get canned goods from Eurpope! Europeans can their produce at the height of the season so they can eat well all year round.
3. Never cook directly on aluminum. Aluminum is highly reactive with acidic foods (tomatoes, citrus, etc) and it can give your food an unpleasant metallic taste.
4. Figs are delicious brûléed!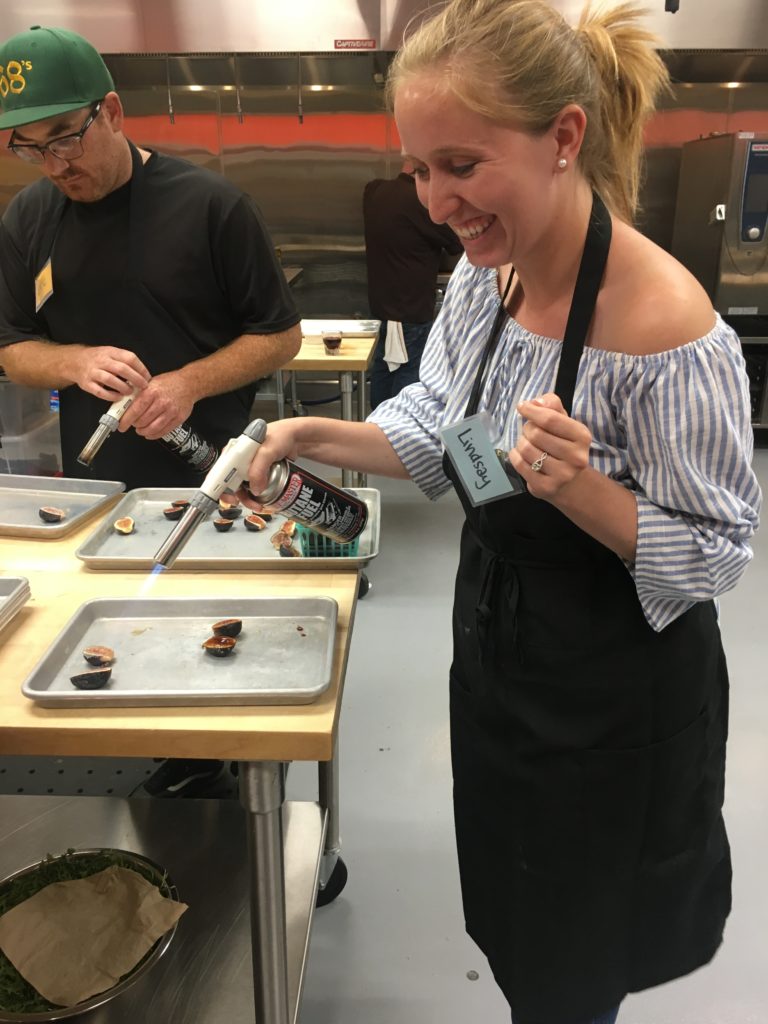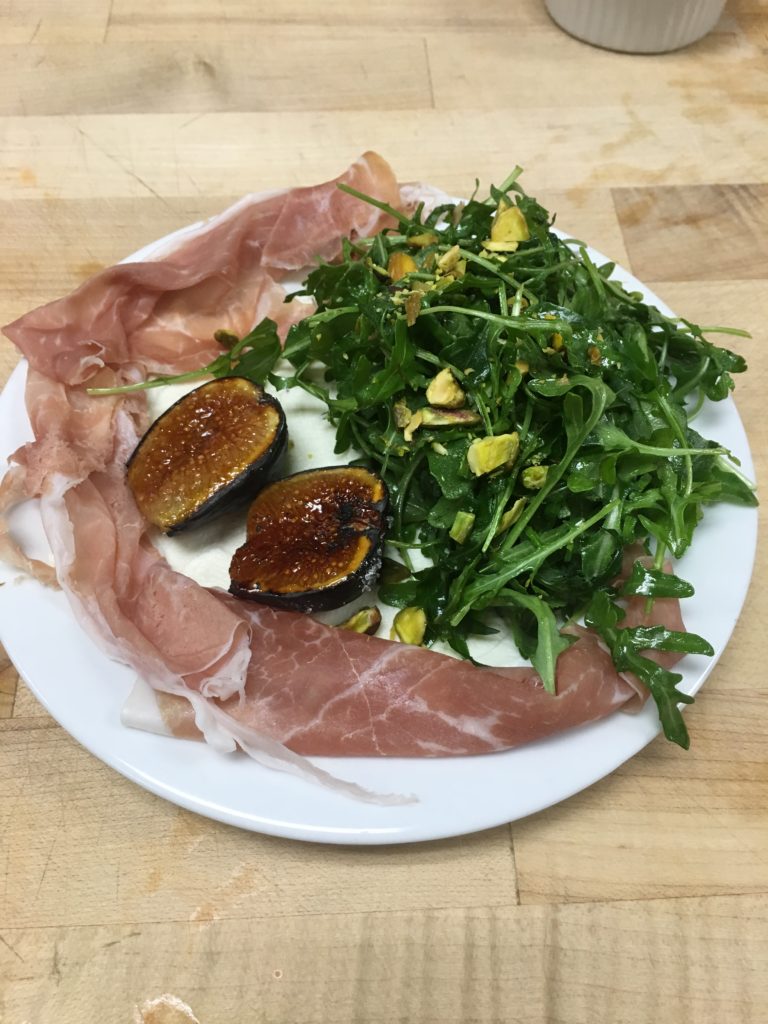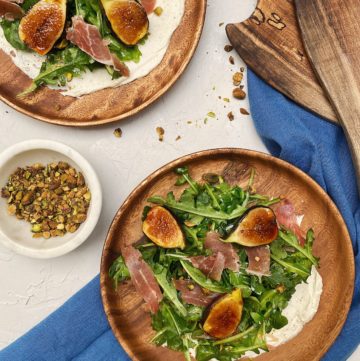 Brûléed Fig Salad
Brûléed fig salad with arugula, prosciutto, and pistachio on a bed of whipped mascarpone.
Ingredients
6

ripe figs

1/4

cup

raw sugar, turbinado sugar, or other course sugar (more if needed)

4

oz

prosciutto

1/4

cup

chopped toasted pistachios

8

oz

mascarpone

6

cups

wild arugula

white balsamic vinegar (or sherry vinegar), to taste

olive oil, to taste

salt/pepper, to taste
Instructions
Whip the mascarpone with the white balsamic vinegar, salt, and pepper in a stand mixer using the whisk attachment (this can also be done by hand). Taste and adjust seasoning. Spread a dollop of mascarpone mixture on the bottom of each salad plate, set aside.

Pour the sugar onto a plate in a thin even layer. Cut figs in half. Dip the inside half of the fig (the cut side) into the sugar. Gently tap away any loose pieces of sugar. You need it coated well enough across the surface to melt. Use a culinary tourch to melt the sugar. Move the heat source around constantly to avoid burning the sugar too much. It takes a second to warm up and then it will start to bubble. You know it is done with the sugar turns liquid and light brown. The shell will harden as it cools. Set aside.

Toss the arugula with olive oil and a bit of salt and pepper to taste. Place a handful of arugula on top of each plate that is already lined with mascarpone.

Gently tear proscuitto into bite-sized pieces and sprinkle on top of arugula. Toss a handful of pistachios over each plate.

Place ~3 halves of fig (about 1.5 figs per person) on each plate. Enjoy!