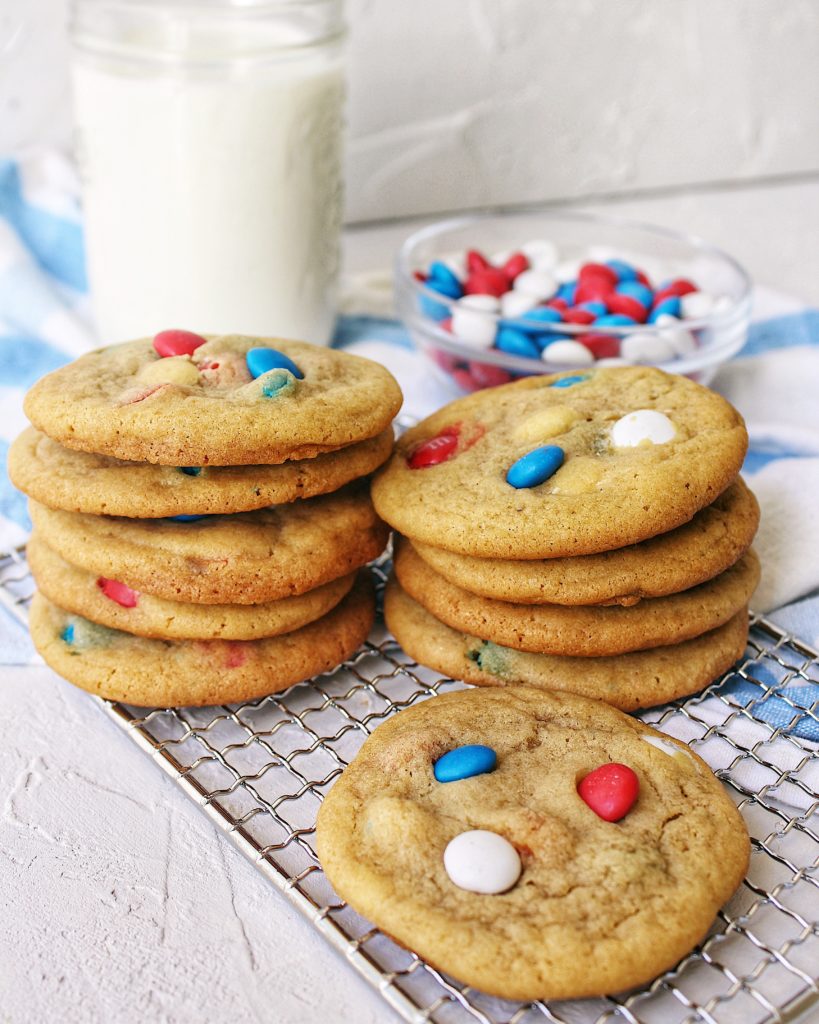 Vintage 1940's M&M Cookies made for the 4th of July! 🇺🇸
M&Ms were patented by Forrest E. Mars (of the Mars Candy Company) in 1941. These candies were originally sold exclusively to the US Military during World War II because they were heat-resistant and easy to transport.
But their history dates much further back… Mars took the idea from a British company, H.I. Rowntree & Co. (now Nestlé), who made chocolate beads coated in hard sugar shells during the Spanish Civil War. These chocolates were called "Smarties." Rowntree was making Smarties in some form or another since 1882.
However, the original prototype dates even further back! French confectioners of the 18th century made chocolate drops jokingly named "Crotte de Lapin" (Rabbit Droppings). They started covering the chocolate drops with sugar to prevent them from melting on the white gloves of the wealthy ladies who were consuming them.
You can read more about the fascinating history here.
A huge thank you to Kathleen, a member of Sally's Baking Addiction Facebook group, for finding this recipe from one of her neighbors. Keep history alive!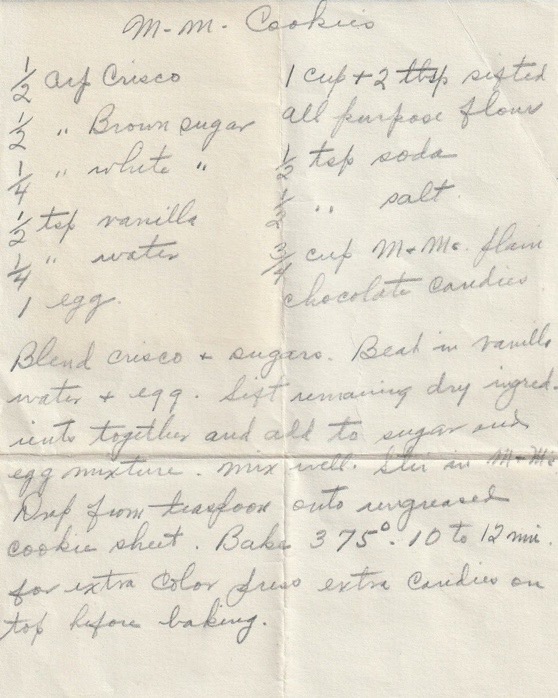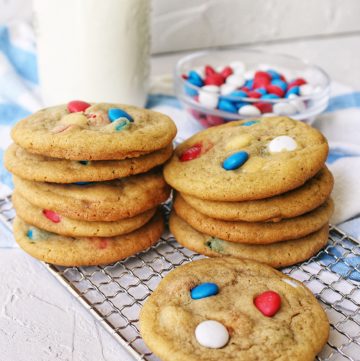 Vintage M&M Cookies
M&Ms have a fascinating history! Try your hand at making this recipe from the 1940's. These cookies bake very soft and chewy and they would be perfect for ice cream sandwhiches!
Ingredients
1/2

cup

Crisco, room temp

1/2

cup

brown sugar

1/4

cup

granulated sugar

1/2

tsp

vanilla extract

1/4

tsp

water

1

egg, lightly beaten

1 cup +2 tbsps

flour (spooned and leveled)

1/2

tsp

baking soda

1/2

tsp

salt

3/4

cup

M&Ms, divided
Instructions
Using your stand mixer fitted with the paddle attachment, beat the Crisco, brown sugar, and granulated sugar until light and fluffy.

Add vanilla extract, water, and egg and mix until combined. Scrape down the sides and bottom of the bowl as needed.

In a separate bowl, sift together the flour, baking soda, and salt. Add flour mixture to sugar mixture and mix on low-speed until just combined.

Gently fold in 1/2 cup of M&Ms. Set aside the rest of the M&Ms for later use. Cover the bowl with plastic wrap and place in the frudge for at least 2 hours.

Once the dough has been chilled, preheat oven to 375 degrees F.

Line a cookie sheet with parchment paper. Scoop about 1.5 tablespoons of dough and roll into a round ball. Place on baking sheet and repeat with the remainder of the dough, leaving some room between cookies for the cookies to spread.

Place tray in the oven and bake for 8-10 minutes until the edges are lightly browned.

As soon as the cookies come out of the oven, gently press the remainder of the M&M's into the areas that need it (this helps with presentation). Allow cookies to cool for about 5 minutes. Then transfer to a wire rack to cool completely.