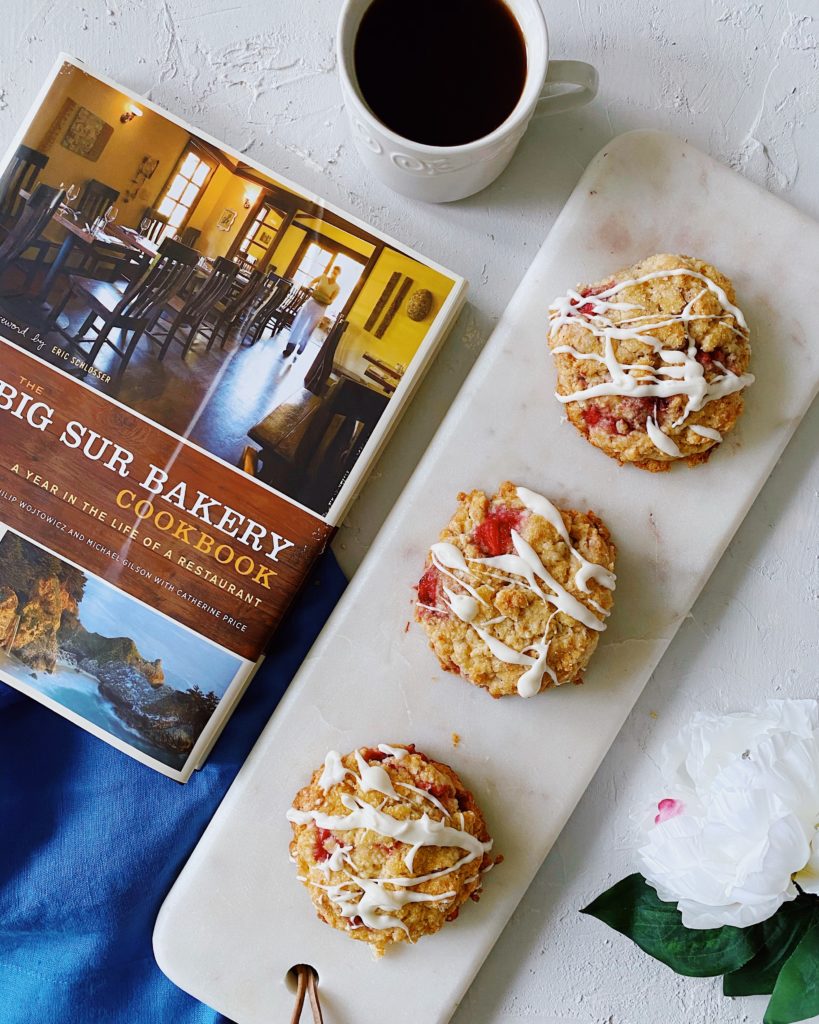 The strawberry scone from Big Sur Bakery forever changed my opinion of scones. I used to think scones were dry, tasteless, and crumbly. These are tender, buttery, and full of strawberry flavor. I am confident these scones will reform even the biggest scone opponents 🙂
The most interesting feature of this recipe is the method for shaping the scones. Normally, you would work the shaggy dough into a disc or log and then slice it. This recipe calls for stuffing the shaggy dough directly into the cookie cutter. This helps prevent the dough from getting tough.
Another tip is to freeze your berries before using them. This them keep their shape and not stain the dough. I used strawberries because they are in season in California but you can adapt this recipe in countless ways- blackberry, lemon poppyseed, peach, etc. The world is your oyster!
I think it works best to put your shaped scones into the freezer for 20 or so minutes before baking. This hardens the butter again and makes it less likely to spread.
If you are ever in the Big Sur area, I encourage you to seek out this bakery & restaurant. It is a quaint and artsy building tucked behind a gas station. It may be easy to miss driving but you will never forget it!! Big Sur is a gorgeous section of coastline between Carmel and San Luis Obispo and my favorite part of California.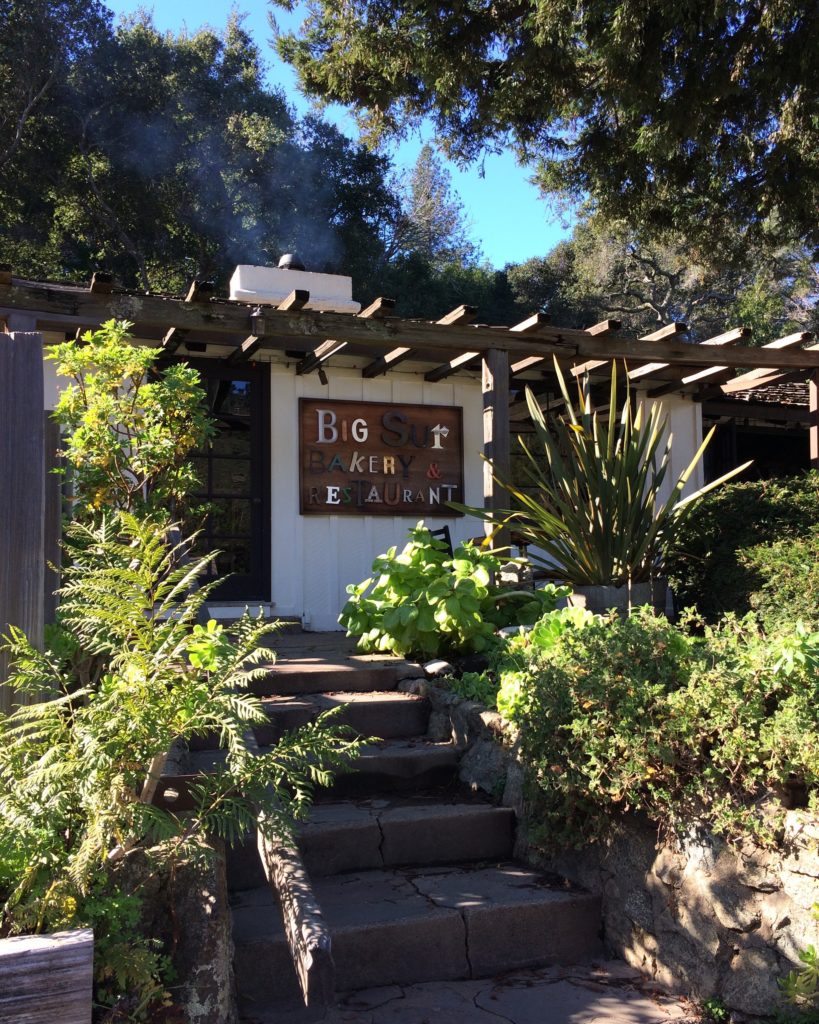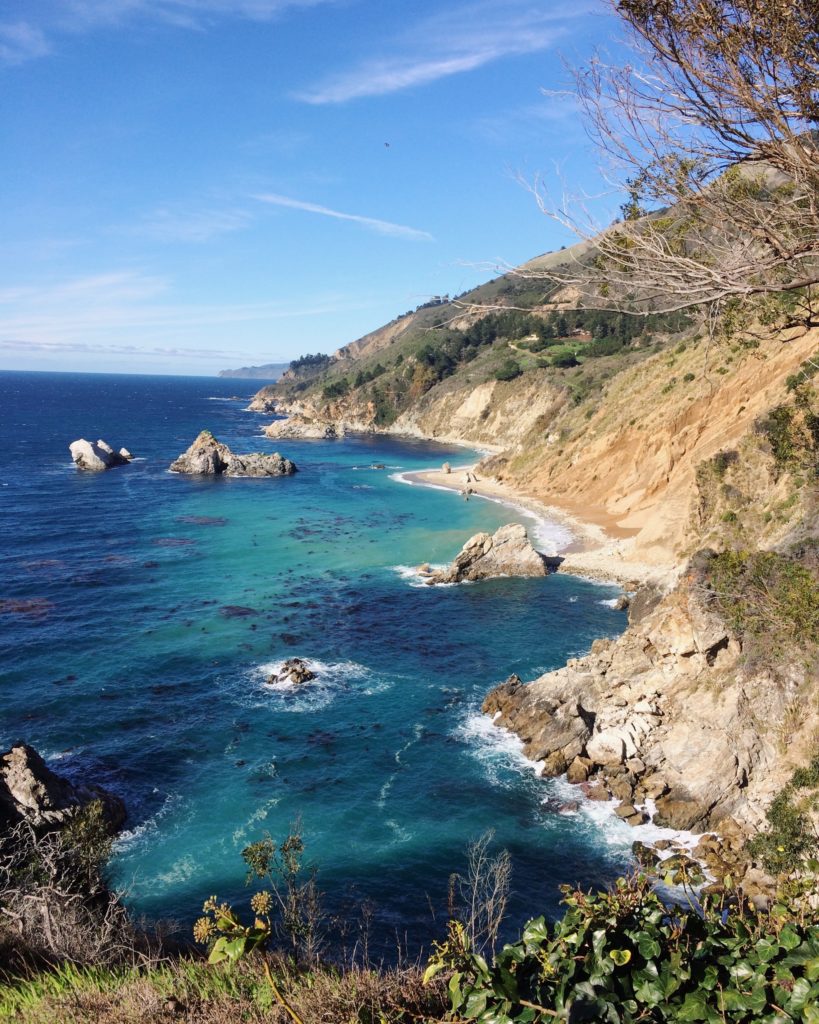 Recipe inspired by Big Sur Bakery.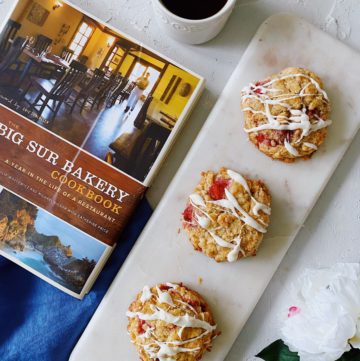 Strawberry Scones (Adaptable)
This is the recipe for strawberry scones inspired by Big Sur Bakery. They are tender, buttery, and full of strawberry flavor. Have fun playing with this new method for forming scones!
Ingredients
1

cup

strawberries, finely chopped (see notes)

1

cup

butter (see notes)

3 and 1/2

cup

flour

1

cup

granulated sugar

1

tbsp

baking powder

1 and 1/2

tsp

salt

2

tbsp

vanilla extract

3/4

cup

buttermilk (see notes)

1/4

cup

Raw sugar, course sugar, turbinado sugar
Vanilla Drizzle (optional)
1

cup

powdered sugar

3

tbsp

heavy cream

1/2

tsp

vanilla extract
Instructions
At least 2 hours before baking:
Finely chop strawberries and lay in a single layer on a cookie sheet lined with parchment paper. Place in freezer for 2 hours.
Scones:
Whisk together flour, granulated sugar, baking powder, baking soda, and salt in a medium mixing bowl. Set aside.

Grate frozen butter using a cheese grater or cube butter into small pieces. Add to bowl with dry ingredients. Place in refrigerator for at least 30 minutes.

While your flour mixture is chilling, line a cookie sheet with parchment paper. (See recipe note if you do not have buttermilk. This is a good time to prep your makeshift buttermilk!)

Take the bowl out of the fridge and use a pastry cutter to work together the butter with the flour. The butter pieces should become pea-sized and evenly coated with flour. Use a spoon to make a well in the middle of the bowl.

In a separate small bowl, combine the buttermilk and vanilla. Add this mixture to the middle of the well in your other bowl. Use a wooden spoon to stir the mixture. It should become shaggy and can keep its shape if pressed together. Gently fold in the frozen berries, being careful to not crush them.

Take a 3" round cookie cutter and place it on your cookie sheet. It works best if you line up your rows of scones as you are shaping them. Start in the top left corner and work your way down, making sure to leave enough space in between scones for them to spread in the oven. They will spread quite a bit even after freezing! I recommend about 9 scones per cookie sheet.

Stuff your shaggy dough into the cookie cutter, pressing down to make it compact. This is what makes the dough stick together. Keep pressing down and filling with more dough until you reach the top of the cookie cutter. Lift the cookie cutter off the dough (you can press the dough through the cookie cutter gently and wiggle the cutter away). Repeat with the remaining dough. Sprinkle scones with course sugar.

Cover scones with plastic wrap and place them in the freezer for about 20-30 minutes. This helps the butter harden again which will make it spread less in the oven.

Preheat oven to 375 degrees. Bake scones for 15-20 minutes. Transfer scones to a wire rack to cool for about 10 minutes before serving.

(Optional) If you want to use a glaze, whisk together powdered sugar, cream, and vanilla until smooth. Drizzle over scones after they have cooled for 10 minutes. Enjoy!
Notes
I used strawberries because they are in season but feel free to experiment with other flavors- blackberries, lemon-poppyseed, peach, cinnamon-apple, chocolate with toasted nuts, etc! 
I prefer grating frozen butter whenever making scones and pie crusts because it is quick (giving the butter less time to soften) and it helps give you a flaky crust while minimally working the dough (which it what makes the dough tough). You can also do the traditional cubed butter method if that works for you 🙂 
I almost never buy buttermilk at the store. To make it at home, measure a little less milk than the recipe calls for and fill the rest with vinegar. (For example, for 1 cup buttermilk, I would fill the measuring cup almost all the way to the top and add about 2 teaspoons of vinegar to fill to the top, making 1 cup total.) Whisk together and let it sit for 5-10 minutes and you will see it curdle. Depending on the recipe, you can play with the vinegar flavors- white vinegar will give you a very pure taste. Apple cider vinegar will impart some warm flavor. Lately I have been liking white balsamic vinegar which is a nice compliment to fresh berries. Some people use fresh squeezed lemon juice instead of vinegar.