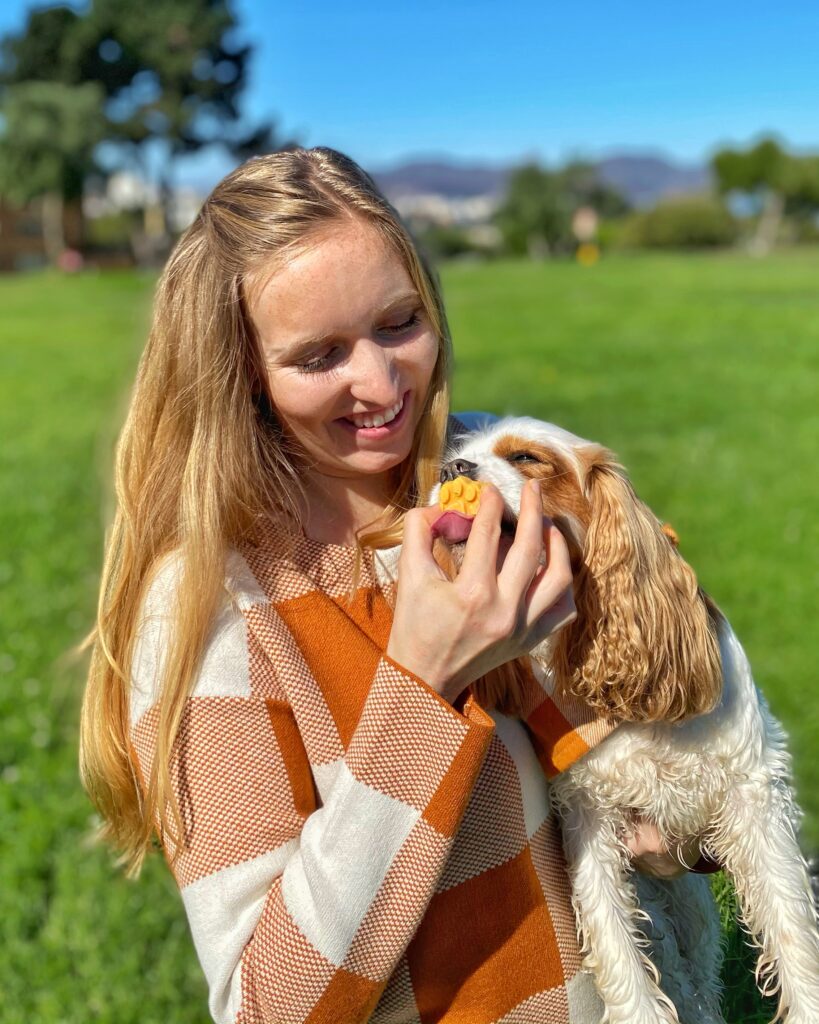 These treats are made with simple, wholesome ingredients like pure pumpkin puree, natural peanut butter, and greek yogurt. Below I also provide the health benefits of these ingredients and give you tips on what to avoid. Our dog, Maggie, loved these treats and I am sure yours will, too!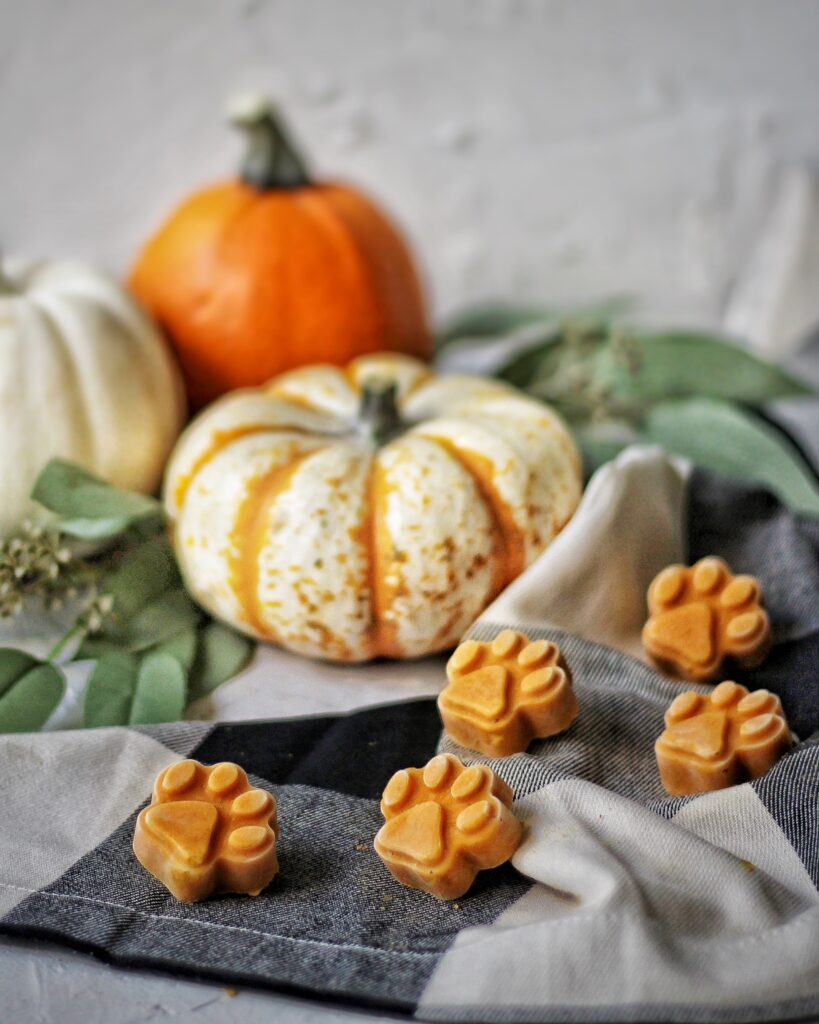 Ingredients and Health Benefits:
Pumpkin Puree: Make sure to use pure pumpkin puree (organic, if possible),

not

canned pumpkin pie. Canned pumpkin pie has sugar, preservatives, and other additives that you do not want to give your dog. You can also make your own pumpkin puree from roasted pumpkins. Pumpkin is a good source of fiber and the anti-oxidant beta-carotene.
Non-fat Greek Yogurt: Greek yogurt is easier for dogs to consume because it has less lactose. You want non-fat or low-fat PLAIN greek yogurt. This is a good source of protein, calcium, and probiotics. Check the label to make sure there are no sugars or other additives. Xylitol, an artificial sweetener, is toxic to dogs. Do

not

use flavored yogurt, "fruit at the bottom," full-fat, or anything chocolate-flavored.
Unsalted, natural peanut butter: As in the stuff that separates! Check the label to make sure it is only peanuts and less than 1% salt. A lot of peanut butters have added sugar and palm oil. You do not want those. Peanut butter is excellent source of protein and healthy fats, vitamins B and E, and niacin. I have never met a dog that didn't love peanut butter!
Organic cinnamon: Just a teeny, tiny pinch (optional). Cinnamon is known for its anti-inflammatory properties. Do

not

under any circumstances use nutmeg.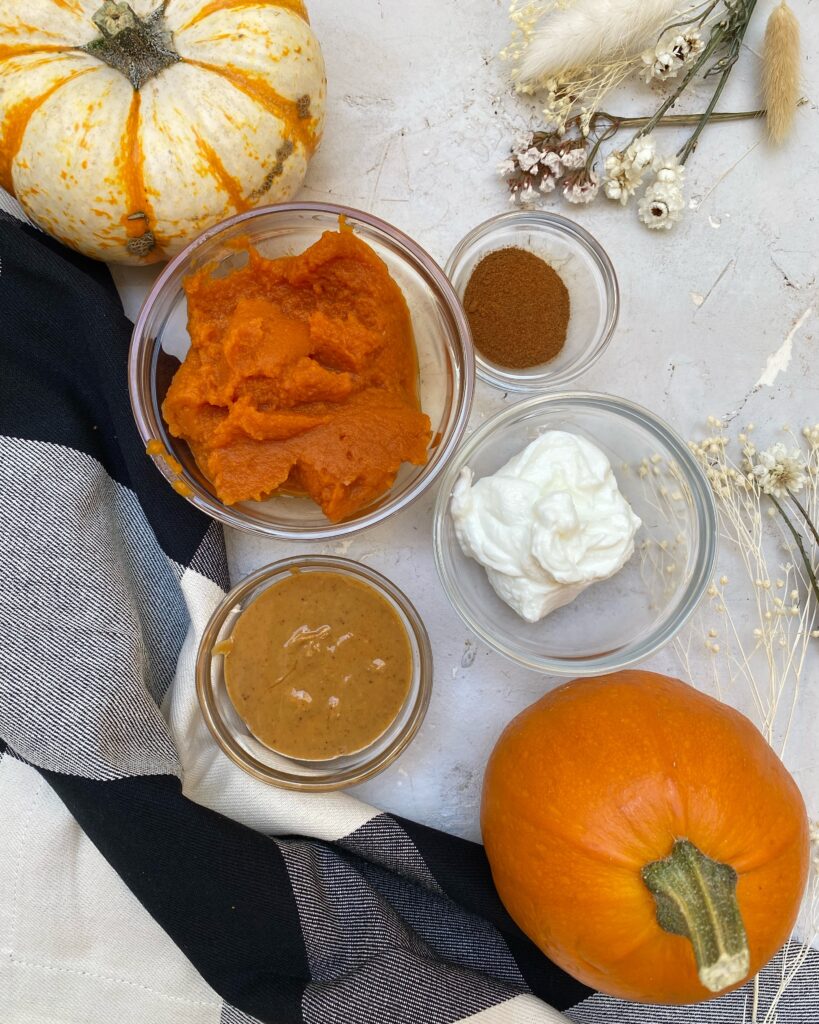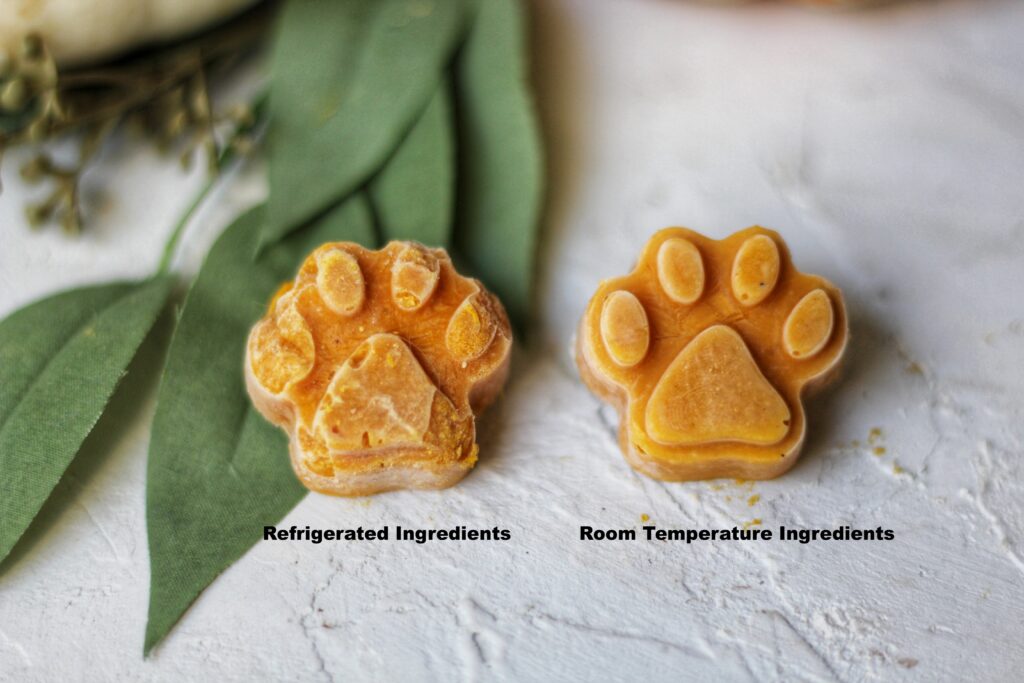 Resources
I am not a veterinarian. Talk to you veterinarian about your dog's diet. In addition to reading the labels and making sure all the ingredients are safe for dogs, I also read these articles:
In general, treats should make up less than 10% of your dogs diet…. now if only I followed the same rules for myself! hehe
Here is the link for the cute paw print molds. The bones are also cute!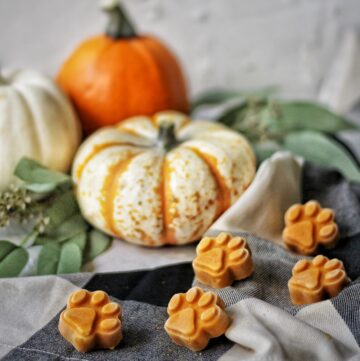 Pumpkin Peanut Butter Frozen Dog Treats
Your fur baby will love these treats made with natural, wholesome ingredients. Happy Fall to all!
Ingredients
1/2

cup

pure pumpkin puree (NOT canned pumpkin pie)

1/2

cup

non-fat PLAIN greek yogurt, room temperature

2

tbsp

natural, unsalted peanut butter

1

teeny, tiny pinch cinnamon
Instructions
Whisk all ingredients together. Spoon into paw molds or ice cube trays making sure to entirely cover the bottom. Gently tap the tray on the counter to release air bubbles. Freeze for 1-2 hours.

Enjoy all the puppy kisses 🙂