A party without cake is just a meeting

Julia Child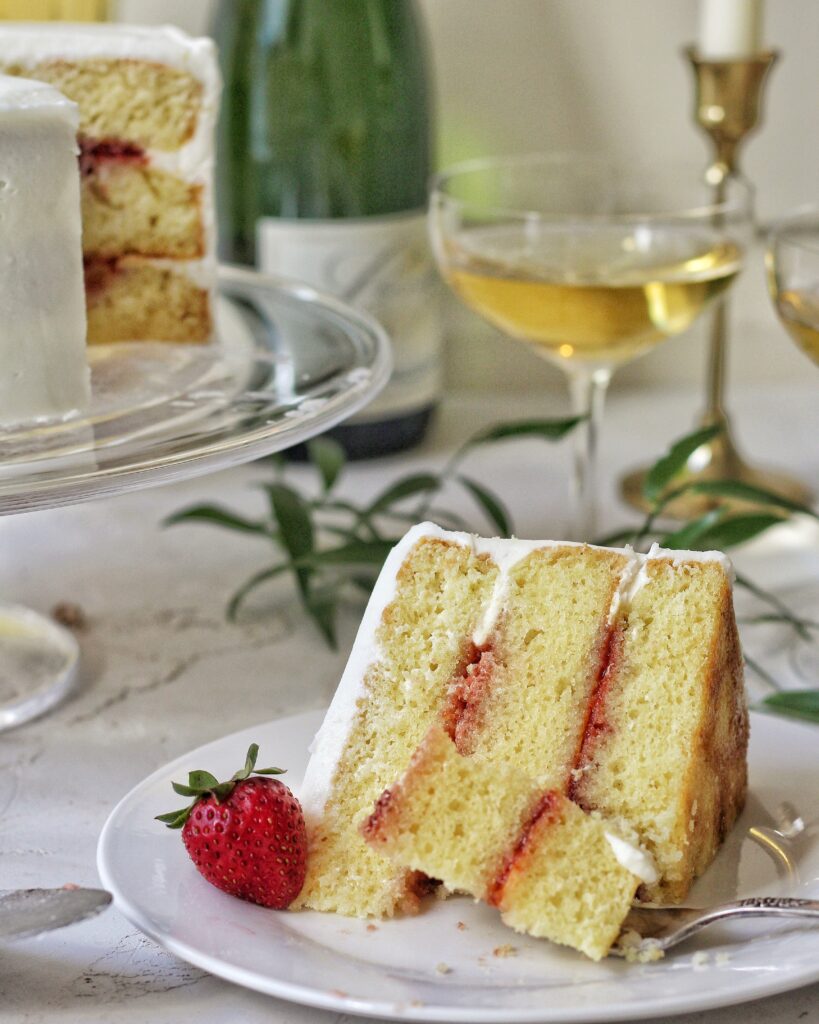 A cake for celebrations! Champagne is baked right in the cake batter, layered with strawberry preserves and coated with an elderflower frosting. The champagne flavor is very mild and not overpowering. This is a great cake for celebrating engagements, weddings, showers, etc! But if you ask me, you never need an excuse for some bubbly 🙂
Oil versus Butter
I sometimes find homemade cakes too dense and dry. Do you struggle with this, too? This cake is springy and moist. It has a tight, tender crumb but it is not dense. Let's get into the science…
Most cakes use either butter or oil. For butter-based cakes, you cream the butter and sugar together until it is light and fluffy which helps lock in the steam and air bubbles that rise while baking in the oven. Using butter for cakes also imparts a flavor which is desired in some cases.
On the other hand, baking with oil has advantages! It is 100% fat which can help maintain moisture (butter is about 80% fat; the other 20% is made up of about 5% milk solids and 15% water). It is also lighter than butter which can help the texture (1 cup of melted butter weighs about 227 grams; 1 cup of vegetable oil weighs about 218 grams.) A neutral oil like vegetable oil does not impart any flavor. This allows your other ingredients to shine through.
For these reasons, especially the flavor piece, I decided to use oil instead of butter. I used an elderflower simple syrup as a soak which helps maintain moisture and imparts extra elderflower flavor. Can you tell we don't like dry cakes?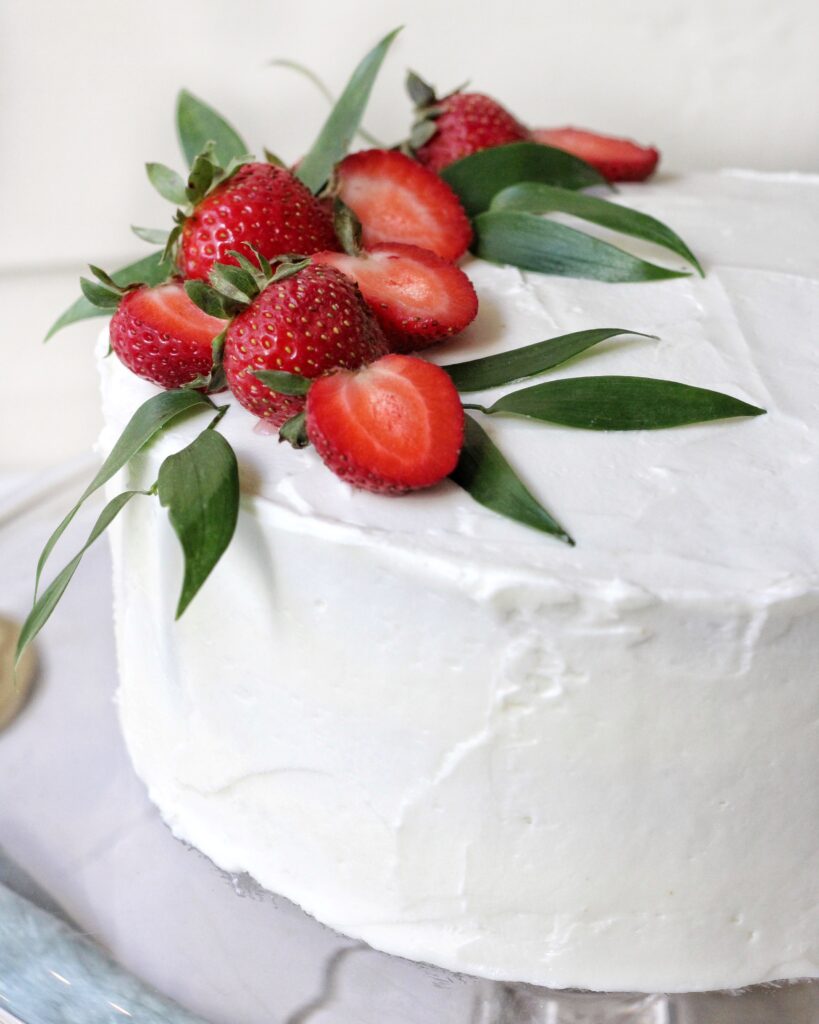 Cake Tips
Always spray your cake pans with nonstick spray AND line with parchment paper. I swear your cakes will flip right out! No need to do paper on the sides- the cake will ever so slightly shrink away from the sides while baking.
Use cake flour! Cake flour has a lower protein content than all-purpose flour and it is milled to a superfine consistency. If you do not have cake flour on hand, here is a substitute.
Do NOT overmix your batter! Once you add the wet ingredients to the dry ingredients whisk until JUST BARELY combined. The more you whisk, the more the gluten is activated which will give you a denser, chewier cake. It is okay if you have a few small lumps of flour.
Use eggs at room temperature. The batter will mix together faster with room temperature ingredients. Less mixing = less gluten development = success!
I am still practicing my cake decorating/frosting skills. A cake decorating turntable is very helpful. This is the one I have and love. This is the offset spatula I use for frosting. I also recommend doing a crumb coat layer. This is the video I followed for the crumb coat instructions. Refrigerate for at least one hour or overnight before you finish frosting.
I made this cake for our friends who just got engaged. (Congrats Haley & Brett!) I find it extra beautiful that even during pandemic times, people are continuing to find ways to celebrate love and begin new chapters as couples. Not everything has to go on pause! We are so excited for their future together 🙂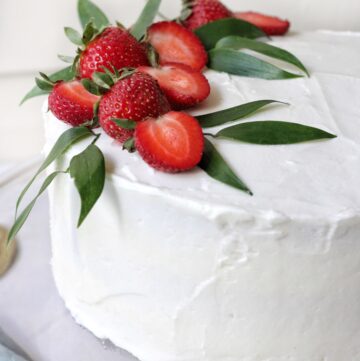 Champagne Elderflower Cake with Strawberry Preserves
A cake for celebrations! Champagne is baked right in the cake batter, layered with strawberry preserves and coated with an elderflower frosting.
Ingredients
Champagne Cake
2 & 2/3

cup

cake flour (420g), see notes for a substitute

1 & 1/2

cup

granulated sugar

1

tsp

salt

1

tsp

baking powder

3/4

tsp

baking soda

1

cup

neutral oil (I used vegetable oil)

3

large eggs + 2 egg whites (room temperature)

1

tsp

vanilla extract

1 & 1/2

cup

dry champagne
Elderflower Simple Syrup
1/4

cup

water

1/4

cup

sugar

2

Tbsp

Elderflower Liqueur (I used St. Germain)
Elderflower Frosting
1/2

cup

plus 3 Tbsp unsalted butter (room temperature)

5

cups

powdered sugar, sifted

1/3

cup

Elderflower Liqueur (I used St. Germain)

3

Tbsp

heavy whipping cream

1/4

tsp

salt

1/2

cup

strawberry preserves (homemade or store bought), for assembling
Instructions
For the cakes
Preheat oven to 350 degrees F. Spray three 8-inch cake pans with nonstick spray and line the bottoms with parchment paper.

In a large bowl, sift together the flour, sugar, salt, baking powder and baking soda.

In a separate bowl, whisk together the champagne, oil, eggs, and vanilla.

Add the wet ingredients to the dry ingredients and whisk together until just BARELY combined.

Divide the batter evenly between the 3 pans (weighing on a kitchen scale if you want absolute precision). Bake on the center rack of the oven for about 22 minutes. The cakes are done when a toothpick inserted to the center comes out clean. Remove pans from oven and place on a cooling rack. Let the cakes cool in the pans. Cakes must be completely cool before frosting.
For the simple syrup
In a small saucepan, whisk together the water and sugar until all the sugar crystals are melted. Remove from heat and add elderflower liqueur. Set aside.
For the frosting
Using your stand mixer fitted with the paddle attachment, beat the butter until creamy. Add SIFTED powdered sugar, elderflower liqueur, and salt with the mixer running on low speed. Add heavy whipping cream 1 tablespoon at a time until you reach your desired consistency. Increase speed to high for 2 minutes.
To assemble
Use a serrated knife to cut off the domed tops of the cake to create a level, flat surface (this will make your layers stack more neatly).

Place your first layer on the cake turntable and use a pastry brush to coat with simple syrup. Pipe your frosting around the edge to create a dam so the strawberry preserves won't spill out. Fill with half of the strawberry preserves. Add 2nd layer and repeat. Top with 3rd cake layer and a final coating of simple syrup.

Cover the entire cake with a thin layer of frosting (called the crumb coat, see notes) and refrigerate for 1 hour. Remove cake from the refrigerator and spread the remaining frosting over the top and sides. (If your frosting started drying, whip it again in your standmixer before using.) I use an offset spatula for frosting.

Serve cake at room temperature. Cover leftover cake and store in the refrigerator for up to 3 days.