Today I am sharing a recap of our experience camping at Camp Olowalu on Maui! Spoiler alert- we loved it! Olowalu is about 30 minutes away from where we live but it really feels like a get away. One of my favorite parts of camping is planning the food. Everything seems to taste better off the grill and surrounded by the outdoors. Check out my instagram for a video of our trip!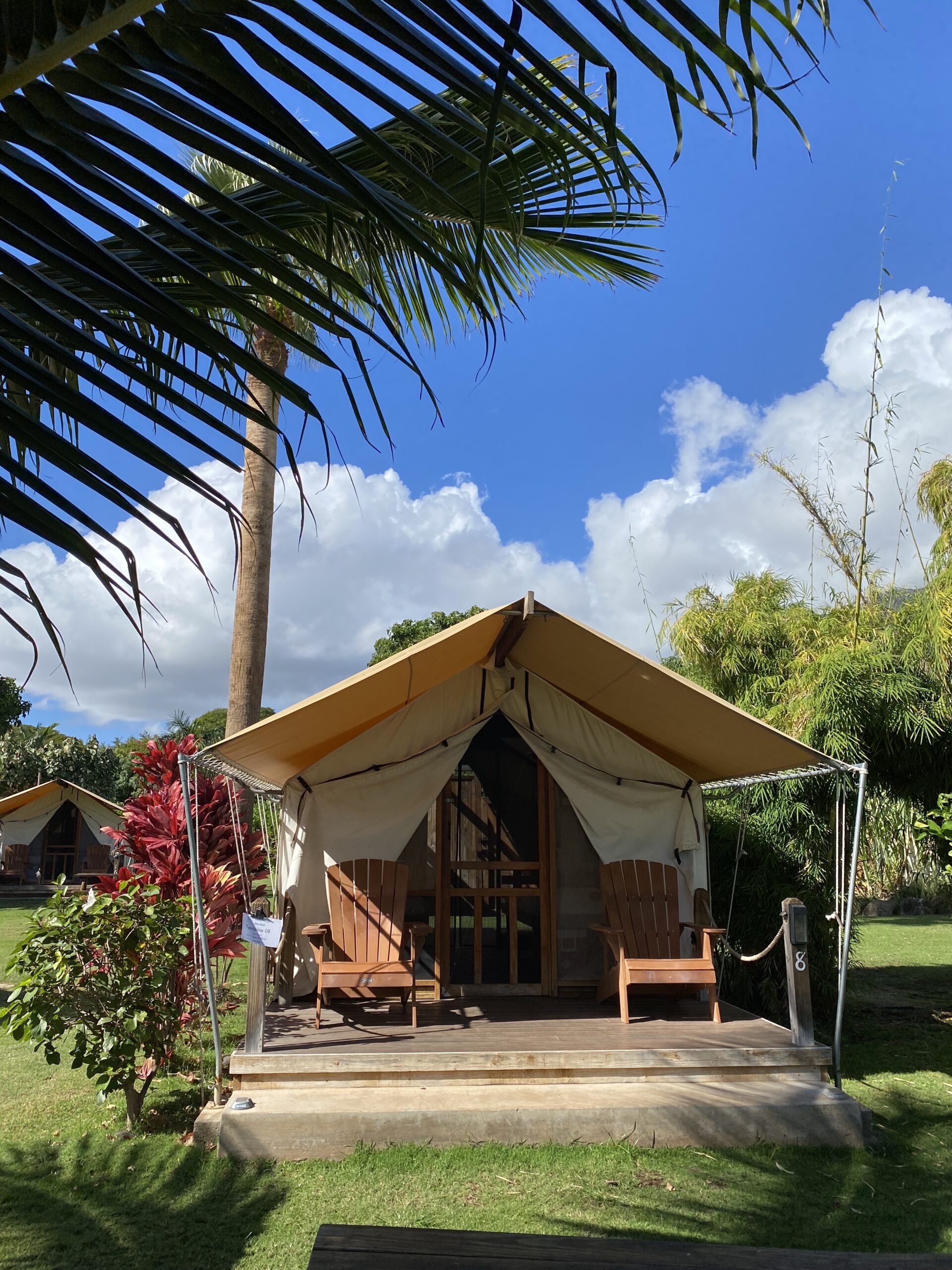 The Amenities
We stayed in one of the "Tentalows" which is a raised semi-permanent structure. The tentalows come with all the basic necessities including twin beds, linens, an outdoor shower (our favorite feature!), Adirondack chairs, a cooler, and a picnic table. This is perfect for anybody that does not have a bunch of camping gear or somebody that is just visiting on vacation. There are communal grills and fire pits but we never had trouble finding one to use when we wanted. The camp site also has an area with permanent cabins or an area of people camping in their own tents. We thought the tentalow was the perfect in-between. The tentalow area is more spacious, private, and you share a bathroom with only one other tent. (The bathrooms even have flushing toilets and well stocked paper towels, soap, and hand sanitizer. I was very impressed!)
The campsite is right on the water and has the beautiful West Maui Mountains in the background. It is very serene. One drawback is that the beach is pretty rocky so don't come expecting white sand beaches! The water is nice and calm; perfect for paddle boarding or kayaking. There is also great snorkeling here!
What we cooked
We were only there for one night but wished that we had done at least two nights. My goal was to prep as much food as I could in advance and to not make anything that required a lot of utensils or supplies.
My mom's famous Cajun shrimp and andouille sausage kabobs: These marinate overnight and I just brought them in Tupperware to grill when we arrived. This is a secret family recipe that maybe I will share one day 🙂 This recipe looks very similar!
Marinated pork tenderloin: Again, marinating overnight before we arrived made it hassle-free to prepare when we wanted to eat. I do think it is worth bringing a meat thermometer for grilling while camping. You may be working with an unfamiliar/finicky heat source. This is the exact one I have and I also use it for baking. We were using charcoal for grilling and I was recently introduced to these all-natural fire starters. They worked very well and do not have any added chemicals or terrible smells.
S'mores of course!
Cold brew coffee: This came in super handy because you can make it in advance and you don't need a kettle or stove! I was trying to be a minimalist but I can't give up coffee!
Grilled French Toast: This required the most amount of work and preparation but I think it was totally worth it! I packed the spice mixture in a ziplock baggy and packed a little container of milk to keep cold. This is the recipe I followed and it was delicious! Helpful tip: be sure to spray your grill grates with non-stick spray!!
We really enjoyed our time and can't wait to go back. Please share your favorite camping recipes below!